March 22, 2018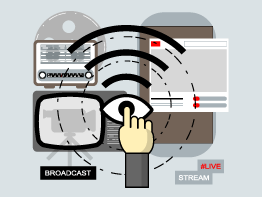 Live video is thriving, but not on the traditional TV. These days, even A-level live events are hitting all-time low television ratings. Oscars 2018 scored the lowest viewership ever — just 26.5 million people, a 20% drop from last year's numbers.
This negative trend applies to the Grammys and the Super Bowl too, with the telecasts experiencing 24% and 7% declines from 2017 respectively.
At the same time, digital viewership is soaring, and the live video streaming market is estimated to peak at $70 billion by 2021, up from $30 billion in 2016. And broadcasters who find their way around cord-cutting can reap really good results.
Olympics 2018 is one of the most recent examples. The US broadcaster NBC lifted up the ratings by an average of 11% by opening an online live stream of the Games both to those with a cable subscription and — for the first time ever — for those without, albeit for just 30 minutes of airing time. In total, the broadcaster counted 1.85 billion minutes viewed live by 11.6 million unique users (Hollywood Reporter).
But, as the audience's appetite for live video grows, so does the competition among content creators and distributors.
Distribution in particular is becoming a stumbling block for media companies looking to publish and monetize their content. On the one hand, there are technology companies like Facebook, Twitter and YouTube laying claim to live streaming and luring publishers in with exclusive partnership deals. On the other hand, there is the option to go the direct-to-consumer route and set up a branded online video platform to build up native viewership.
Before we get down to this distribution dilemma, though, it's worth understanding why live video is becoming the new black in OTT.
Live Video: The Holy Grail of Viewer Engagement
Online audiences crave immediacy, authenticity and interactivity, and these are readily provided through live video — the ultimate genuine fixture of online video content.
It's estimated that 80% of brand audiences prefer live video over a blog post and even more (82%) would rather watch a live stream than read a social media post. When it comes to monetization, the prospects of live video streaming are good as well, with 45% of online viewers ready to pay for exclusive live streams of their favorite entertainers (Go-Globe).
Advanced interactivity is a true game-changer brought about by live video in the digital realm.
Live video streams invite viewers right into the heart of action and allow them to communicate in real time with their fellow watchers as well as with the creators themselves.
This instant feedback opportunity didn't come unnoticed for those behind YouTube Super Chat. First, this interactive feature allowed viewers to purchase extra bright comment spots to stand out from all the others in the chat, and now Super Chat users can even trigger real-life scene manipulations, like a strobe light or a confetti cannon, in exchange for their donations. As it happens, however, the approach got criticized; the Verge author Vlad Savov even called it "an abomination from a capitalist dystopia."
Live streaming antics may have some extremes, but their promise of viewer engagement with innovative technology is unbeatable.
VR/360° live streaming is set to become a breakthrough this year as headsets are getting more affordable and brands are starting to embrace the experiential dimension of immersive videos. Going back to the Olympic Games 2018, Olympics Broadcast Service partnered with Intel to produce 360° VR live game versions and distributed them to 10 official broadcasters worldwide. This marked a shift of immersive live streaming toward mainstream adoption.
At the end of the day, there's no wonder why the battle over live video content is that heated. Viewer engagement has always translated into advertising money, especially for social media. That's why Facebook et al have been pushing in this direction through exclusive deals with major content creators, and pumping up their own live video streaming capabilities.
Enter Social Media: Billions of Viewers, But Limited Monetization
When Inc.com listed its pick of top 8 video publishers in November 2017, it turned out all of them were streaming to social media, namely Facebook and Twitter. It's not surprising: Facebook alone boasts 2.13 billion monthly active users; Twitter follows with 330 million.
But while Facebook is deprioritizing live video and no longer subsidizing publishers in order to focus on its own original premium content under the Watch tab, Twitter is decisively taking over this niche.
Last year saw Twitter close dozens of deals with large live video broadcasters in sports, news and entertainment, which were set to bring "hundreds of hours of new premium video content" to the platform. In Q4 2017, Twitter reported 22 new live streaming partnerships, with over 1,140 events streamed throughout the quarter.
This fast-paced movement is coupled with the 2017 launch of Twitter's Producer API, which opened live streaming opportunities for content creators with no need to officially partner with the platform upfront. Potentially, this means Twitter will rack up its live streaming volume while sparing everyone's efforts on exclusive deal negotiations. A win-win.
Some of Twitter's live streaming partners and their exclusive programming: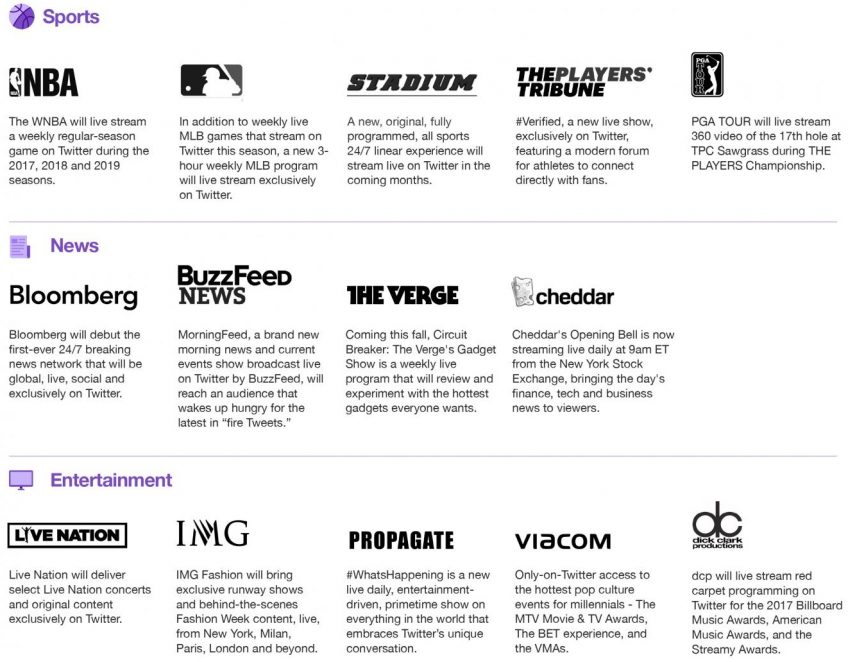 Source: https://blog.twitter.com
Despite all these exciting facts, social platforms can only offer limited monetization of live video streams. For now, the options include ad revenue split and brand sponsorships.
For live streaming, Facebook offers a single monetization opportunity: Live Ad Breaks at a 55% ad share for the creator. This ad format is still under testing, and is currently only available for Pages with over 50,000 followers. Regular in-stream ads seem to be reserved for pre-recorded videos only.
Twitter is a little more versatile in its monetization options; however, they are available only for the members of Twitter's Amplify Publisher Program. First, there are pre-roll ads, which have been expanded recently to Periscope videos as well. Then, there are brand sponsorships that result from direct partnerships between premium content creators and advertisers. Since 2014, such custom co-branded campaigns have featured content from the US Open Tennis, FIFA World Cup, the Brit Awards, and FIA Formula E Championship, among others.
With all these large-scale developments, it's too late for social platforms to disguise themselves as pure tech companies as they turn into true media market contenders. Either through broadcasting partnerships or original programming, they are building a portfolio of go-to live video content and drawing millions of viewers to their side.
But not all live video broadcasters want to go that route and give up full control over video distribution and monetization to third-party platforms. Direct-to-consumer (DTC) is where the big game happens, taken over by larger media publishers and broadcasters who venture out on their own.
Enter Direct-to-Consumer: Full Control, Closer Audience Relationships
This year may well become the year of major announcements in OTT live streaming. Disney is about to release its ESPN Plus subscription-based app. In 2018, there will be more live streaming platforms launched by CBS, NBC, and Formula 1.
For many broadcasters, the DTC strategy is becoming an answer to social media's hegemony in live streaming. Not accidentally, this approach proves to have a number of perks to justify the effort.
First, by following this model, publishers don't need to compete for eyeballs on the same crowded social media grounds with dozens, if not hundreds, of other content producers. This can make content discovery easier on the audience. But there's a caveat: broadcasters would have to attract this audience in the first place.
Second, there's no need to squeeze into short-form video preferred on social media (in this world, a mere 2 minutes is qualified as long). On the contrary, long-form is favorite with premium content streamers: in Q1 2017, 98% of long-form video was watched on connected TVs (Ooyala).
Third, DTC allows diversifying programming with concurrent streaming of numerous events to serve niche viewers' tastes. Additionally, these events can be scheduled to stream with the viewer's time zone in mind for more convenience.
Fourth, proprietary online video platforms (OVPs) are wired to provide deeper audience analytics to be used for better targeting, personalization and advertising.
Fifth, broadcasters can also experiment with groundbreaking technologies such as VR, without waiting for social media to get on the bandwagon (for now, only Facebook is featured in live VR streaming news).
Lastly but most importantly, due to the full control over live video streaming with their DTC solutions, broadcasters also retain 100% of revenues generated from viewer subscriptions and ads (in case of ad-supported streaming, which is on the rise now).
Summing up the DTC advantages, Sean Park, Principal Technical Consultant at Brightcove, says that this approach allows media companies to "launch and deliver live content directly to its user base and unlock revenue opportunities from day one."
For broadcasters, one important consideration here is how to get their DTC platforms as soon as possible to stay relevant in this fast-changing OTT landscape. Building a custom live streaming solution needs proven expertise, which can be difficult to ramp up from scratch. Not accidentally, Disney chose to partner with BamTech rather than going on their own, so we can expect others to model this cooperation as well.
Summing Up
Live video is turning into one of the most favored and engaging content formats. This pushes social media, primarily Twitter, to contest leadership over live streaming through a number of high-level partnerships with premium live content producers.
However, instead of partnering with social platforms, some broadcasters choose direct-to-consumer. This way, they can keep all the generated revenue to themselves while enjoying full control over audience relationships. Some market-leading companies such as Disney and F1 have already announced their live streaming platforms to be launched in 2018. And there's more to come as more live video broadcasters recognize the value of DTC.