February 14, 2018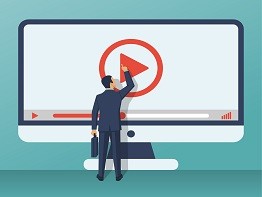 In a previous post, we discussed the importance of defining and thinking through the business goals that video can help you achieve, while also covering various monetization models.
Now it's time to consider the key features that your OVP should possess if you want your video strategy to go off without a hitch and unlock the full potential of your business. Go through these carefully before committing to a specific OVP model.
What Features Should an Online Video Platform Have?
Ingestion and Uploading
Your content administrators should be able to upload as many videos as they need via SFTP, a drop folder, or some other means. Pushing videos via a mobile app is a nice feature too. Look for an OVP provider that gives you the greatest possible control and offers flexible content ingestion workflows.
The optimal OVP should also integrate with high-speed file transfer software like Aspera FASP™ so that you could increase upload speed for large files.
Transcoding and Adaptive Bitrate Streaming
Make sure your OVP offers adaptive bitrate live streaming. This means support for state-of-the-art protocols (such as HLS, HDS, MSS, or MPEG-DASH) to optimize video and audio for various screen sizes, CPUs, and network conditions.
4K video delivery is increasingly becoming a necessity. And if you want to go the whole hog and reach viewers with 8K screens, your platform should support the HEVC (High Efficiency Video Coding) video compression standard, also known as H.265.
Live Streaming
Live streaming is all the rage, and many video providers capitalize on streaming live events, including popular contests and awards (like Eurovision, Grammys, or the Oscars), as well as major sports competitions (such as the UEFA Champions League, the Super Bowl, or the Olympics).
These events attract millions of viewers, which translates into additional revenue streams. You can monetize your video content by using strategies like paid subscriptions or ad insertion. If you choose the latter, mind the fact that mid-roll commercials have the highest completion rate compared to pre-roll and post-roll ads.
Another sought-after feature is live-to-VOD functionality. This feature can automatically generate video content from live streams and make it available to your on-demand users shortly after the show. By automating manual distribution and eliminating the delays caused by video reprocessing, live-to-VoD introduces new efficiencies and increases your revenue.
Video Management
A good OVP should allow you to manage all video content in a single content management system (CMS). If you want to take it up another notch, enhance your system with a custom MAM orchestration module. A MAM orchestrator will deliver optimal workflows and let you easily manage content, metadata, communications, scheduling, distribution, and more — with minimal or no operator input.
In addition, make sure your OVP vendor can tailor a MAM orchestrator to the specifics of your media business. If an OVP vendor can't offer this type of flexibility, consider building your own platform rather than buying in.
A solid OVP should also provide smooth subtitle management. This means multi-language support to reach out to international audiences, as well as displaying open and closed captions to accommodate hearing-impaired people.
Distributed Delivery
When delivering high-quality content across geographical boundaries, CDN functionality becomes key. CDN integration will help you significantly enhance the viewing experience by reducing latency, network congestion, content blockages, and other bottlenecks.
Be sure to explore the multi-CDN approach that automatically picks the optimal CDN provider based on analyzing a variety of mission-critical parameters — all to minimize delivery costs.
Video Player
Apart from playing back your content, the media player performs other key tasks, including things like collecting viewership data and displaying ads.
Your audience wants to get an outstanding viewing experience across all browsers, devices, and operating systems. Some of the features a player should offer toward that end may include subtitles, 360° video, and social sharing.
In addition, your business case might require advanced Digital Rights Management (DRM) support. For instance, if you decide to deliver exclusive premium content, you'll want to have a DRM-capable player to protect your video from unlawful use.
Analytics
If you want to improve Quality of Experience and enhance Quality of Service, you'll need deep insights into efficacy, ROI, reach, and all the other metrics you'd want to track in any other marketing system. Where the viewers are coming from, what content they prefer, what devices they use, what the churn rate is, and why they abandon your website — this is the data that matters.
Whether you opt to develop or buy an OVP, make sure it has built-in analytics or can integrate with third-party analytics platforms.
Integrations
Depending on your business case, it may be crucial to plug your OVP into other enterprise systems, including CMS, CRM, MAP, and LMS. Such integrations will let you align video delivery with the company's overall marketing, education, or sales strategies.
If you need custom third-party integrations with a ready-made OVP, find out whether your vendor can deliver the required functionality quickly enough to support your objectives. If your business requires an array of out-of-the-box integrations, it's a factor in favor of developing a custom OVP platform.
What About Platform Support?
When you need support, it's a bad time to find out that it's time-limited, or not available in your language, or offered only between certain hours. You may need 24/7 assistance or software development support, which presupposes substantial resources on the provider's part.
You can mitigate support availability risks by signing an SLA (Service Level Agreement) that guarantees a predictable level of support from your OVP vendor. And while you can end up paying extra, it can be the difference between co-paying on insurance and footing the whole bill yourself.
Conclusion
Going through this two-part series has hopefully given you some food for thought regarding the build-vs-buy dilemma. If your choice is to buy a platform, it's time to consider the optimal OVP provider.
To make this less of a headache, we've recently made a comparison of the market's leading OVP suppliers with respect to the entire video delivery process. Start by reading this white paper to choose the candidates who support your business model.
However, if an OVP lacks features that your business case demands, and you have to graft, trim, and rebuild the system to make it do what you want, you might be better off with a custom solution. A good rule of thumb: if you need to customize 30% or more of its functionality to make it work, consider building a custom video platform from the ground up.
What about your experience in building or buying an OVP? Share your story in the comments!