August 3, 2017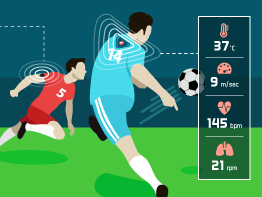 Previously, we discussed how modern technology is being used to drive fan engagement.
But decades before that practice took hold, athletes and teams were already incorporating digital technology to gain the extra centimeters and seconds that separate winners from losers. Let's have a look at the ways sports professionals leverage technology to get on the top step and stay there.
Training and Coaching
Coaching is an art, and a very stressful one at that. A great coach needs to provide well-timed encouragement, build a winning strategy, and push an athlete to the limit while keeping them from overtraining. Multiply this effort by 10 or more if we're talking team sports. It's no wonder that coaches worldwide are welcoming digital training tools.
Gone are the days when to test an athlete's stamina, swing force, etc. you had to strap them to a menacing piece of equipment with a 6-foot long cable. As the costs of gadgets plunge and connection speeds soar, mentors gain the ability to access unprecedented amounts of biometric data on their mentees.
Latest wearables like specialized GPS trackers, RFID chips, and in-bat motion sensors enable coaches to track an athlete's progress using a variety of metrics, spot negative tendencies faster, and take better informed decisions about changing fitness routines.
No time is lost compiling data — it is streamed straight to the coach's tablet or laptop in the form of comprehensive insights that can be shared with the trainee to promote learning on the go.
Preventing and Treating Injury
If there's anything worse than losing in a high-stakes environment, it's injury. Pulled muscles, concussions, and torn tendons don't just bring athletes pain and take away their chances — at a team scale, numerous injuries result in downtime and rehabilitation bills. On the other hand, teams with low injury rates get an extra boost in title battles, even against more decorated and well-heeled rivals.
Teams are ready to invest into products that help to prevent an injury before it happens. The available solutions vary from force impact indicators worn that players wear on typically affected body parts to holistic systems like the one supplied by Kitman Labs. Kitman's athlete optimization system uses motion capture, GPS tracking, mobile technology, and machine learning to produce deep insights per-athlete and across the entire squad for timely injury-risk qualification.
If the damage has already been done, the same solutions can be employed to avoid re-injury, while various mixed reality solutions, such as VAR's Hololens-based immersive video training system, will keep the player's head in the game as the body recovers.
Developing Game Strategy
In such sports as hockey, basketball, or football, your team is only as good as your game strategy. It's not enough to keep players fit, to score wins they must learn to leverage each other's strengths.
With this in mind, a graduate assistant coach for the Stanford football team created STRIVR, a solution that allows a player to relive the game from different vantage points on the field and practice in an immersive 360-degree environment. Some of America's most lauded outfits, including Boston Red Sox, are already onboard with the technology and report significant improvements in recollection of key moves after players have practiced in a headset.
Professional and college teams are harnessing the power of video analysis with Hudl, a solution that revolutionizes the way coaches and players interact with game footage and each other. All the game videos are now uploaded into the cloud, where coaches can share them, discuss specific passes and tackles in comments, or put together game highlights with a few keystrokes. Never before had it been so easy to dissect the game and see the exact way a player's decision affects the rest of the team.
Refereeing
Refereeing is a tough and oftentimes thankless job, with decisions vehemently scorned and debated by players, coaches, and fans. Digital technology can be a great helper in situations when the human eye is not enough or additional proof is required.
Since the early 2000s, the extremely precise Hawk-Eye system for ball tracking has been officially adopted in tennis, cricket, rugby, and several other sports to enhance adjudication and resolve disputes. At times, all it took for the governing bodies to understand its advantages was a couple of international matches.
As history shows, many popular sports have been unwilling to fully implement digital refereeing for fears of making the game too complicated or dragging it out. Nevertheless, FIFA is reportedly planning to use video referees during next year's World Cup in Russia, while football is looking into AI refereeing as a distant, but very real possibility.
Venue Optimization
This decade is marked by the rise of the smart, or connected, stadium — a venue so packed with tech it resembles a spaceship. There's high-speed WiFi, sensors that provide information about free parking spaces, digital ticketing, mobile food orders, selfie cameras, face recognition-based security systems, and more.
The World Stadium Congress now has the Innovative Solution of the Year award to recognize the best applications of modern technology for elevating fan experiences and promoting safe and engaging entertainment.
A Winning Combination
Using the champions of the past as a benchmark, contemporary athletes are always keen to surpass their achievements; teams pick up the latest and greatest innovations and invest heavily into research to squeeze every last drop of performance out of technology.
We are witnessing the transformation of professional sports into a perfect environment for the development and testing of revolutionary concepts, years before they make it into the mainstream. The future of sports is digital, and it has never looked brighter.