January 11, 2018
With 3.5 billion global fans, football is doubtlessly the most popular sport worldwide. And great viewership means many dollars in play: football generates $28 billion in global revenue each year. But what can marketers do to increase this already high number?
In 2016, mobile app downloads hit the 90 billion mark. These stats give a hint that going mobile might be a wise idea.
The majority of football clubs — with the most popular and valuable ones residing in Europe — have their official mobile apps. However, those usually lack the features offered on the websites and provide some common, middle-of-the-road ones — live scores, ticket and schedule info, stats, and multimedia hubs.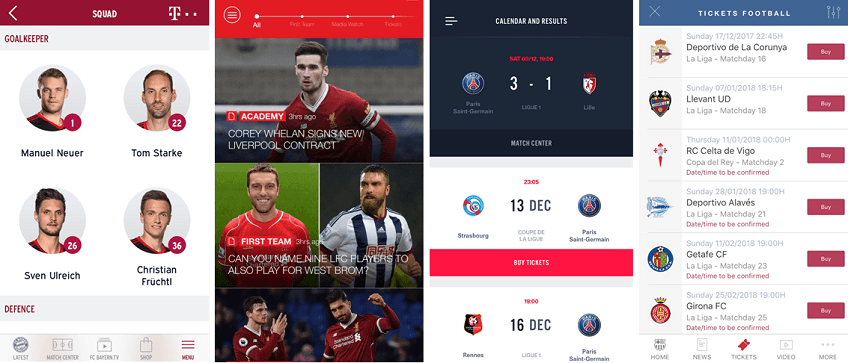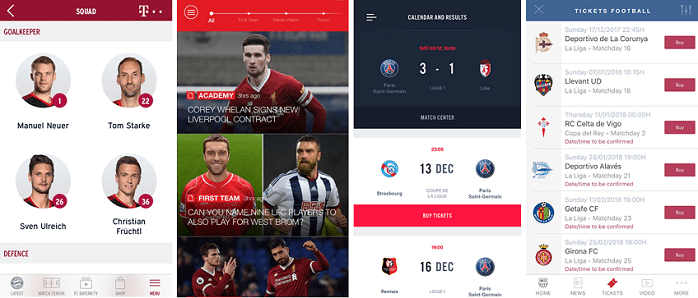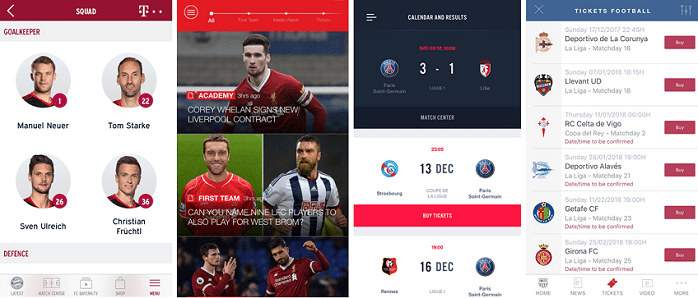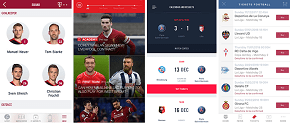 To reach out to more football fans and expand revenue streams, it's vital to leverage mobile trends by introducing advanced in-app functionality. Read on to find out what we mean by advanced features and what business benefits you'll reap.
Getting a Wealth of Revenue Opportunities
Partnering with experts in mobile app development to build or upgrade your football app for iOS or Android may seem a costly endeavor. However, the following functionality will give you way more bang for your buck.
Online Store
"The State of Mobile Commerce" report finds that the growth in global mobile commerce continues apace with no signs of abating. UK is leading the pack with 50% of online sales made on mobile in the second quarter of 2016.
Why not take advantage of this trend and let football fans shop online for desired items: squad's outfit, branded equipment, souvenirs, or biography books?
If you don't want to lose this revenue opportunity, don't redirect users to eBay or Amazon stores. Create your own e-shop and integrate it with the app to obtain valuable customer analytics: locations, lifestyle preferences, payment methods, and more.
With this data at fingertips, you'll be able to better target audiences, accurately predict buying behaviors, deliver relevant offerings, drive customer loyalty, increase response rates, attract new clients, and maximize ROI.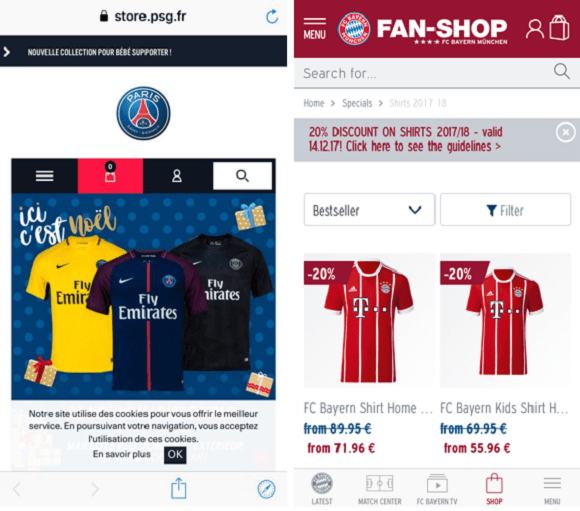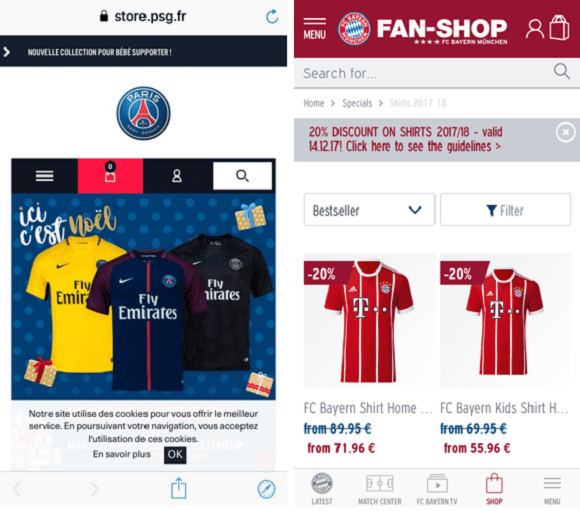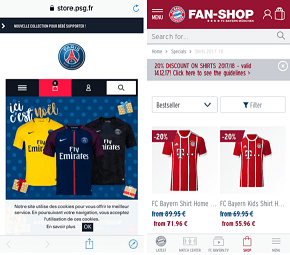 If you want to raise the stakes, think image recognition solution so that users could snap any item they noticed on mobile or web streaming and find it in your store.
Video on Demand (VoD)
Fans want to know literally everything about their favorite team. Satiate their appetite by giving access to an extensive library of video material. It could be training session footage, finished matches and highlights, press conferences, marketing campaigns, and draw procedures.
To derive the benefits from this video venture, use various monetization opportunities, including subscriptions (SVOD), transactions (TVOD), advertising (AVOD), and premium content.
Furthermore, don't forget to please those who can't take a trip to the city where the team resides and to offer virtual tours around the club stadium or museum. Take it up another notch with 360-degree videos or the club's TV channel.
Branded Games
Have you ever thought of the sheer number of global mobile gamers? If not, the official stats will certainly surprise you: there are currently 2.1 billion gamers worldwide. Just imagine: 27.6% of the world's population play games!
Immersing users into an outstanding gaming experience is not something a savvy marketer would pass on. Allow football fans to be closer to their favorite team with branded mobile games. Such apps will not just engage them, but also bring you additional revenue streams (via paid apps or in-app purchases).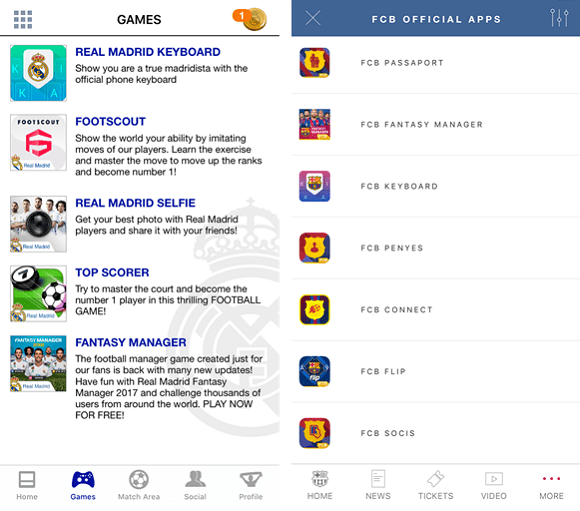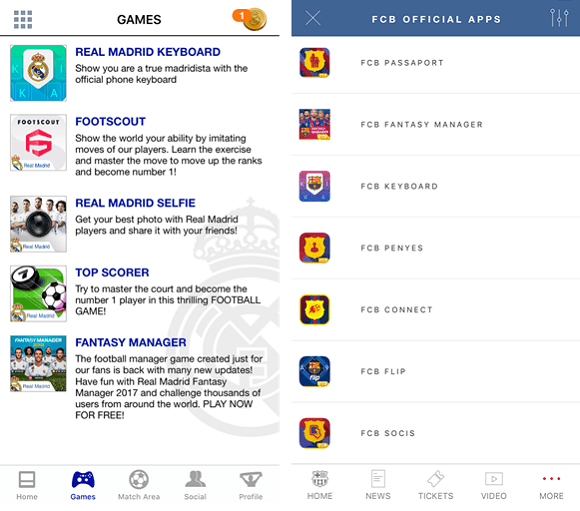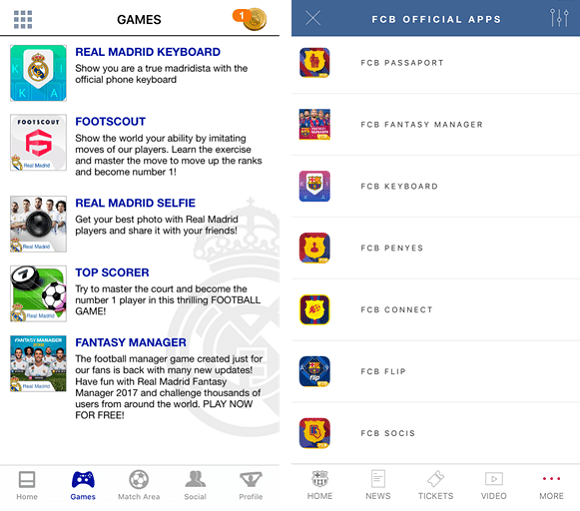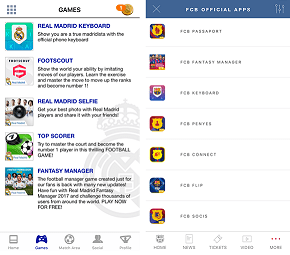 Enhancing User Engagement
There is no need to cite statistics to understand that mobile user engagement is the kernel of success. Boost fan involvement and increase viewership with the help of interactive content and striking app features.
Public Commenting
TV sporting events are becoming the prime second-screen territory. To wit, during the 2014 UEFA Champions League, 63% of searches for games, players, and teams happened on mobile.
As part of an outstanding second-screen experience, let the users of your football app not just find match- and team-related info, but also share thoughts and communicate with fellows thanks to a public commenting feature. This way, you will engage fans, save them the need to switch to their social pages or messengers, and get additional analytics for better audience targeting.
Contests
Team fans are usually very united and like-minded. But the idyll won't be spoilt if you add a hint of competition with some type of deals: "Solve the puzzle", "Answer the question about the last season", "Create your story", etc. Reward the most active fans with tickets for matches, locker room and museum visits, a free video subscription, or dinner with favorite players.
Moreover, allow fans to send videos and photo collages to the team or particular players. It may be messages of support, digital birthday cards, or congratulations on major achievements.
Online Betting
Online betting has always been popular with fans, bringing in substantial revenues to sports betting providers (over $2 billion per year).
Entertain your fans by introducing an online betting feature. Your mobile app will turn into the go-to second screen, and users will be able to predict shot, time, and match outcomes to get sponsored prizes.
Taking Personalization to a New Level
In the digital world when consumers are spoilt for choice, personalization is what appears at the forefront of marketers' minds. Your football app could add an extra layer of comfort to fans.
User profile
Let users create their personal app accounts to store info on the items and tickets purchased, videos and photos liked or saved, bonuses scored, and more. Provide in-app social hubs sparing users the need to switch to other sources.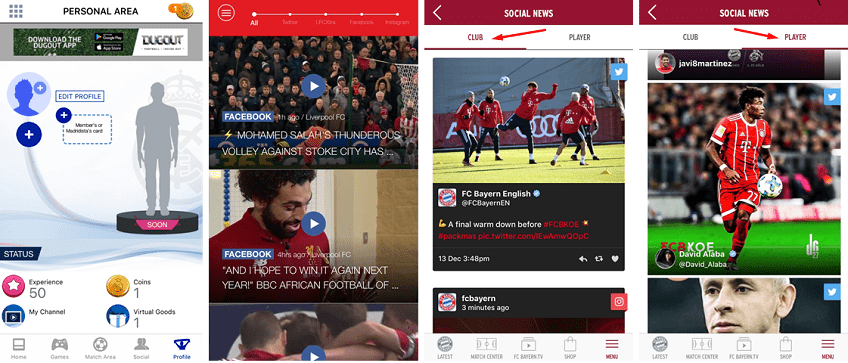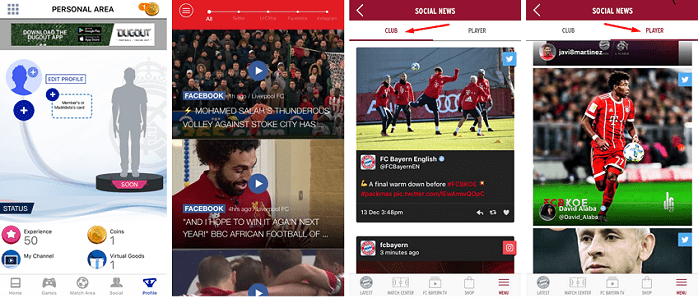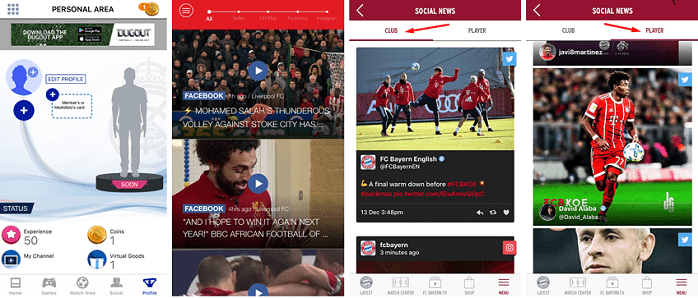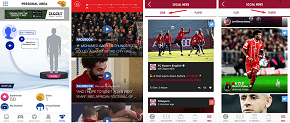 Beyond that, enable integration with major news websites — El País, The Guardian, La Repubblica, L'Equipe, etc. — so that fans would get notifications when the whole team or particular players are mentioned in digital media. Note that it could come in the form of a paid subscription.
Personalized Calendar
The core functionality of any football app includes detailed draws and schedules of upcoming matches. It's all great, but fans won't be checking that info every day or week.
Why not allow them to adjust settings right within the app and get timely notifications when their favorite team starts playing or becomes part of other noteworthy events (i.e. UEFA draw procedures)?
Smart Bots
It may sound obvious, but remember to equip your app with search functionality to assist users with navigation (many football apps lack a search feature).
To fully indulge their curiosity, introduce in-app AI-powered chatbots that will process user questions to give smart replies.
Here is an example.
– User: How many goals did Messi score during 2015-16 La Liga?
– Bot: Leo Messi scored 26 goals during 2015-16 La Liga.
It's Not the End of the Game
Let's assume you've added the above-mentioned functionality to your app. As a result, you get a highly complicated system that has to be easy to use and function without glitches. What aspects should be taken into account to achieve success?
Excellent UX and UI. To prevent fans from deleting your app after just one use, ask your contractor to pay particular attention to UX and UI while ensuring perfect user flows.
Security. Fans might share their personal information (e.g. credit card details) while using your football app. Make sure your software vendor has the relevant security expertise to guarantee the safety of sensitive data.
Robustness. Before empowering your app with such features as live betting and chatting, make certain that it has successfully undergone load testing and can support a large number of concurrent users.
After addressing all these challenges, the cherry on the cake will come in the form of new revenue streams and enhanced fan engagement.
To find out what a perfect tennis app should look like, read our previous blog post.
Oxagile is a leading-edge mobile application development company with more than 50 successful mobile projects under its belt. Our engineers build mobile apps of any complexity: from award-winning B2C applications to heavy enterprise-grade solutions. If you have a mobile project in mind, don't hesitate to drop us a line.