January 3, 2019
The short answer is yes. But let's dig a little deeper and see what battles digital advertisers are facing today and how augmented reality marketing can help them win.
A recent Adobe study revealed a shift in consumer behavior, which manifests in a slight, less than 1%, but steady decline in time spent on websites. For advertisers, it means a more intense competition for online eyeballs and more expensive digital ads. Over the past three years the cost of digital advertising in the U.S. has increased by 12%, rising 5 times faster than inflation. Top it with the growing use of ad blockers and non-human traffic from bots, and digital marketing seems as challenging as ever.
To supercharge their marketing campaigns, global companies bet on augmented reality (AR) and its potential to deliver an exciting and interactive user experience. Celebrating cultural diversity, Coca-Cola added an AR feature to its "Faces of the Сity" campaign in China and enjoyed a boost in customer engagement.
But before we dive further into the benefits of augmented reality for digital advertising solutions, let's define what AR is.
What is Augmented Reality
In 1990 Tom Caudell, a Boeing researcher, coined the term "augmented reality" to describe head-mounted displays used by aircraft electricians for wiring.
Today, augmented reality means "integration of digital information with the user's environment in real time". Simply put, AR uses real-life settings and adds virtual objects on top of it. AR is not to be confused with virtual reality, or VR, which immerses users in a simulated environment. While both techs are powerful, AR is already ripe with opportunities for marketers as it lends itself perfectly to our mobile-first world.
Now, let's explore how your brand can benefit from adding augmented reality to your ad campaigns.
Benefits of Augmented Reality in Marketing
Brand storytelling
Behind every brand is a story waiting to be told, and mastering the art of storytelling can go a long way towards brand awareness and strong emotional connection with customers. People always remember a good story, especially if it resonates with their own values.
Augmented reality enhances storytelling in a completely unique way by bringing a narrative to life. If you are looking for benchmarks, here's an impressive AR marketing campaign for The Walking Dead. A bus shelter outfitted with a digital AR panel briefly transformed the settings into a zombie apocalypse, spicing up an otherwise boring commute for passers-by. Though short-lived, the stunt generated more than 400,000 Facebook shares.
These large-screen AR installations might be expensive to pull off, but AR is a versatile tool that allows you to weave your brand story on users' smartphones. That was the objective of Esquire when it partnered with The Macallan, a whiskey brand, to create an AR experience right on the magazine pages through a free app. The AR-enabled print ad brings to life Esky, Esquire's mascot, who pours a glass of The Macallan's Double Cask 12 Years Old.
With AR, brands can tell their best stories in a way that excites and fascinates, all while growing brand recognition and driving customer loyalty.
Customer engagement
In a customer-centric world, customer engagement becomes the most important ingredient of a successful business. A study by Gallup proves the point — fully engaged customers bring 23% more revenue. Augmented reality advertising helps marketers better connect with prospects, inviting them to engage with the brand in a more exciting and interactive way.
And a gamified AR experience can drive customer engagement through the roof. Remember the global craze over Pokémon GO back in 2016? Crowds were roaming the streets in search of marvelous creatures, forming wild stampedes over the rarest ones. The immensely successful game offered a glimpse into an untapped AR potential in crafting extremely engaging user experiences.
Apparel retailer Tillys took notice and mixed AR-based gamification with influencer marketing for a killer customer response. The brand partnered with YouTube star Shonduras to create a real AR scavenger hunt for their customers. By using a custom AR-enabled app, customers can collect virtual coins to receive discounts and coupons for purchases along with a chance to win real-world prizes.
Immersive experience
An immersive technology by definition, augmented reality enables businesses to provide unique, immersive branded experiences that stretch far beyond the real world.
Imagine you are in the middle of a renovation project and trying to decide between white or ivory for your living room. The Home Depot's Project Color app uses augmented reality to let you try different colors on a wall and find the right hue or a perfect match to the decor. This year, the home improvement retailer is testing an iOS app that lets you choose a piece of furniture from brand's Decor Collections and visualize its 3D model in your home settings.
And these immersive experiences are available to users at their fingertips. With Google's ARCore and Apple's ARKit driving mass adoption of mobile AR, there will be 4.6 billion AR-enabled smartphones by 2020.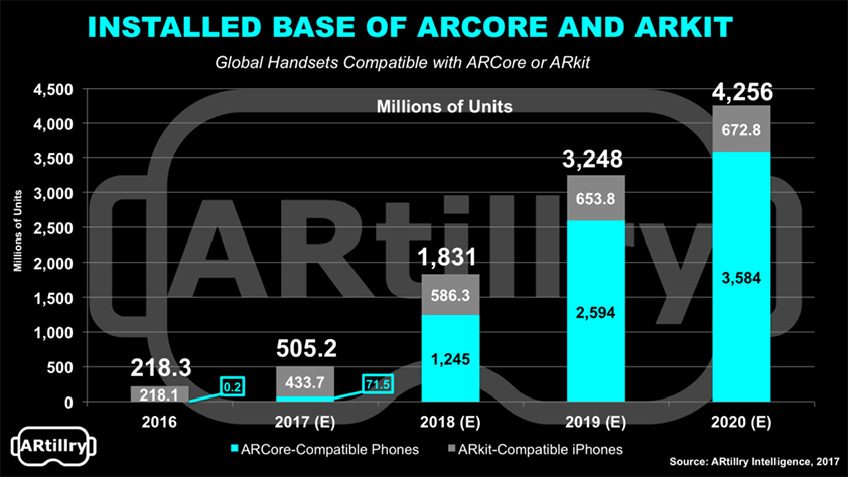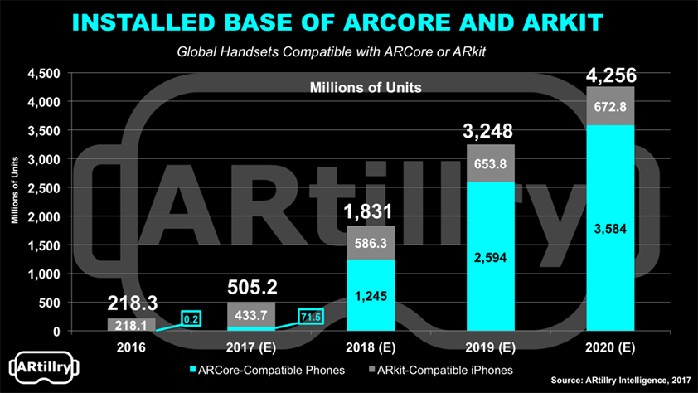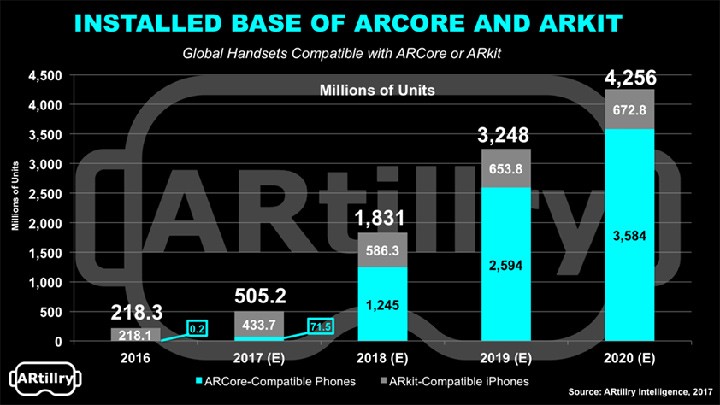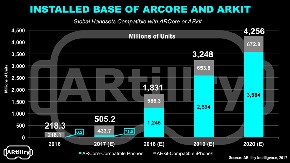 Source: artillry.co
Added value
By blending the real and virtual worlds together, augmented reality not only enriches user experience, but also adds value to it — whether in the form of additional product info, useful instructions, or the easiest route to wherever you are heading.
How about the shortest way to the gate in a busy airport when in a terrible hurry? Now, that would be helpful since missing a flight is something you never want to go through. Gatwick Airport got you covered with the world's first fully functioning indoor wayfinding app. Supported by 2,000 beacons, the app helps passengers effortlessly navigate around the airport and find a check-in desk, a baggage carousel, or a favorite store.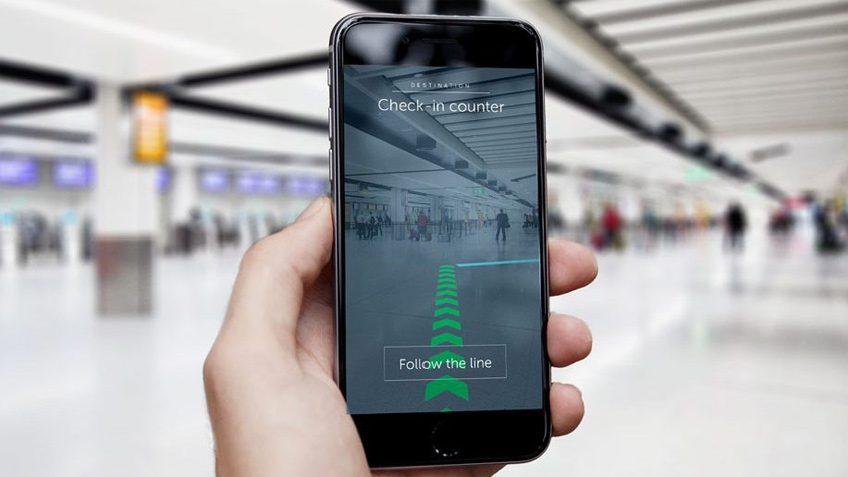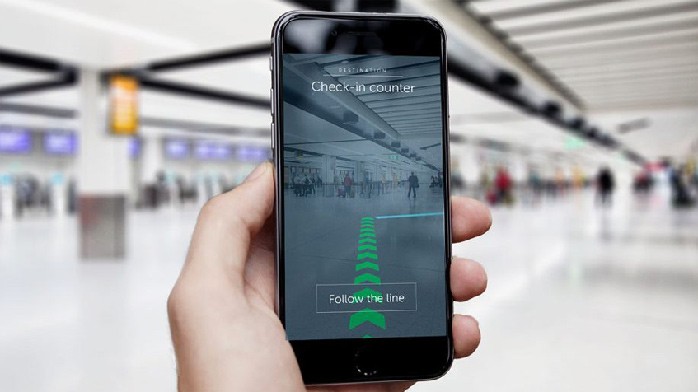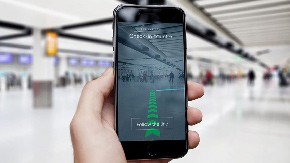 Source: www.businesstraveller.com
Retailers successfully leverage augmented reality in marketing to provide additional information to customers while they are shopping in store. American Apparel offers visitors to learn more about a product by scanning signage and pulling out product reviews, color options, and prices.
Location-based marketing
As people now live and breathe their smartphones, brands are pouring more of their ad dollars into location-based mobile advertising. By 2022, location-based mobile ad spent will reach $38.7 billion, according to BIA/Kelsey's estimates.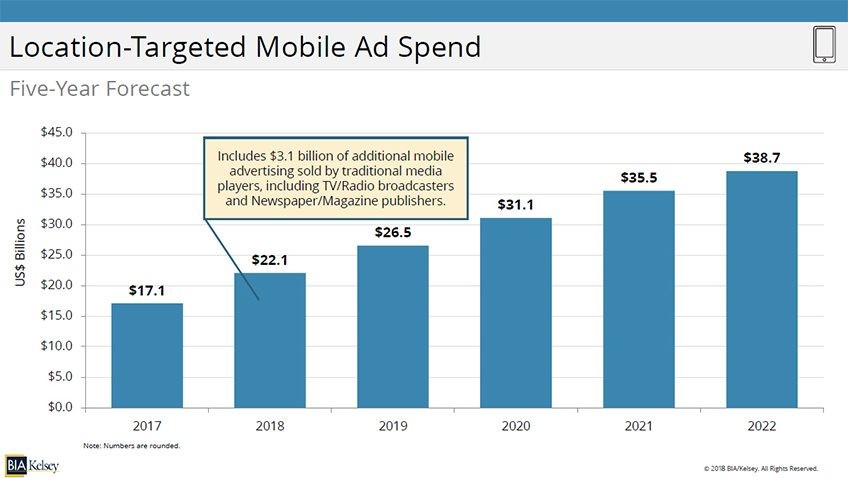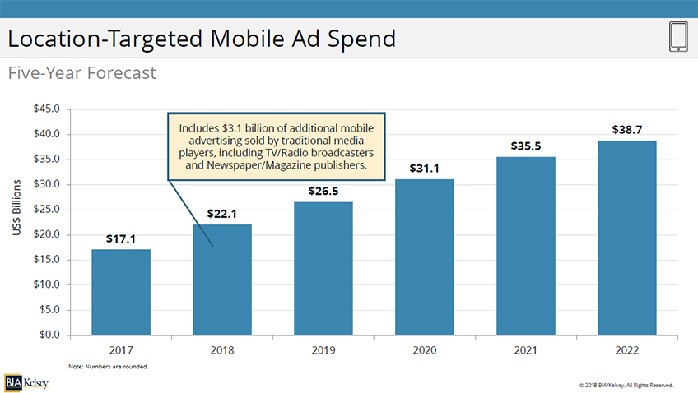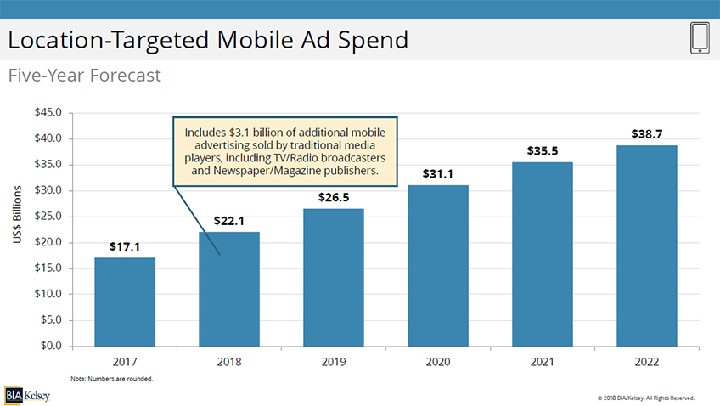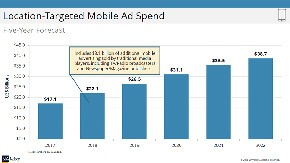 Source: www.biakelsey.com
Location-based marketing allows you to get your ad creative in front of your customers at the right time. Augmented reality lets you do that in a more useful and compelling way — by actually showing objects on handsets and guiding users there. This is what The Battery Atlanta is offering its visitors via a location-based AR app that populates a smartphone screen with AR signs to simplify navigation.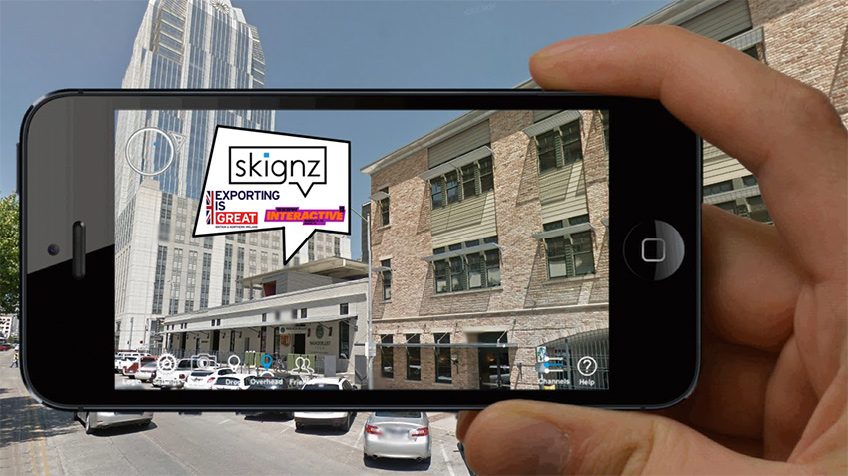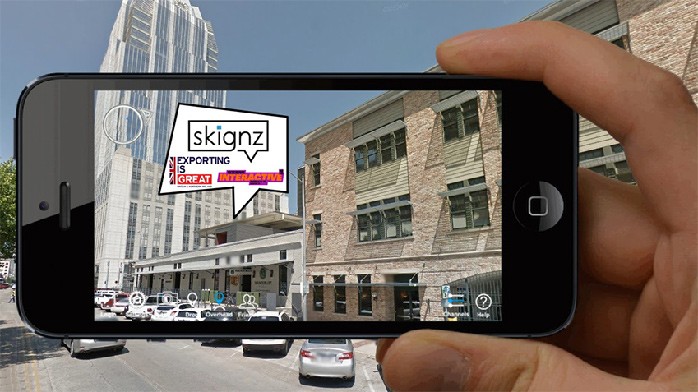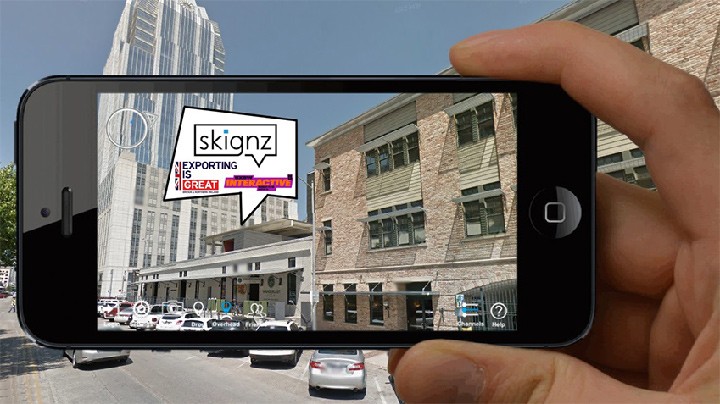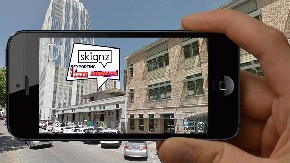 Source: hypepotamus.com
For brands, these location-based AR apps present a great opportunity to catch users' attention with discount offers and other promotional content placed within the app. Unlike pop-ups and push notifications, this is a non-intrusive way to introduce your offering to prospects.
Increased conversions
Customer expectations continue to evolve at a rapid pace. Not long ago, augmented reality was more of a buzzword than a real-world use case. Today, 61% of customers prefer stores that offer AR experience, and 40% of them would be willing to pay more for a product if they could experience it through AR.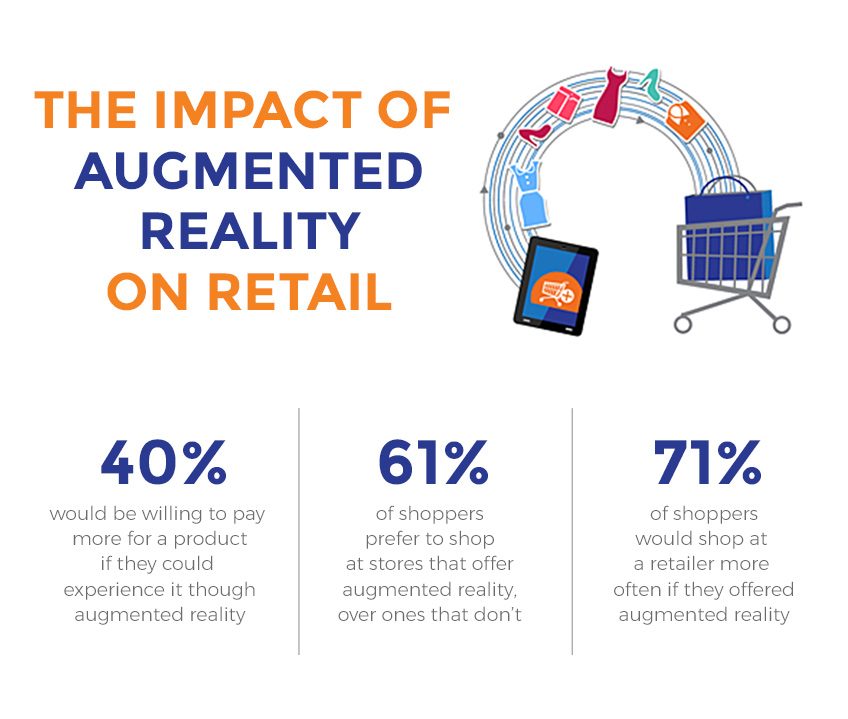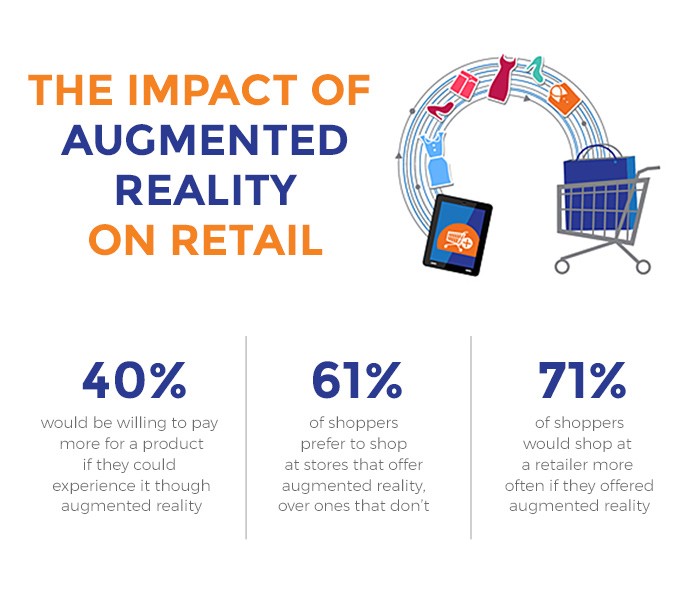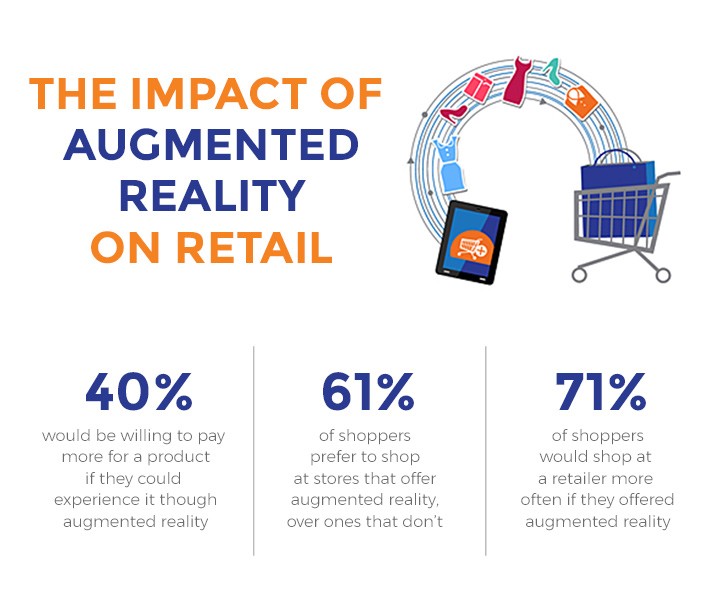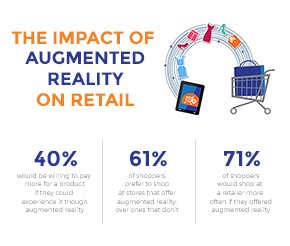 Source: www.retailperceptions.com
Not to miss a revenue opportunity, online retailers are starting to offer their customers virtual try-ons. With comfort and convenience as fundamental attributes of online shopping, this "try-before-you-buy" approach adds confidence and makes the whole shopping experience hard to beat.
SPEQS, an online eyewear retailer, helps you find your perfect pair of shades without leaving home. By using its advanced aCommerce app, buyers can try sunglasses in real time and get a side-on view for a complete picture. In case you need prescription eyewear, the app will accurately measure your face size, including pupillary distance and segment height.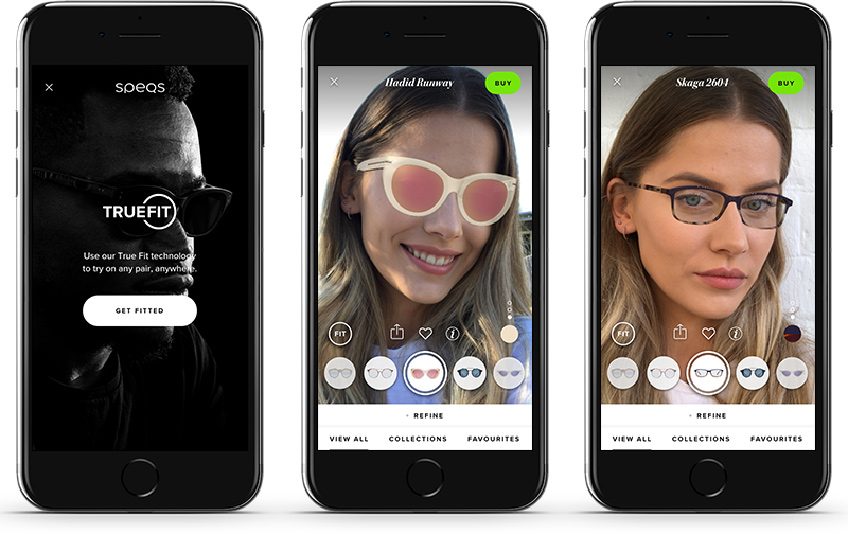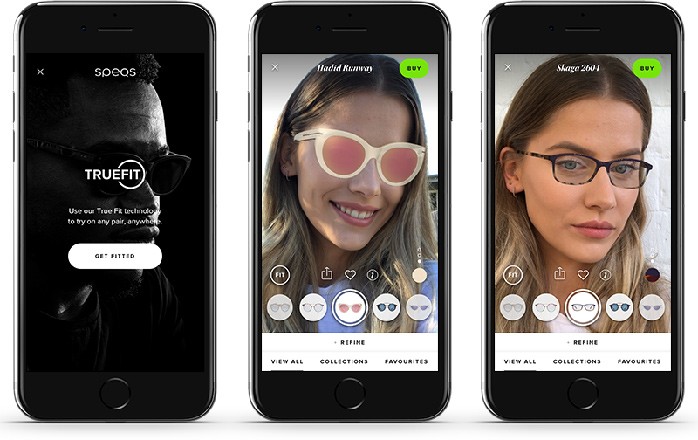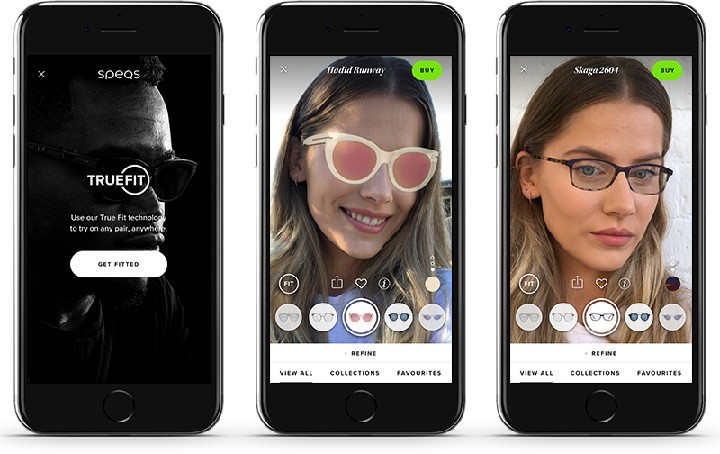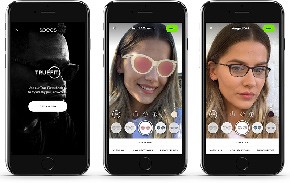 Source: www.speqs.com
Augmented reality in advertising is shaping up to be one of the hottest trends, and if you are not sure where to start, here's a few practical ideas how you can upgrade your martech solution.
How to incorporate AR into your advertising strategy
AR mobile apps
Underpinned by the excitement around the cutting-edge tech, the popularity of AR mobile apps is sky high — by 2020, AR devices are projected to generate $118 bln in revenue. And the biggest tech players are in the race to provide a superior AR experience for their users.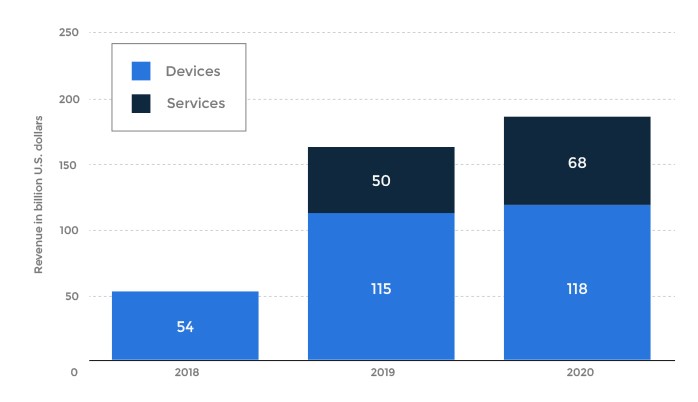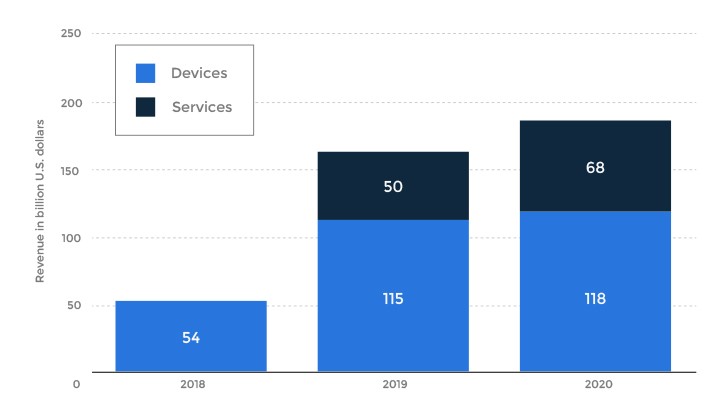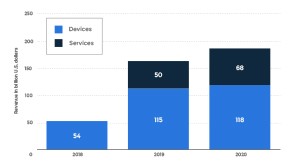 Source: www.statista.com
Apple's new framework ARKit 2 introduces shared experiences and persistent tracking, which enables player-to-player interaction. Google's Cloud Anchors also support collaborative AR experiences — with the difference that both Android and iOS users can share them in real time.
These exciting new developments will drive AR adoption rate even further. To future-proof your business and secure your share of users, add new AR features to your existing mobile app or consider developing an AR-based application if you don't have any.
AR billboards
A go-to choice for many brands, out of home advertising is getting a digital makeover. Marketers successfully use augmented reality to spice up traditional static billboards and displays for maximum customer engagement.
By tapping into this attention-grabbing power of AR, NHS launched a bold ad campaign to drive awareness around the blood donation problem. The campaign leveraged large digital ad screens and AR-enabled smartphones which replicated the blood donation procedure. As a virtual needle extracted donor's blood, a blood bag on the digital screen was filling up, and the patient was getting better, allowing participants to experience the "power of blood donation".
Marketing stunts that leverage innovative AR-enabled digital signage will never go unnoticed by the public.
AR advertisements
Social media behemoths have been experimenting with augmented reality for some time now — think Snapchat's Lenses. Every day almost 70 million app users interact with AR lenses, which makes the platform a great place to start for brands wishing to tap into the power of augmented reality marketing.
Facebook is also making a move and introduces AR advertisements into the News Feed. Brands like Michael Kors and Sephora are testing the new feature that will potentially allow users to interact with all sorts of eCommerce goods.
Adding an AR experience to your social media campaign may be a budget-friendly way to leverage the tech and build more buzz around your product.
AR games
Augmented reality games may be hogging all the spotlight (need we remind of Pokemon GO and 50 mln installations within the first month?), but creative marketers see an opportunity to piggyback on the hype.
One way to do that is to stock game accessories within your brick-and-mortar business and see a boost in foot traffic. Pokemon GO may have pushed AR into the mainstream, but there are a number of other AR games with extensive fan base.
Key Takeaway
Augmented reality may be an emerging technology, but it is not a gimmick. AR has matured to the point where it can provide real benefits across multiple verticals, and the martech space is no exception. Marketers harness the power of augmented reality in advertising to boost brand recognition and enhance user experience, while adding value to the whole customer journey.
At Oxagile, we pride ourselves on our solid martech expertise honed in multiple cross-domain projects. Working with a cutting-edge tech stack, we deliver marteh solutions that fuel business growth for our clients and help them stay ahead of the game. Drop us a line to see how we can support your marketing strategy.