February 18, 2019
Now that AR has well broken out of its initial gaming constraints, it is no longer about entertainment only. Businesses keep on hitting the global cross-industry horizons with their smart AR gizmos for whatnot, aiming to gain more competitive power and win over investor funding.
While the AR experience is less immersive than VR, last years AR demonstrates a steady adoption across the global market and proves great flexibility, adding tangible value to a wide range of businesses.
Tech giants like Google and Apple are fiercely competing in the AR arena, empowering their flagship smartphones with object detection, motion tracking, or environment understanding.
Predicting the AR revenue to break $120 billion by 2020, researchers note the annual growth in spending on AR and VR products and services. Today's tech-savvy customers welcome innovation, so building a robust AR solution can help enter even the major high-margin markets like healthcare.
Reports say that the global market of virtual and augmented reality in healthcare is estimated to reach $5.1 billion by 2025, meaning that good investment decisions are likely to pay off. How to build a competitive AR solution for healthcare? Let's try to figure it out.
Enhancing Doctor-Patient Interaction via AR-Assisted Telehealth RTC and mHealth Apps
When it comes to location and time constraints, disabilities, or lack of specialists, traditional face-to-face medical appointments sometimes don't cut it. With a wealth of communication technologies that help seamlessly deliver healthcare services over distance, innovative telemedicine solutions bridge the gap between qualified medical staff and the patient.
Coming into play to foster patient engagement, streamline communication, and personalize medical services, telehealth and mHealth solutions take their place across medical practises, unburdening workflows and enabling personnel to focus on the critical agenda. And now, with AR hardware getting more accessible, healthcare providers are willing to seize on the opportunities opened up by mixed reality-assisted treatment and medical training.
Among the pioneering solutions within the vertical was an automated AR-powered telemedicine system named Docpal. To take doctor-patient communication to a new level, the solution combined Microsoft Kinect's capabilities with interactive voice recording and speech recognition, text-to-speech, and decision support system.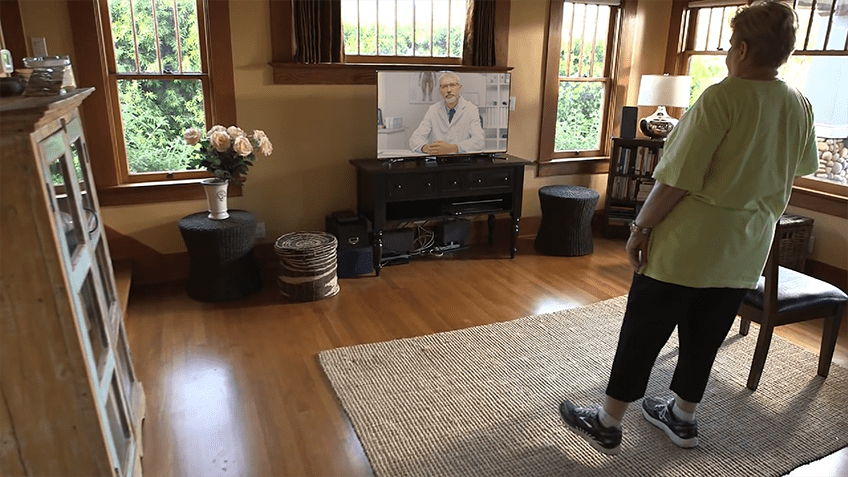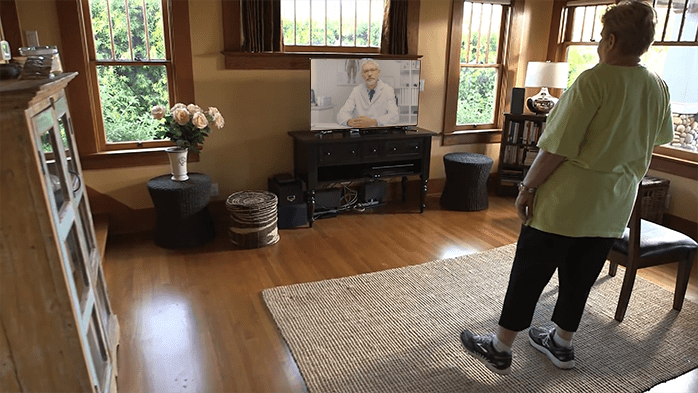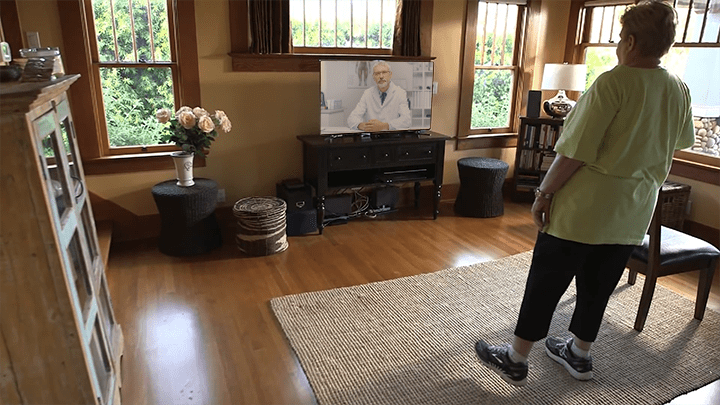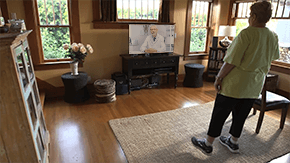 On top of enabling users to set up video conferencing sessions, the system's custom software allows leveraging AR experiences to better locate the source of pain or take exercises as needed, in real time.
Today, it's no news that a robust WebRTC software can lay the groundwork for an unlimited number of innovative solutions across a wealth of business verticals, from healthcare to eCommerce.
Optimized for various devices and screen resolutions, WebRTC software can well make for a cost-effective, easily deployable telehealth solution for emergency stroke treatment, post-operative follow-up, and more.
Augmenting Interactive Guides
Yet another example of telehealth system that facilitates doctor-patient communication is a Virtual Interactive Presence technology. A mobile iOS app helps create a merged reality environment where a surgeon can verbally, visually, and manually interact with the patients in need of post-operative orthopedic and neurosurgical care.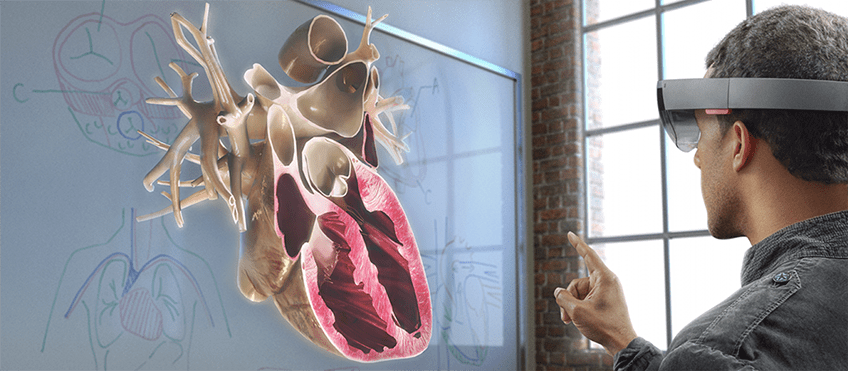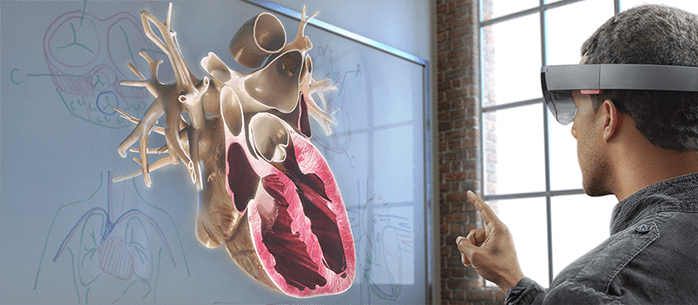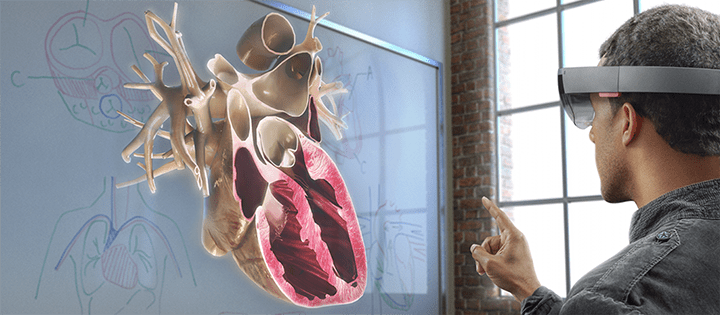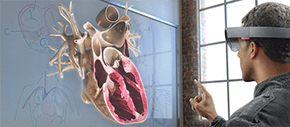 Source: medtechboston.medstro.com
From AR-powered interactive guides for training people to perform ECG tests up to telepresence AR apps that help execute advanced medical procedures such as Point of Care Ultrasound with no visual contact, the range of novel telehealth and mHealth solutions is getting wider year by year.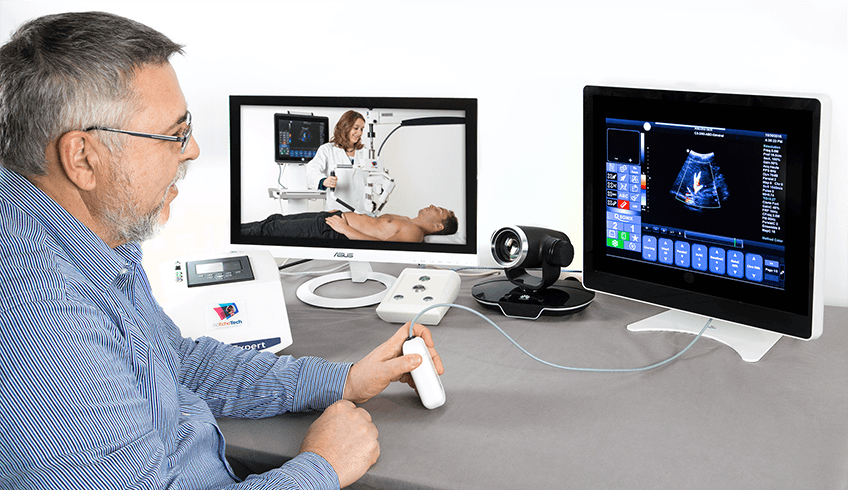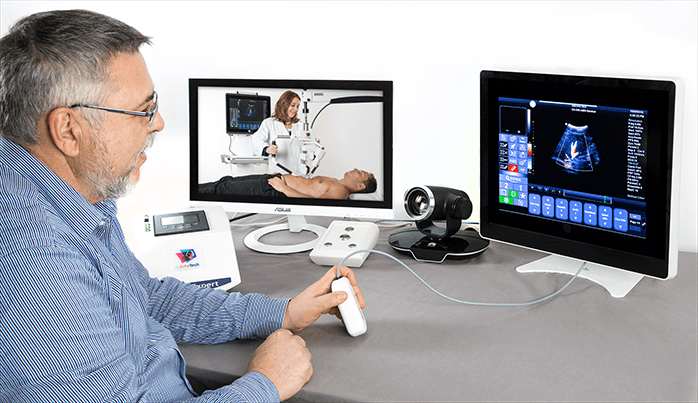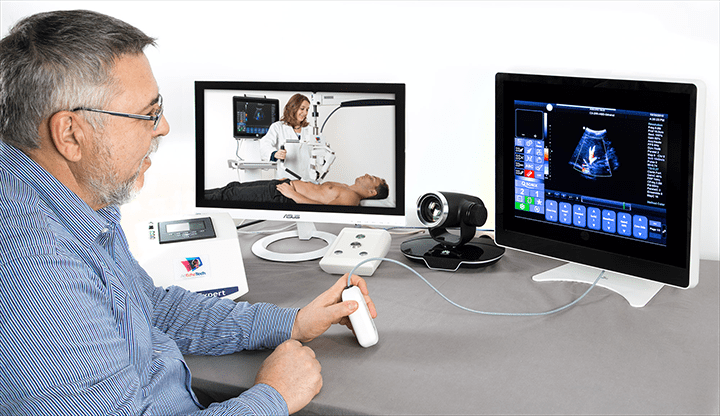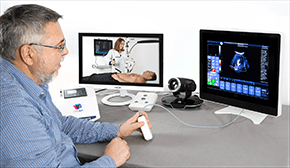 Source: esa.int
Yet the bulk of projects typically concerns practising complex surgeries on dynamic 3D models based on CT and MRI scans.
AR-powered Medical Training for Conducting Complex Surgeries
Not that it's become a commonplace, but AR-powered surgical guidance has been around for quite some time to make the list of application areas that people mostly associate with augmented reality in healthcare. Valued for the ability to visualize complex concepts, AR apps help deliver 3D experiences right in front of trainees, saving tons of man-hours for qualifying them, with no need to use costly mannequins or models.
By overlaying preoperative imaging data on a live video, AR tech enables a surgeon to clearly see subsurface structures. But not only that — AR-powered training systems are also capable of enhancing surgical resection accuracy, especially when it comes to small lesions or tumors. Just like the mobile app that helps create 97% reliable 3D reprojections of brain tumor in real time by tracking patient's facial features.
Yet another example is an advanced medical simulator that allows to swap mannequins out for a highly customizable AR- or VR-enabled virtual patient, making the training process tenfold cheaper. Supported across all major platforms, the HD 3D solution enables users to work on a virtual patient in groups of up to 4 at a time, either in AR or VR, with no wired connection needed.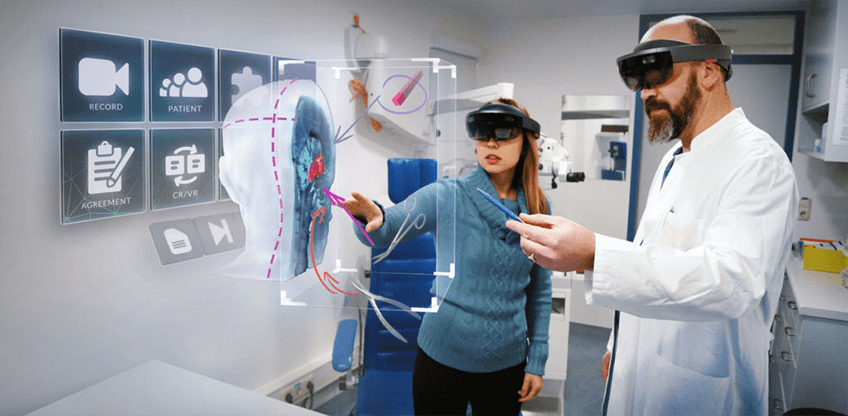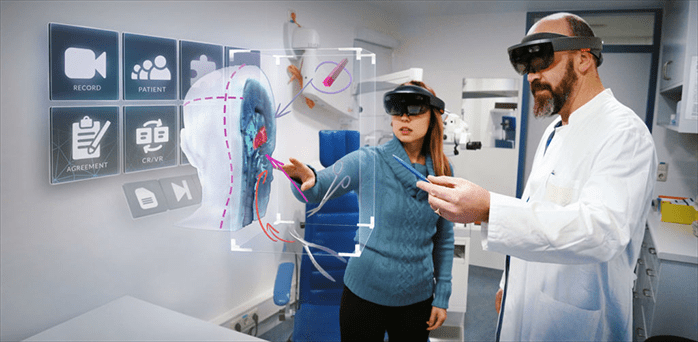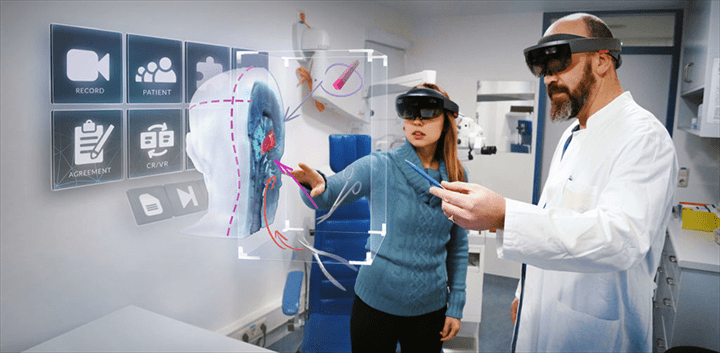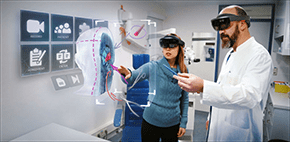 Source: healthysimulation.com
On top of that, the system's advanced visualization capabilities help deliver a completely realistic experience by reproducing any kind of symptoms, health conditions or impairments true to life — be it bleeding, pregnancy or missing limbs.
Advanced Visualization for Utmost Operational Precision
Underpinned by robust software, AR systems are capable of tracking every motion of a surgical tool. With a visual operation roadmap available right off, specialists can keep computer monitors away, focus on an area under preparation and thus achieve utmost precision. Enabling to avoid taking excessive x-ray scans, augmented reality in healthcare also helps dramatically reduce radiation exposure, collecting scan data to utilize it for academic purposes for good measure.
Building an AR healthcare system that features rich visualization functionality is definitely no mean feat, but there are many ways to cut it. To ensure better ROI opportunities, businesses often utilize pre-built SDKs, frameworks, and reusable plugins that help create immersive experiences less costly.
Low-Cost Pain Treatment and Fitness Management
Researchers state that about 80% of amputee patients around the globe suffer from phantom limb pain soon after surgery. Caused by brain or spinal cord signals, the symptom requires complex therapy complete with opioid, antidepressant, and relaxant medications. Sick of taking so much drugs that hardly take the pain away, the patients are eager to have an alternative to this treatment.
For years, specialists have been relying on mirror therapy to address the issue of stimulating brain regions responsible for sensation, motion, and pain. Today, researchers are opting to pair mirror therapy with AR healthcare to add a novel direction to this go-to approach and enhance its efficiency.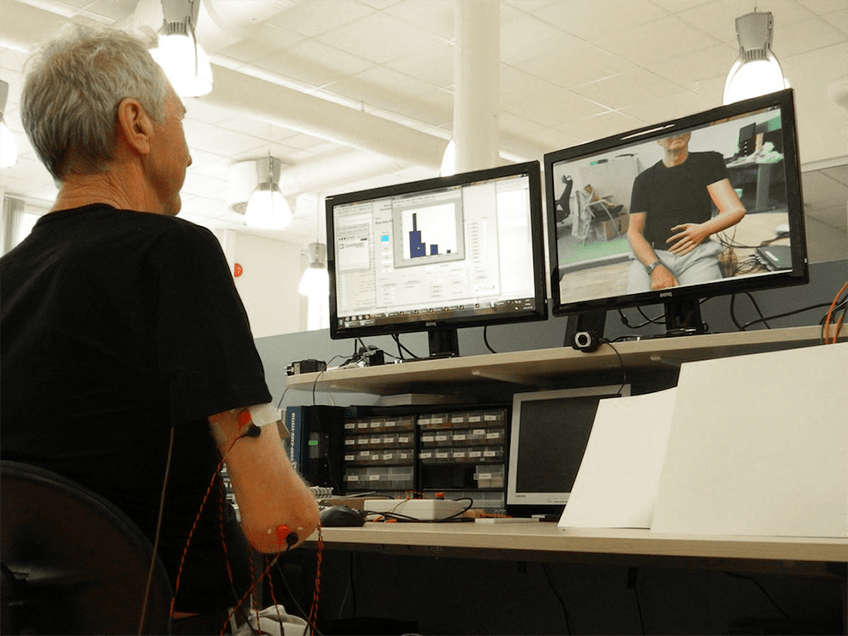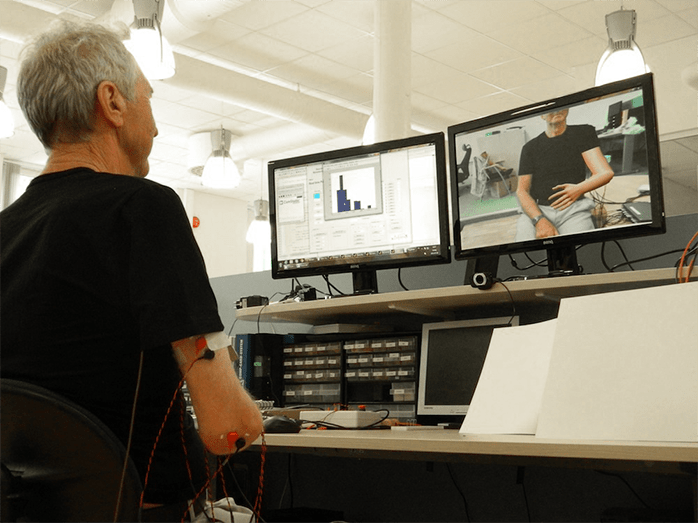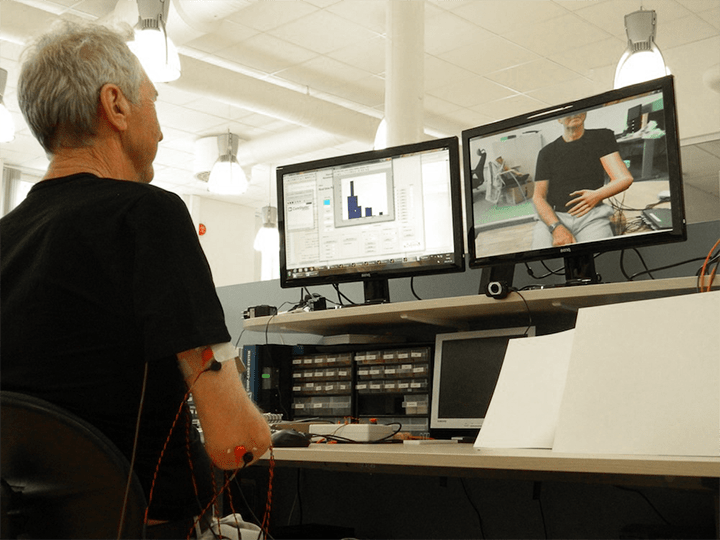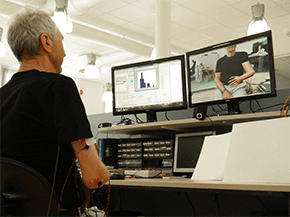 Source: integrum.se
With little to no side effects, AR-enabled pain treatment harnesses 3D object tracking and modeling. Taking minor tweaks to get the hang of it even at home, AR-assisted rehab also offers low-cost graded motor imagery techniques that make amends for excessive medication usage.
Source: gradedmotorimagery.com
Simple Exercising to Handle Complex Conditions
Yet another symptom that AR can help treat is a neuropathic pain. Having much in common with complex regional pain and phantom limb syndrome, neuropathic pain is caused by a primary injury or dysfunction in the nervous system.
To handle this problem, specialists devised an AR-powered system that leverages Microsoft Kinect camera's capabilities. The solution provides 15-minute 3D-enabled mirror therapy sessions that are focused on interaction with mixed reality objects while exercising the non-affected body parts.
Source: youtube.com
Getting Healthier via Immersive Experiences
And sure enough, fitness- and wellness-related businesses also welcome the innovation. Focused on winning wide and versatile audiences, sports industry contributors favor AR for its ability to give their products an interactive touch that increases both user engagement and competitiveness.
From gamified solutions that visualize workout-related data right in front of your eyes to mobile apps for fitness machines and medical devices that enhance therapeutic exercises — there are next to no limits to ideas that can knock it out of the park.
Visualizing the EMR and EHR Pathological Information to Operate 3D Models
With today's switch to digital, electronic records become a must for medical practices to stay competitive. A huge mass of patient data — from basic vitals and medical history up to ICD-10 codes and test results — requires a secure solution enabling to efficiently collect, access, and manage it. So, building a robust EMR or EHR software is one of the most common challenges that healthcare organizations address.
Though it doesn't feel like the legacy healthcare records are going to fade away for good any time soon, the EMR and EHR solutions grow more sophisticated year by year, all along with the market demands. Last year, AR started creeping in to work its magic across the EMR and EHR, among other healthcare areas.
A group of Chinese researchers devised an AR-powered system that includes a server, an Android device displaying medical records, and a data glove. Wearing the glove and a pair of AR or VR glasses, a user will be able to operate a 3D model to get a way more immersive experience as opposed to reading text records.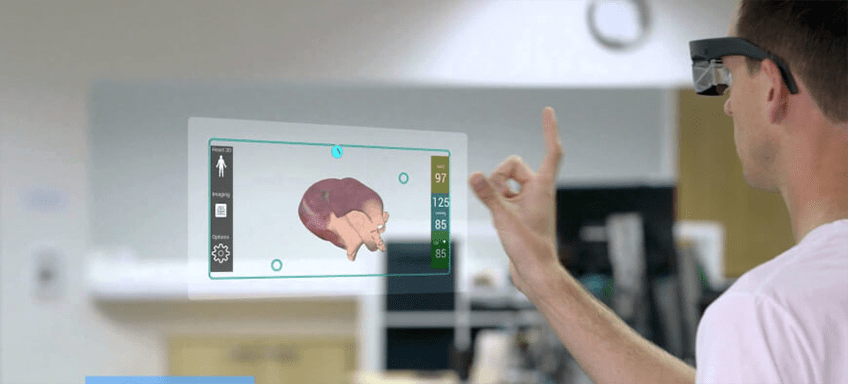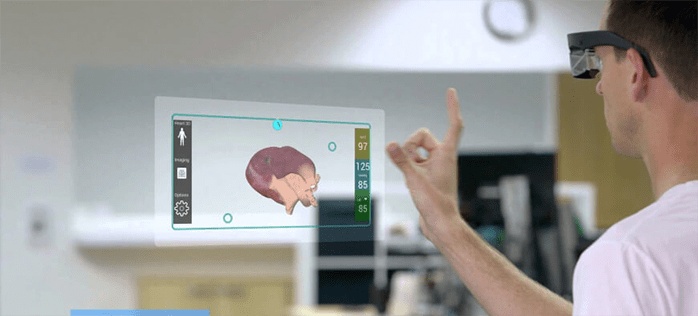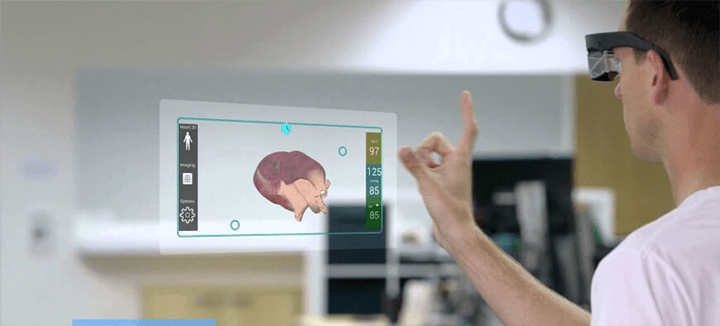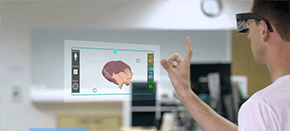 Source: medicalfuturist.com
Pick an AR Niche that Will Take You Leading Edge
Now that AR innovations have well started moving the needle in the healthcare market, there are plenty of niches that are worth picking to gain a competitive advantage. From medical training applications that enable personnel to cooperate on 3D images to AR-assisted surgical tools, telehealth apps, and novel pain treatment solutions.
With a wealth of expertise in the video domain, Oxagile has been engaged in AR and VR software engineering for quite some time now. Just let us know when you think it's time to get your project started, and we'll find the best match between our expertise and your business needs.