August 17, 2017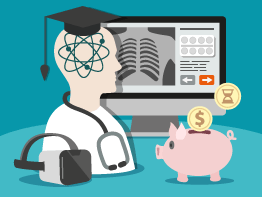 Traditional approaches to medical learning may have several drawbacks, including the high cost of building and maintaining educational centers, and the inability of healthcare professionals to find time for training.
E-Learning has the potential to tackle these challenges by allowing employees, and patients, to take courses at their own pace. In fact, it has already proved to be effective and cost-saving in a number of healthcare organizations across the United States. Now, let's dive deep into these success stories to find out the areas where we can expect the biggest ROI on an e-Learning investment.
Interactive Simulations with VR and AR
The main promise of virtual and augmented reality in healthcare is to bring interactivity and hands-on experiences to studying complex conditions, practicing surgery skills, and other areas of medical learning. The technologies allow creating almost any physiological model or clinical environment to support education of professionals, trainees and patients at all levels.
For example, EON Reality created a virtual reality ophthalmic training simulator to help medical students who have a hard time studying the complex structures of the human eye using books and 2D models. With a realistic replication in the virtual environment, learners can practice procedures without touching a patient or a cadaver. Moreover, instructors can create custom patient cases combining several dysfunctions for students to perform a diagnosis.
Medical Software Training
Healthcare software can be more easily adopted when backed with a comprehensive e-Learning program that will allow professionals to learn the ropes, refresh their skills when needed, or prepare for certification such as CMAA (Certified Medical Administrative Assistant) or CEHRS (Certified Electronic Health Records Specialist).
NYU Langone Medical Center created an interactive course to help 8,000 employees pick up a new Integrated Clinical Information System, aiming to ease the move from paper to electronic records. The course presents a simulated environment where learners can practice completing tasks and orders in real-world, customized patient scenarios.
To help students feel fully proficient and comfortable with EHRs, Oregon Health & Science University implemented a simulated EHR curriculum that provides a safe, supervised chart for placing orders for a virtual patient and learning the fundamentals of chronic disease management and health care maintenance. As a result, half of the students and almost all the interns working with the simulated chart rated the activity as "effective" or "very effective".
Biotech and Pharmaceuticals Training
Biotech and pharma are the industries where outdated training can really bring the business down. Take, for instance, the Purdue Pharma Canada team, who faced the challenge of compliance with the governmental regulations obliging the company to keep up with often-changing product monographs and prescribing information. Whenever a regulation comes into force, the learning content becomes obsolete, and employees and partners must be re-trained on that topic.
To solve this problem, Purdue implemented an LMS that made it easy to adjust learning content as well as create personalized development plans thanks to an integration with the company's HR database. "For me, it's important to be able to easily help each trainee's progress. If they have a particular certificate, I know they've achieved everything they need, so it's easy for me to run reports on who has and has not obtained that completion status," says Mihai Csaki, senior trainer for Purdue's Health Solutions division.
The line-up of e-Learning adopters also includes large companies such as Alcon, Ipsen, Daiichi, Prostrakan, and Thrombogenics, which tapped into the DOKEOS offering to power their employee training and evaluation processes.
Patient Education
Medical e-Learning is not only about training professionals. It can also enable patients to learn more about health and care beyond clinical settings. For example, DDA Medical leverage the power of interactive portals and apps to help them easily understand complex medical conditions, terminology, and device manuals.
Here is where VR and AR come in handy again, helping patients to reduce anxiety prior to visiting a doctor by gaining more visibility into the proposed treatment procedure and the clinical environment. See how OhioHealth's Grant Medical Center uses a VR clinical training program:
While vendors like DDA Medical tailor their offerings to the patients of a particular clinic, the United States Department of Health and Human Services is taking advantage of e-Learning to promote health and prevent diseases across the entire nation. To support the Healthy People program, they introduced an online educational platform that allows participants to complete a course or watch a webinar, pass the evaluation, and receive the certificate.
On a Final Note
In this post, we saw how cutting-edge technologies can power healthcare trainees, professionals and populations in gaining and updating life-saving knowledge. As far as we can tell from our research and experience, the biggest e-Learning opportunities in healthcare spring from the following concepts:
Integration of LMSs with HR and performance management systems
Microlearning, or delivering content in small chunks
Don't hesitate to take a more detailed look at these ideas in our latest blog post and let us know what you think.