March 1, 2018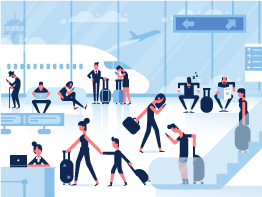 According to a study by Walker, by 2020 customer experience will emerge as a key brand differentiator, making personalization a real game changer.
Customers have come to expect tailored services not as an exception, but as a rule. And businesses that nail personalization enjoy a boost in customer loyalty, and by extension in revenue streams.
This opportunity should not be lost on airlines, given the wealth of information they are sitting on. Business intelligence (BI) can play a crucial role in unlocking true data potential and translating valuable insights into an actionable strategy to monetize customer satisfaction.
Business Intelligence to Power Data-Driven Marketing
Frequent flyer programs, purchase history, checked luggage — airlines are awash with vast amounts of information. However, if there is no analytics solution in place, carriers will be struggling to leverage disparate sources of data in a meaningful way.
Enterprise-grade BI solutions break down information silos, streamline data aggregation, and provide a single source of truth. With clean, deduplicated data at your fingertips, you can better support your marketing efforts and develop a data-driven plan on how to take your customer service to the next level.
Have a look at the new "collect, detect, act" approach adopted by United Airlines. By analyzing 150 variables, the carrier was able to tailor its offers to the individual needs of each passenger, enjoying an increase in year-over-year revenue of more than 15% as a result.
Hyper-Personal Mobile Experiences for Bigger Earnings
In a mobile-first world, customers live and breathe their mobile devices, making them a vital channel of interaction. Backed with BI-generated insights into passengers' habits and preferences, you can communicate relevant and meaningful messages to them.
You can also beef up the passengers' mobile experience with machine learning, turning your custom mobile app into a trustworthy friend who knows your client like the back of their hand. ML algorithms analyze complex data to predict customer behavior to help deliver a precise, hyper-targeted experience.
Knowing that your passenger has recently embarked on a healthy lifestyle, send him or her a list of healthy dining spots at the airport. Or, if your passenger is in the habit of drinking coffee in the afternoon, use that information to guide the customer to a partner coffee shop.
A mobile app can also serve as a channel for cross-selling other services or upselling opportunities. A passenger exhausted from wandering around the airport would appreciate a timely invitation to the lounge or a discounted seat upgrade. During a flight, introduce attractive destination-specific spa packages, restaurant offers, and other deals, to get your commission.
In-Flight Entertainment as a Money-Making Opportunity
Being key to a superior onboard experience, in-flight entertainment (IFE) can easily be turned into a profit center. A custom VoD platform lying at the heart of an IFE portal can be built around any monetization model that suits you best, whether it's a pay-per-view or an ad-supported scenario.
By tapping into BI-powered user behavior insights, you can engage and entertain your passengers even better with custom-tailored or exclusive content and special offers. Take away action movie lovers with the newest Hollywood blockbusters, or offer sommelier-curated programs to gourmets — the possibilities are endless.
Another way to a more personalized experience is to deliver content around onboard activities. Inform the passengers about the time of their in-flight meals so that they can decide whether to start a new movie or wait a bit to continue binge watching without interruptions.
Panasonic Avionics is leading the pack with its innovative IFE system. The airline successfully embraces personalization and offers passengers to log in at their seats, store their playlists, bookmarks, language preferences, and more.
In-Flight eCommerce for Ancillary Revenue
With the rise of in-flight connectivity, tech-savvy airlines start to shift from trolleys stocked with typical duty-free goods to full-fledged eCommerce platforms.
A successful shopping experience hinges on relevant deals and timely offers. By implementing machine learning algorithms coupled with advanced analytics software, you can send personalized product recommendations and intelligent suggestions based on likeness to previously purchased items.
Finnair, for instance, leveraged its Nordic Sky in-flight entertainment portal to offer new services and shopping opportunities to passengers en route. Now the passengers can pre-order tax-free products, shop for clothes, book taxis and tours, and buy destination tickets — all while enjoying their journey.
Final Note
When it comes to exceptional customer service, a one-size-fits-all approach does not cut it. To stay on the customer's radar, you need to make them feel valued and exclusive. And personalization is the way to go.
Since its inception in 2005, Oxagile has accumulated profound expertise across multiple verticals and domains. We excel in providing full-cycle BI software development services and building powerful MarTech solutions that support your business objectives and ensure growth. Tell us more about your needs, and let's see what we can do for you.