December 9, 2013
Technologies are an inseparable part of modern world.
More and more often companies think about their own software solutions which will help to retain old customers and attract new ones. But usually not every customer can understand the process and software development team roles our employees have in the project.
We've decided to fill in this information gap and publish a series of interviews with our guys holding different positions in the company. Hope this will help you understand the development process better and see the real people behind your projects.
As our world turns mobile faster than ever, our first choice has become a mobile developer.
Vital Vinahradau, Mobile Technical Lead at Oxagile
What makes a great mobile app developer?
First of all, I don't like a separate category of "a mobile app developer". Especially nowadays, when the boundaries between mobile and desktop systems have a tendency to disappear.
However, clear mind, great logic and responsibility – these qualities are eternal and of great importance for me. I simply believe that there are good and bad developers, and there are genius ones. Good and genius software developers are known for the dedication to what they do.
For these folks work and hobby, in fact, largely overlap.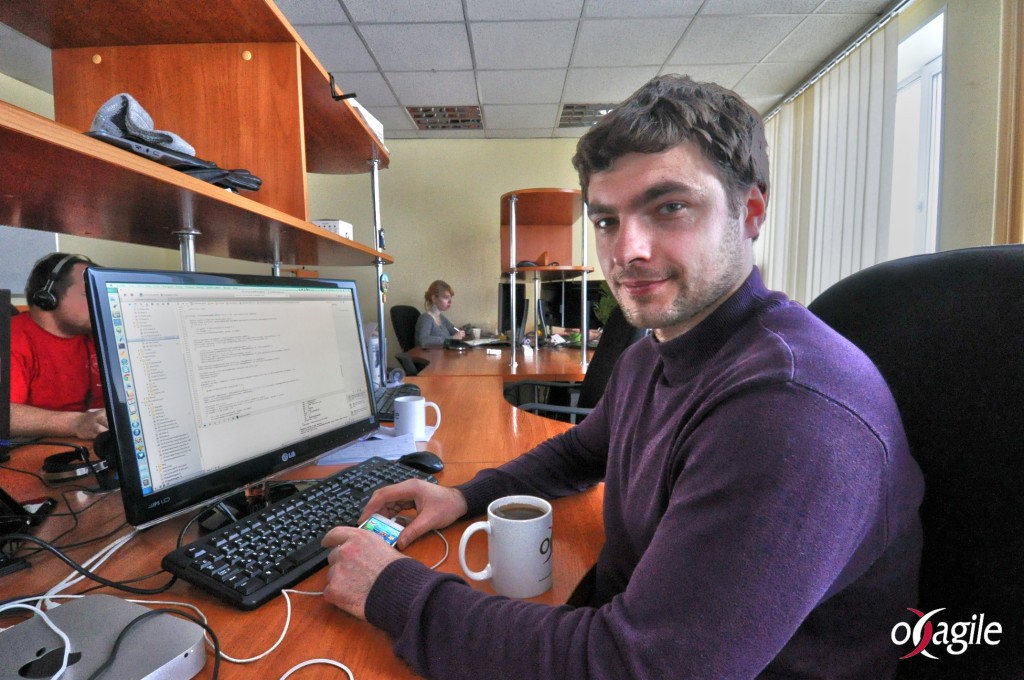 What is important in your job?
Understanding the fact that I am doing (or attempting to do) a product of the highest quality, solving new exciting (or not so exciting) tasks, constant challenges, and everlasting struggle with my own laziness.
How did you get on board with Oxagile?
Well, quite ordinary. I was looking for a job, made a number of job interviews. Eventually I stopped at Oxagile largely due to the possibility to work on their own products, like AppAnnex LLC.
What makes you happy, or perhaps unhappy, about your job in here?
I like the team, office location, tasks I'm working on. However I don't like some inconveniences – for example, lack of a kitchen or dining room, normal rest room.
What is the most important thing in your life?
I can't live without self-development and a feeling of a progress, accomplishment, both physical and intellectual.
Tell us about your unique experience?
Taking part in several startups, which is a kind of "gold rush" for our generation. Unfortunately, we must have dug in a wrong place.
Share with us your most insane experience?
Smart enough, I don't tend to do anything crazy, at least something to recall of. Well, except for swimming over a small lake when I was a kid, occasionally ice-hole swimming – these are sort of my little crazy activities. 🙂
What is the first thing you do in the morning?
It depends. Normally, I take my dog for a walk.
7 facts about yourself we need to know?
7 facts about myself? – Even myself I don't know that many! 🙂
Do you like cars? How do you get to work? Does your spouse/girlfriend have a driving license?
I love cars, but not really crazy about them. I use public transport to get to work. Until now that's the most convenient and beneficial way. Me and my girlfriend have driving licenses.
Your fundamental life principles?
There are principles articulated for the first time not by me, but which I support. One of them is "Cogito, ergo sum"; "motus vita est".
Do you regret about anything?
I think what's gone is gone, so there is no need to feel sorry about it anyway. Nevertheless, occasionally I do regret about irrevocably lost time – lost due to my own laziness.
What is your favorite country?
Belarus is my favourite country. Not the one we live in today, but the one in the future, after some transformation takes place.
What is Facebook?
Facebook is a huge trash bin just like the entire Internet. What we are missing today is a real-time communication.