November 15, 2017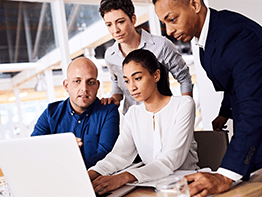 Fishing in the global talent pool can be tricky. While software outsourcing can yield many benefits, it's not without challenges. Here are some of the questions you should be asking your vendor to make your outsourcing endeavor as risk-free as possible.
What about IPRs?
The World Intellectual Property Organization (WIPO) defines two critical concerns in outsourcing — disclosure of confidential information and intellectual property ownership.
When sharing proprietary data with an outsourced provider, you need to be sure that your trade secrets and other sensitive information are protected at all times. A good vendor would anticipate your concern with a Non-Disclosure Agreement (NDA) that protects your assets.
Another effective way for the vendor to ensure IPR protection is to adopt a formal Information Security Policy (ISP). An ISP defines rules to control access to sensitive information, while also addressing the issue of safe data storage, transmission, and processing.
To spare yourself the trouble of any IP-related conflicts in future, make sure the contract clearly stipulates a full IPR transfer at the end of the project.
Am I in control? How do I know what the remote team is doing?
Delegating responsibilities — no matter the line of work — always means giving some control away. But with the right strategy, you can stay on top of your project. Here are some actionable steps you can take.
Select the right candidates for the job. Ask your vendor what the staffing process looks like. Can you be the one to hand pick your tech guys?
A good outsourcing provider will offer you to screen the proposed team members to weed out those who don't fit. Another good sign is to be invited to meet your future team in person. Use it as an opportunity to establish mutual trust and build rapport.
Ensure transparency. How can you make sure that your project is on track? How do you know the real state of things at all times? Drill your outsourcing vendor on the approaches used to provide visibility into your project development.
An experienced vendor will lay out the available tools and strategies so you can make an informed decision. If project visibility is top priority to you, ask your outsourcing partner about scrum. Besides the transparency and openness it brings to the project, this methodology prioritizes business-critical features and ensures incremental value delivery with each iteration.
Control your level of service. A Service Level Agreement (SLA) presents a great opportunity to define the expected standards of performance, and a trustworthy vendor will certainly be willing to negotiate signing one.
When drafting an SLA, be sure to include the acceptable time to response, time to resolution, availability, and other performance metrics that are important to your stakeholders.
What about time zone difference?
Time difference can have a negative impact on communication, hampering project progress down the road. Ask your vendor about the available options to make the process as smooth as possible.
In addition to traditional communication channels, such as telephone calls, video conferencing, or instant messaging (that you should heavily rely on), discuss a working hours overlap. An overlap of 2 to 4 hours will keep all parties in sync and improve productivity.
Moreover, do not underestimate the value of onsite visits. Besides being an important due diligence activity, they are a great way for first-hand knowledge sharing.
Is your outsourcing vendor willing to discuss business trips for key project members? These could be priceless in terms of better business understanding, knowledge transfer, and keeping everyone on the same page.
What about cultural compatibility?
Solving the cultural puzzle is essential for your outsourcing project to be successful. A different culture means a different mind-set that shapes employee behaviour, communication, and even decision making.
Different mentality. Mental compatibility can make or break collaboration. Make sure that your outsourcing partner shares your understanding of commitments, conflict resolution mechanisms, and responsibility. That should not be a problem if you choose to outsource to a country with a Western business mentality.
Talk to your outsourcing vendor about potential cultural challenges to ensure better predictability and avoid any negative experiences along the way.
Different language. When it comes to computer science, English is the de-facto standard. So if you opt to outsource to a non-English speaking country, ask your outsourcing provider how English training is handled. To avoid communication pitfalls and ensure a streamlined development process, a sufficient command of English is a must.
What happens after the project is done? Am I on my own?
After the project is complete, you need to be sure the resulting product is maintainable by a third party who you might hire later on. Failure to support or enhance your product as needed could entail serious risks, including the disruption of business.
Here are some of the measures you need to take to improve maintainability and facilitate further product development and support.
Documentation transfer. Supervise the transfer process to make sure it includes all user manuals, guidelines, administrator documents, and other relevant documentation.
Code maintainability. To ensure code support by a third party, code guidelines and style should be in place from day one. This will help a new team to get on board faster and expedite development.
Product warranty. Talk to your outsourcing partner to see if any warranty period is provided. Some companies offer a warranty of up to 180 days. During this period, the vendor may fix defects free of charge or provide priority support.
Wrapping up
While outsourcing may feel like a stressful undertaking, you may still reap the benefits of a global team working on your project. Outsourcing is cost-effective and allows you to get solid tech expertise on a budget.
Just do your due diligence and choose a dependable vendor who is up for the challenge of building your dream product and will deliver maximum business value.
Have you ever had an outsourcing experience? Share your story in the comments!