February 12, 2020
The public cloud services market is steadily growing and is projected to reach $331 billion by 2022, according to Gartner. IBM researchers reveal that as much as 85 percent of enterprises today rely on multiple cloud providers to leverage the best what every cloud has to offer while lowering costs and avoiding vendor lock-in.
However promising a multicloud strategy sounds, there's one caveat to it — orchestrating multiple clouds is incredibly complex as each platform comes with its own toolsets, rules, and infrastructure configurations. Not to fall victim to that complexity, you need to have a clear multicloud roadmap and best practices in place.
Define your multicloud architecture
Not all clouds are created equal. With three leaders — Amazon AWS, Microsoft Azure and Google Cloud Platform — striving for cloud dominance, you need to know their particular strengths to create a truly powerful mix.
In short, AWS is the most mature with the widest array of services though complex costs management is cited as the major drawback. Azure seems like a natural choice for those already using Microsoft products but the platform reliability is lagging behind due to the highest downtime. GCP is better suited for cloud-native companies, with its TensorFlow-backed capabilities for machine learning and AI being the main selling point. A late entrant, GCP however cannot boast that many services but it is rapidly catching up in terms of coverage.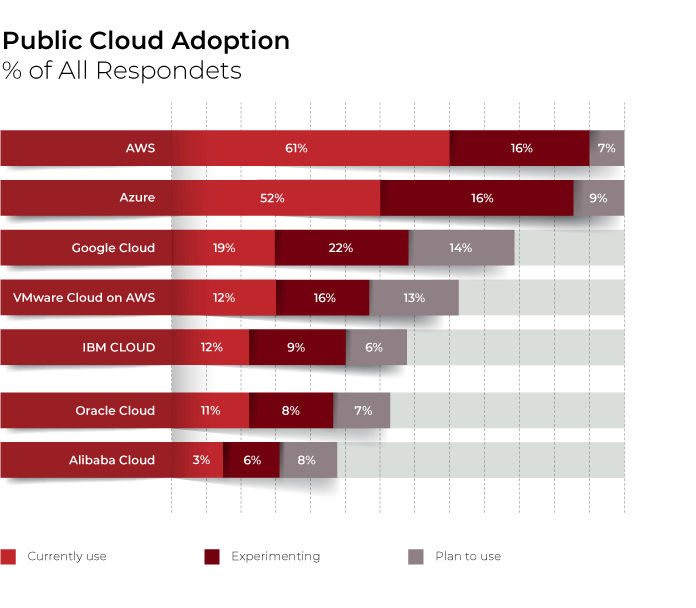 Source: RightScale 2019 State of the Cloud Report from Flexera
How we can help
With hands-on experience in multicloud environments, Oxagile is ideally positioned to help you design a tailored multicloud landscape and embrace the benefits for your business.
After an extensive analysis of your objectives, our cloud consultants will map your requirements with cloud capabilities to build a cost-efficient architecture that balances functionality, performance, and timeline.
Let us know what your multicloud needs are.
Ensure transparency
One of the major multicloud challenges, visibility into your cloud infrastructure, workloads, and applications is a crucial success factor for effective management. Without end-to-end transparency into your assets, wherever they reside, you are just bleeding money on supporting stagnant or unused resources and provisioning more cloud instances than needed.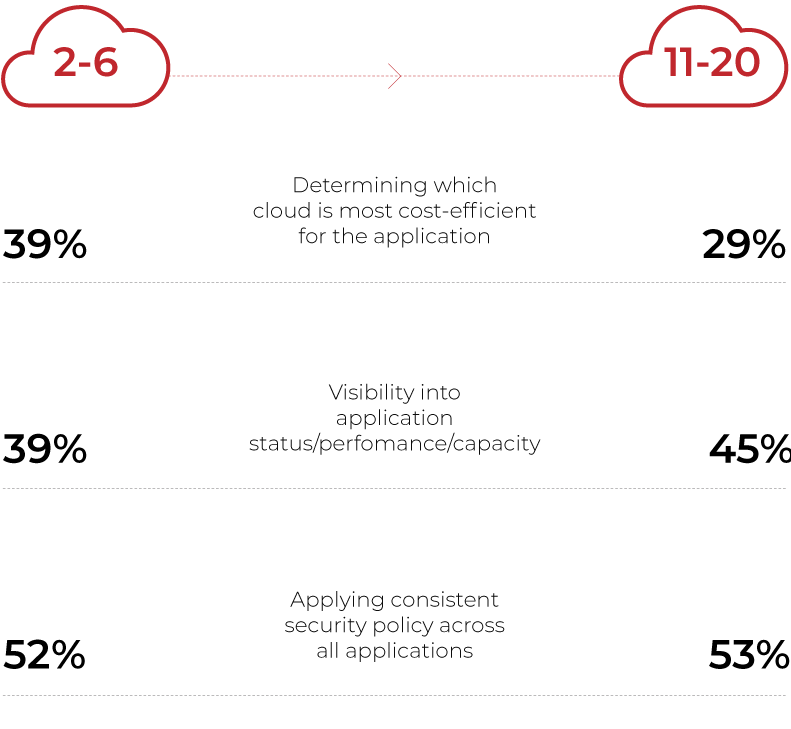 Multicloud Challenges based on the Number of Cloud Providers
Source: F5 State of Application Delivery 2018, f5.com/SOAD
Continuous monitoring of cloud operations enables you to keep tabs on what services are used and by whom. This sharpened 360-degree view translates into more granular control of your cloud-based assets enabling you to prevent cloud sprawl and keep your costs in check.
Leverage automation
Achieving operational efficiency in the cloud is difficult if you rely on manual workflows. But effectively handling your workloads across multiple clouds is next to impossible unless you make automation the cornerstone of your multicloud management strategy.
Underpinning cloud-based DevOps, automation helps you streamline configuration, provisioning, and deployment of your multicloud applications to improve time to market while reducing toil and lowering costs.
How we can help
Experts in automation and continuous delivery, we bring these skills and knowledge into the multicloud world helping companies easily orchestrate complex workflows, applications, and infrastructure while monitoring performance from a single pane of glass.
Our DevOps engineers have experience in building cloud-native and cloud-agnostic pipelines so your team can build, test, and deploy on any cloud.
Find more about our DevOps solutions.
Enforce governance
Together with business agility and flexibility, a distributed multicloud environment brings new challenges to the companies leaving them worried about protecting overly exposed data and meeting tough regulatory requirements. And with the average cost of noncompliance almost $15 million, managing multicloud compliance becomes a pressing issue.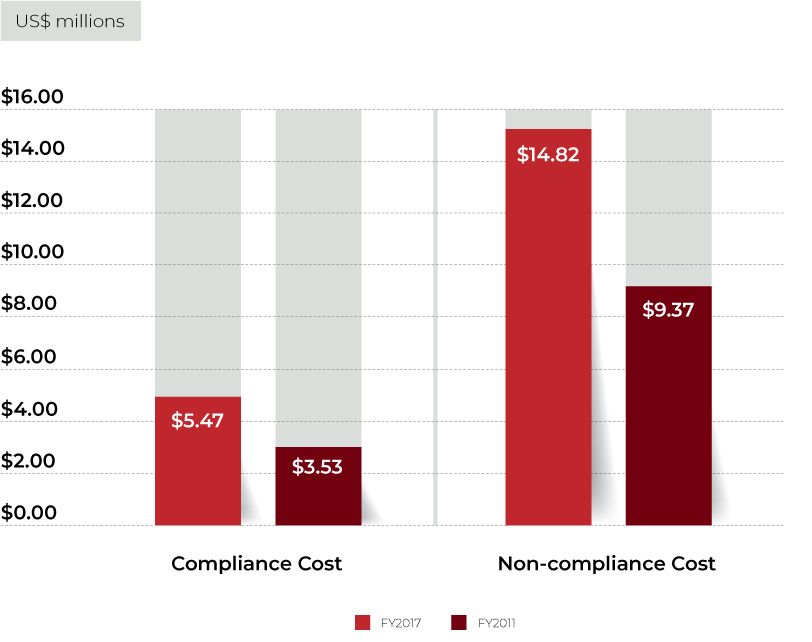 Difference between Compliance and Non-compliance Cost
Source: Globalscale
To mitigate data breach risks and ensure organization-level compliance, centralized governance across all cloud resources is a must. With robust standards and custom governance policies, you can automatically enforce user access privileges, maintain data privacy, and monitor disallowed configurations to make sure your workloads are not deployed to non-compliant infrastructures.
Focus on security
When opting for a multicloud environment, one thing to remember is that every additional cloud also expands your attack surface, which makes you more vulnerable to cyberthreats. And with distributed workloads, it's easier to lose sight of what resides where making threats propagation even easier.
To put control back into the hands of your security team, a more holistic approach is needed — the one that would ensure protection at all levels from cloud applications to data to networks. Leverage the security features offered by the cloud vendors, which usually include identity and access management, authentication and authorization, encryption in transit and at rest.
Final thoughts
Enterprise use of multicloud is certainly gaining traction. But to live up to its promise a multicloud approach requires careful consideration since the complexity of utilizing multiple cloud services from different vendors can be overwhelming. To get on the right path to your multicloud success, make sure you start with a well-balanced architecture, intelligent cloud automation, and overarching security.