November 30, 2017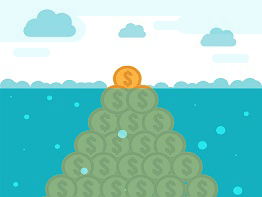 Should I scout for local IT talent or outsource overseas? Probably it's one of the first questions you take stock of when planning your software project.
And it's usually a tricky question forcing you to take into account many factors — cost being the primary one.
Indeed, how to understand which practice is more cost-effective — with other conditions being equal?
The mere comparison of hourly wages of local and offshore professionals will not give you an accurate picture. You'll need real numbers with all the hidden costs factored in.
To assist you with an on-the-fly estimate of your future venture, we analyzed the rates of US in-house software engineers and Eastern European outsourcing firms and did all the additional calculations. However, get ready to do a bit of math if you want to arrive at a data-based and rational decision.
Hidden Costs of In-House Development
When engaging local professionals in a new software project, good businessmen shouldn't let not-so-obvious expenses catch them off-guard.
The first type of hidden cost to consider is the burdened rate. This amount includes indirect costs associated with employees, such as payroll taxes, health insurance, paid time off, traveling, vacations and sick leaves, pension contributions, and more.
Be ready to add up equipment purchase and operating costs, as your new hire will need a decent workplace and advanced tools to bring your business idea alive. Recruiting, onboarding, and retention expenses that tend to be very high should come as no surprise, either.
Moreover, employee management time isn't gratis, forcing you to consider allocating additional sums of money in case your in-house team needs a mentor.
Is Offshore Outsourcing a Better Option?
Information Technology Outsourcing (ITO) to foreign vendors has become an important business process in the USA. According to Statistic Brain, 38% of the surveyed firms said they engage in this practice. But why is ITO touted as a silver bullet?
The hourly rate of an outsourced expert usually equals the total amount you pay for their services. You can rest assured that the company you partner with will take care of the daunting job of creating a well-oiled team.
You won't have to worry about downtime in case some team members decide to leave the project in full swing. Get a good night's sleep, as the responsibility to immediately provide new seasoned professionals and deliver the product on time lies with the outsourcing firm.
How Much Does a Typical Scrum Team Cost?
Imagine you need to engage a cross-functional team in your six-month project. This is how the cost structure for an in-house Scrum team comprising 8 US professionals might look like.
Table 1. Hidden cost per employee:
* On average, US firms spend $700 per employee per month, i.e. $4.38 per hour
** With the average cost per hire of $4,129 in a six-month project, the hourly amount of recruiting a new employee will be $4.1
Our calculations show that the average hidden cost per team member reaches $79.24. Now let's add this sum to software engineers' hourly rates and get the total amount you have to consider for in-house development.
Table 2. Fully burdened cost per employee (including all the compensations):
| Role | Net Wages*** | Fully Burdened Costs |
| --- | --- | --- |
| Scrum Master | 68.35 | 147.59 |
| Software Architect | 71.11 | 150.35 |
| Senior Developer | 55.54 | 134.78 |
| Developer | 53.05 | 132.29 |
| QA Engineer | 29.79 | 109.03 |
| QA Engineer | 29.79 | 109.03 |
| DevOps Engineer | 62.05 | 141.29 |
| Designer | 46.66 | 125.90 |
| Total | 416.34 | 1,050.26 |
*** Average net wages in the USA: Indeed.com
According to Table 2, in-house development in the USA with all the not-so-obvious expenses factored in will cost you quite a fortune. Now let's gauge the amount needed to outsource to Eastern European professionals.
Table 3. Average hourly rates of outsourced software engineers:
| Role | Hourly Rate, $**** |
| --- | --- |
| Scrum Master | 45.00 |
| Software Architect | 45.00 |
| Senior Developer | 45.00 |
| Developer | 35.00 |
| QA Engineer | 30.00 |
| QA Engineer | 30.00 |
| DevOps Engineer | 40.00 |
| Designer | 30.00 |
| Total | 300 |
**** Average net wages in Eastern Europe: Clutch
Those who started comparing apples and oranges from the very beginning, i.e. hourly rates of both in-house and outsourced engineers (without hidden costs), might have experienced a bit of a shock looking at the figures we got in the end: $1,050.26 vs $300 (per team, per hour). But that is what we call a fair comparison.
Has Anything Escaped Our Notice?
The total cost of in-house development may vary depending on the US state you live in, the level of expertise you expect from your hires, and the technologies you ask to implement. You may also want a different team structure for your project or have unusual requirements that will affect the final price.
However, all other conditions being equal, prepare to pay 3.5 times more if you choose in-house development.
And which practice do you prefer? Have you ever had an offshore outsourcing experience? Was it positive or negative? Tell us in the comments.
Oxagile is a leading provider of custom software solutions in Belarus, Eastern Europe. We apply the cutting edge of technology to power digital transformation for SMEs and global corporations alike — across all major platforms and tech stacks. If you have a software project in mind, contact us to get a free, no-obligation estimate.