September 28, 2017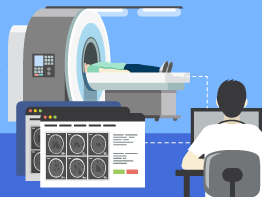 Technology has gained a firm foothold in healthcare, equipping doctors with impactful solutions able to bolster patient care. Apart from revolutionizing therapy and cardiology departments, innovation is taking a deep dive into radiology.
Experts in custom healthcare software development are creating full-blown systems allowing clinicians to store, manage, and share images. The demand for these solutions is growing.
According to a report by Zion Market Research, the worldwide teleradiology market amounted to about $1.91 billion in 2016 and is projected to reach $4.75 billion at the close of 2022.
Indeed, healthcare professionals may choose from an array of solutions — including but not limited to a PACS, RIS, and HIS — or pilot their combinations. In this article, we will discuss each option and touch upon related integration challenges.
PACS

A picture archiving and communication system (PACS) focuses on storing huge mounds of 2D and 3D images — X-rays, CAT scans, or MRIs — on a local server or a cloud computing platform.
Any properly authorized team member can retrieve the needed images from the PACS database. The solution can also incorporate files from other departments (oncology, cardiology, pathology, etc.) and external systems, allowing healthcare experts to bring together expertise and improve decision-making.
RIS

A radiology information system (RIS) is a networked software system for handling medical imagery and associated data. This solution performs a bunch of basic, but useful functions, such as information control, patient management, billing, and reporting.
HIS

A hospital information system (HIS) is an overarching solution created to manage all the operations within a hospital. With this software in place, caregivers can communicate, easily track utilities and stock amounts, find relevant financial reports, control patients' medical histories, enter laboratory test results (including images), and more.
What Is the Best Combination?

Radiologists commonly ask developers to stitch PACS, RIS, and HIS functions together to get an integrated HIPAA-compliant system. Here is an outline of optimal solution combinations.
RIS+HIS
Hospital enterprises are always on the horns of a dilemma when choosing for a suitable management system. RIS/HIS integration gives access to all PHI (protected health information) and facilitates data sharing among different departments.
Pros
: a combined interface, streamlined order entry for all clinical processes, and refined radiology data management across multiple locations, including remote ones.
Cons: high implementation cost and user resistance to replace a familiar version of EMR/HIS software.
PACS+HIS
A PACS is responsible for storing and retrieving high-quality images, while a HIS tackles administrative tasks. Their combination seems a win-win deal. Radiologists track appointments and access additional patient-related information. Their colleagues, in turn, easily retrieve images to obtain a clear picture of a patient's disease.
Pros
: data accessibility, time savings, and accelerated decision-making.
Cons: DICOM (Digital Imaging and Communications in Medicine) — the transmission protocol adapted for PACS — is at odds with HL7 (Health Level 7) — the standard used for HIS.
PACS+RIS+HIS
Such tight integration is often considered the best option, as the functions of three value-based systems are united within one healthcare facility. However, to achieve a perfect symbiosis, it's paramount to consider the advantages and disadvantages of seven levels of integration.
Pros
: faster payment, better communication with referring doctors, and improved efficiency.
Cons: high integration cost and transmission protocol incompatibility (DICOM for PACS vs HL7 for RIS and HIS).
Clearing the Hurdles

As you can see, there are no clear winners among radiology imaging systems. Their integration is also burdensome due to data interoperability and a lack of a unified transmission protocol.
The good news is that tech evangelists have devised a number of ways to tackle this daunting task and to help doctors find the happy medium.
IHE Initiative
The IHE (Integrating the Healthcare Enterprise) initiative raises the question of providing fine-grained access to critical information across all systems within one facility. Although it was the catalyst of implementing more effective and predictable integration, there still remain technology barriers.
Consolidated Solutions
In a move to address the challenges, vendors are betting big on consolidated RIS+PACS and/or HIS+RIS+PACS solutions coming closer to the gold standard.
VNA
Although DICOM is not a tough sell to radiologists, this way of archiving and transmitting data between vendor systems is becoming obsolete. A vendor neutral archive (VNA), in turn, seems to be head and shoulders above a DICOM archive. First, it can be interfaced with a RIS and/or a HIS. Second, a VNA stores both DICOM and non-DICOM objects (from jpeg to mpeg).
A Broker for Protocol Incompatibility
Another way to integrate such disparate systems as PACS and RIS is to use a so-called broker. This device accepts HL7 messages from a RIS and translates the data to produce DICOM messages for a PACS.
And the Winner Is…

Technology grants a wealth of solutions to revamp the workflow and boost productivity within the radiology department. However, there are no bellwether imaging systems — each of them needs adjustments or enhancements, e.g. additional features or integration with third-party software.
Thus, before pumping a lot of money into an imaging solution, it's vital to pinpoint primary concerns and overriding objectives for clinicians, explore all avenues, and consider possible pros and cons.