January 23, 2009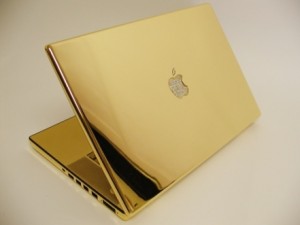 Here we will have a talk about the most expensive developments in the computer world. People spend a lot of money to invent smth special and spend a lot of money to become an owner of smth special and also the most expensive in its category.
The most expensive computer has been created in Japan. The Japanese government estimates the Earth Simulator's cost in $400,000,000.
Each processor node contains 8 vector processors running at 500MHz with 16GB of shared memory, and the total main memory in the machine is 10 terabytes. The operating system running on the supercomputer is NEC's UNIX-based OS called "SUPER-UX" which is used on NEC's SX Series of supercomputers.
This expensive computer is used on a wide variety of international projects, most of which are related to atmospheric, climate, and oceanographic simulation.
The world's most expensive computer mouse has been produced by Pat Says Now. The costly peripheral is cast from 18 carat white gold and set with 59 brilliant cut diamonds, and will only set you back $24,180 USD. The most expensive mouse utilizes a modern 3-button wheel optical mouse design, options for USB or PS/2 connections for both PC or Mac, a 800 dpi Resolution, and a 3 year warranty. The mouse comes in two designs, "Diamond Flower" and the "Scattered Diamond" layout. You can personalize the mouse by adding your initials in diamonds, and can choose from yellow, red or white gold with white or black trim.
Many of the more expensive keyboards are now wireless because many people when given the choice will lean back and type with a keyboard on their lap. CNET's blog recently featured an affiliate of Fujitsu, PFU Ltd of Ishikawa, Japan which is producing the most expensive PC keyboard ever used for typing. The price of this expensive computer keyboard is a grand sum aof US $4,240. Named the Happy Hacking Keyboard Professional HP Japan, the keys are hand-coated with Urushi lacquer. This keyboard is coated many times and then powdered with gold dust.
PowerMax introduced us a gold-plated MacBook Pro. The 24k gold case, complete with a diamond-studded Apple logo, housed a 2.4 GHz Core 2 Duo CPU and could be purchased in 15.4" and 17" models. The most expensive MacBook by far, though, is also one of the lightest.
The new and extraordinarily thin MacBook Air, featuring a somewhat less powerful 1.8 GHz Core 2 Duo processor, has been given the Swarovski treatment and become not only Apple's most expensive laptop but also the gaudiest. The Golden Age MacBook Air is coated with 12,000 hand-set Swarovski crystals. These special lead crystals bring out the sparkle in the 24k gold plate that, once again, forms the laptop's case.
Only twenty of the expensive MacBooks will be made and it takes about a week to place all those crystals by hand. It can be purchased for $40k USD and debuted at CeBIT 2008.