December 24, 2014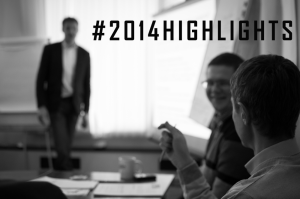 It has become a good Christmas Eve tradition to look back and reflect on what happened in the passing year. Here's our take on the top 10 most noteworthy Oxagile news items of 2014, which you'll hopefully find interesting.
1. 65% growth, new offices in Belarus and in the US
In 2014, Oxagile has shown a solid growth of 65% by steadily increasing both the number of employees and revenue streams. The company renovated its office facilities and opened new ones — both in Minsk and on the East Coast.
2. One of the world's top 100 outsourcing providers
For the second year in a row, Oxagile entered the Global Outsourcing 100® list and was named Rising Star #8 by the International Association of Outsourcing Professionals®. The company was given top credit for the demonstrated corporate growth, professional development, and excellent managerial strategies applied.
3. Another year as a Microsoft Gold Certified Partner
Oxagile has successfully prolonged its MS Gold Partner status under the Application Development competency. This achievement showcases Oxagile's best-in-class capabilities in the application development domain and places the company among the top 1% of Microsoft's partners worldwide.
4. Gold Stevie Award
In 2014 our WebRTC R&D team delivered a groundbreaking client API solution to a prominent WebRTC IaaS provider. The team's achievement enabled Oxagile to take top prize in the prestigious Gold Stevie® Awards (in the Best New Product or Service of the Year: Cloud Infrastructure category).
5. Inc. 5000
In 2014 Oxagile showed a double-digit growth rate and was named to the 2014 Inc. 5000 ranking as one of America's fastest-growing private businesses.
6. IT Spring 2014, MIPTV, and IBC Show 2014 in Amsterdam
One of our competitive advantages is the ability to learn and rapidly translate this knowledge into action. That's the rationale behind Oxagile's continuous conference sponsorship and attendance of technology trade fairs. In April 2014 Oxagile both sponsored and participated in IT Spring 2014, Belarus' biggest IT event. In September the company attended the IBC Conference in Amsterdam, which is a global meeting place for everyone engaged in creating, managing and delivering media and entertainment content.
7. A dedicated ODC web presence
The Dedicated Development Team model is one of the best ways to build an efficient production process. Meet StaffYourTeam, a dedicated website that displays our software engineers' technical background, teamwork skills, and Oxagile's low-risk delivery process. Be sure to check out the Savings Calculator — you'll be surprised how much you can save on IT!
8. New projects and partnerships
In 2014 Oxagile signed a number of promising contracts with companies in various business domains, including Navigation, Communications, Education and Sports. Here is a brief overview:
A dedicated development project with an international leader in providing electronic navigation charts for the marine and outdoors industries.
A new project for the Norwegian Olympic Committee. The project involves redesigning a legacy application and migrating it from Access to .NET.
A project for UNICEF, which involves building software to support school census in Libya. The developed solution is a cost effective, well-integrated Education Management Information System (EMIS).
A data sharing application accessible from any web browser as well as across a range of mobile platforms. The app comes with a build-in ability to share files, chat functionality, and cloud integration.
Oxagile is building a design development visualization system for Imperial Tobacco. The project is based on the .NET technology, and includes both front-end and back-end development.
Oxagile is proud to have signed a strategic partnership with Conax, a leading Norwegian company that focuses on television encryption, conditional access, and digital TV content security.
9. Most promising education tech company according to CIO Review
In 2014 CIO Review recognized Oxagile's exceptional ability to consistently deliver enterprise-quality distance learning solutions to acclaimed industry leaders. Being recognized by a highly influential business magazine such as CIO Review demonstrates Oxagile's tremendous hands-on expertise in the e-Learning space and puts the company in an ideal position to deliver top value when building education-related solutions.
10. Oxagile in the WebRTC Ecosystem report
An early WebRTC practitioner, Oxagile employs a dedicated WebRTC R&D team to explore and capitalize on the emerging standard that could easily transform the real-time communication landscape tomorrow. That's why we are proud to be listed in the WebRTC Ecosystem report, which offers a comprehensive analysis of WebRTC vendors' capabilities. The listing will help our future partners quickly evaluate Oxagile's expertise in the WebRTC domain.