January 2, 2014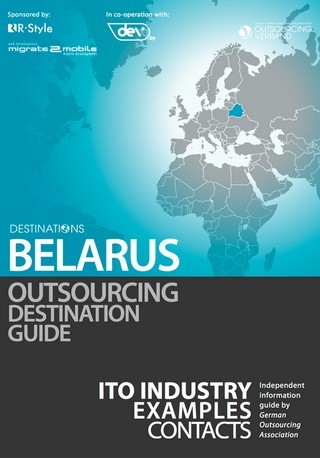 Right on Christmas Eve German Outsourcing Association (Deutscher Outsourcing Verband) presented the Outsourcing Guide Belarus with the capabilities and actors of the Belarus IT Industry.
The Guide is another milestone in the series of information guides and is dedicated to provide first hand information about global outsourcing destinations.
It informs about market, conditions, company profiles and show case unique solutions invented by Belarus service industry experts in the form of case studies and project reports.
Our company is listed in Outsourcing Guide Belarus for a good reason.
Oxagile is a leading outsourcing partner for custom web & mobile solutions with over 120 professionals onboard and over 150 successfully delivered projects. Our core com­petency is providing end-to-end video technology solutions for our Clients to capitalize their oppor­tunities in multi-screen OTT video delivery.
Oxagile has extensive experience in custom solutions development allowing our clients to effectively collaborate in real-time. Therefore, the advent of the WebRTC standard that allows plugin-free communication couldn't go unnoticed by Oxagile team.
Inside you may also find the insight on the future of video services & real-time communication and WebRTC from Sergey Marchuk, CTO and co-founder at Oxagile.
We hope that the Guide may help decision makers to better understand the advantages and conditions in working with Belarus IT services providers.
The Outsourcing Guide Belarus is and independent publication by German Outsourcing Association in co-operation with Dev.by, a leading Belarus IT portal with more than 20k members and over 700 local IT companies registered.
Outsourcing Guide Belarus contains 47 pages of shared knowledge on Belarus as preferred destination for IT services, including:
Detailed Market Overview
Neutral Industry Insights & Cases
Short Profiles
Contacts of Leading Organizations