January 25, 2018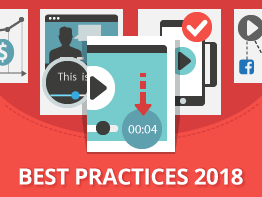 According to BI Intelligence, video will account for a whopping majority of internet traffic by 2021. Astute news media outlets have already taken notice of this trend and now tap into online video to engage their audiences and boost revenues.
We've delved deep into their experience to suggest some best practices for those publishers who haven't jumped on the bandwagon yet.
Short Videos Gain Traction
It didn't take long for news publishers to realize that the traditional television model doesn't work for online audiences: it's expensive and, most importantly, viewers are not interested. In turn, they are now focusing on creating short-form, under-one-minute content, which, on average, gets more off-site and on-site views. BBC, with its One-minute World News series, was one of the early adopters of this great tactic.
Mobile Users Embrace Vertical Video
Publishers such as AJ+ go the extra mile to produce vertical video so that viewers don't have to rotate their mobile devices. This format may become the dominant force in the near future. Why? Because we scroll vertically through our social media news feeds and rotation is a hassle. Facebook, YouTube, Twitter, Snapchat and Instagram now all support vertical video.
Viewers Like Videos with Captions
Adding captions makes it easy for people to consume video content without turning the sound on. Believe it or not, 85% of Facebook video is watched in silence. When it comes to posting on social media, some publishers, like Mashable, even rely on soundless, captioned video only. Besides, captions open up video content to people with hearing problems and non-native speakers.
Emotions Pique Viewers' Interest
Some news video genres are more successful than others. A study showed that lifestyle and entertainment get more views on social media than "harder" news subjects, such as politics and science. The most successful social media videos have an emotional element (think animal rescue stories). For news brands like NowThis, emotional storytelling lies at the heart of the business strategy.
Live Streaming Is Perfect for Breaking News
When a big story is happening, people want to stay tuned all the way. Now just imagine the scale. Live video streaming of Trump's inauguration broke an all-time record, peaking at 8.7 TBps (terabytes per second) during the opening speech. That's a tremendous opportunity for on-site advertising. Media outlets also use platforms like Facebook Live and Snapchat to stream breaking news.
More People Pay for Online News
In the US, the proportion of people paying for online news has grown from 9% in 2016 to 16% in 2017. Interestingly, out of all 36 markets studied in Reuters Institute Digital News Report 2017, America had the highest percentage of people saying they wanted to help fund journalism. Globally, the main reasons for paying for online news included:
Mobile access — 30%
Consuming news from a variety of sources — 29%
Being offered a good deal — 23%
Being able to pay for print and online access together — 21%
No free access — 17%.
Viewers Tolerate Pre-Roll Ads Less Than Mid-Roll
Akamai's study revealed that mid-roll ads have the highest completion rate compared to pre-roll and post-roll ads. But one also needs to worry about the audience size. For pre-roll ads, it's larger, "because viewers drop off before the video progresses to a point where a mid-roll ad can be played. Likewise, the audience size of a mid-roll ad is typically larger than that of a post-roll ad. Thus, an ad positioning algorithm would have to carefully consider this trade-off when deciding where to place ads."
In their on-site monetization strategies, online news media still focus on pre-roll ads. If you do too, check out these five pre-roll Youtube ads that didn't make viewers want to skip.
Increased Focus on Native Advertising and Branded Content
Traditional ads are not the only way to monetize online video content. Some renowned news media sites rely heavily on producing branded and sponsored content. For example, The Economist has partnered up with Turkish Airlines to create a travel show, while EY and Salesforce sponsor a series on disruptive technology and business. This monetization approach doesn't come without challenges, though, as such content is hard to scale and it may hurt publishers' credibility.
Social Media as a Marketing and Discovery Tool
A news publisher can go beyond simple content distribution and turn social networks into a powerful marketing and discovery channel. For instance, posting sneak previews on social media entices viewers into visiting the website for full versions. Publishers can also improve their editorial judgement while making sense of platform-specific analytics, especially likes, reposts and comments, which can't be found elsewhere.
Final Notes
Unlike purely digital players, news media are only starting to partner with technology providers on the way to embracing online news video. There is a lot to worry about: significant investment, scalability, monetization. It takes time to build the capacity and skills to navigate successfully in this entirely new format, but opportunities are big, too.
What do you think about the future of online news video? Tell us in the comments.