June 21, 2010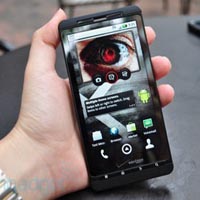 Motorola will present its new smartphone Droid of the next generation on June 23, wrote Engadget.
The smartphone based on the Android OS will be announced a day before the official launch of iPhone 4 sales. At the same time it isn't reported which smartphone will be advertised. At present it is known that Motorola is developing two new models – Droid 2 and Droid X.
The directors of Motorola and the mobile operator Verizon Wireless as well as one of Vice Presidents of Google Andy Rubin and the Head of Adobe Shantanu Narayen will take part in the press-conference.
Engadget also published a brief review of the smartphone Droid X. The smartphone will be equipped with a 4.4-inch screen and a resolution of 854×480 pixels. Droid X also has a 8- megapixel camera with the option of video recording with high definition in the 720p format. The given set of functions opens new possibilities for Android mobile app developers as the smartphone will work on the Android 2.1 OS.
The date of this smartphone coming into the market is not announced. At the same time the first model Droid Motorola was announced at the end of October 2009. On the territory of the USA this model came into the market in November.