December 21, 2017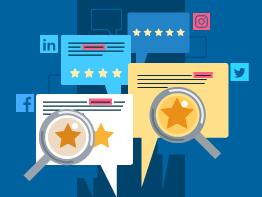 Reputation management is broadly defined as the efforts to influence and control a company's or an individual's reputation. Previously confined to PR, the term has evolved to refer first and foremost to online strategy and includes, to various degrees, SEO, social media monitoring, analytics, customer experience management, and content marketing.
For many customers, the search results page will be the first impression they have of your business, so it's in your interest to know exactly what they see. Word of mouth travels fast and far on the internet, and human nature is such that unhappy customers are more determined to vent than happy customers are to praise.
At the moment it's not possible to track the direct impact of a negative review on a company's sales, but it's not difficult to imagine considering that 84% people trust online reviews as much as a personal recommendation.
When Do I Start?
If you ask yourself this question while running a fully established business, you're late to the party. With or without your supervision, consumers will share their experiences with your product on review sites and social media, while unethical competitors might try posting fake reviews to sully your image.
Good reputation management is not something you resort to in a crisis, but a whole set of activities within your marketing strategy focused on addressing negative tendencies and stimulating positive conversation. So the question you should be asking is this — when do I decide to take control of my reputation and start treating it as an important business asset?
Reputation Management Automation
Digital tools used in reputation management range from freely distributed applications focused on one task to professional software with a host of martech-specific features. In other words, whether yours is a major eCommerce store or a clean food startup, there's a solution out there to match your needs.
Social Media and Review Sites Monitoring
When you're getting started with online reputation management, the obvious course of action is to find out what you're dealing with — or do what WebiMax calls a "complexion report" on the current sentiment surrounding your company. Do people trust your brand above others? Do they recommend your products to their friends? What kind of people are most likely to be your loyal customers?
Companies use tools like Brandwatch or Zoho Social to monitor online discourse on Yelp, Twitter, Amazon, Facebook, Google, TripAdvisor, and dozens of other popular websites. Typical features of these solutions include advanced filtering, tagging, and categorization, effective query builders, automated alerts, flexible charting, and smart attribution capabilities.
Besides providing real-time insights into brand reputation, they often allow PR and marketing specialists to do competitor benchmarking and measure marketing ROI.
Review Management
"Pushing down" negative reviews with new, positive feedback and making it rank higher in search results is a widespread tactic in reputation management. The approach brings tangible results, but it's still very important to have a strategy for dealing with bad reviews.
If ignored, they leave a bad taste and create an impression that the company is unable to counter the accusations. By all means, engage with naysayers and get to the bottom of their complaints to show that you care and are prepared to change for the better.
Solutions like Grade.us, ReviewTrackers, or ReviewPush enable users to run review acquisition campaigns that encourage happy customers to write reviews while redirecting complainers to customer service.
Curating Positive Conversation
The hard work your team puts into the product will not always be apparent to outsiders. Showcasing your expertise via authentic, relevant content is a great way to improve your search engine rankings and gain trust.
There's no app for building a competent content marketing team, but specialized software will go a long way towards making your content deliver maximum value. Hootsuite and its many competitors save marketers precious time and help keep the company's message consistent by placing the management of all social media accounts into a single dashboard.
Other notable features of content marketing solutions include a shared content calendar, best-performing content discovery, publishing time recommendations, built-in image editing, URL shortening, and recycling of evergreen content.
Next Big Things in Online Reputation Management
Madtech has been very enthusiastic about implementing machine learning and big data in the recent years, and reputation management solutions are no exception to this trend.
RepuGen is already delivering machine learning-driven analytics for reputation management in the healthcare industry, while Websays is using big data analytics to help clients track millions of online conversations, identify influencers, and capitalize on viral trends.
Another emerging trend is computer vision, as companies like gumgum offer a way to detect brand logos in images posted online without text or tags, enabling marketers to access untapped demographic data and measure the true impact of social media campaigns.
Custom Reputation Management Software
Ready-made solutions might not cut it for franchises and large companies with multiple offices. If your business reality includes distributed marketing teams and various external systems that you're not willing to replace, it's a good idea to go custom.
Building a custom reputation management solution precisely tailored to your business processes will spare you the headache of internal and external integrations (SEO, social, marketing automation, and collaboration software). Another perk is the opportunity of white-labeling, should you decide to explore additional monetization channels.
Steps to Securing Your Online Business Reputation
To sum up, here's a rundown of some basic steps you can take to improve the perception of your company and its services among the internet-connected folk:
Entrust your company's accounts on review sites and social media to a PR-savvy professional. Have them updated regularly and consistently across all platforms.
Generate authentic positive content about your company and make sure it reaches the public when and where it matters.
When applicable, use digital tools to automate reputation management activities.
Monitor the performance of your closest competitors and incorporate their best reputation management tactics into your strategy.
Don't ignore bad reviews, engage in a conversation to show customers that you care. Alternatively, if you believe the review is fake, take the issue up with the review site's administration.
Ask for and reward positive feedback — this is the best way to get good reviews and loyal customers who will help promote your brand.
Above all, strive to deliver great products and services that merit five-star reviews.
Can you think of other tactics to expand this list? Share your own best practice of online reputation management in the comment section below!