July 24, 2011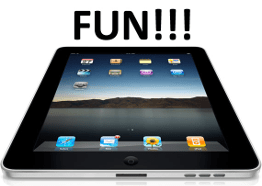 A modern tablet is something having sight, senses, feelings, able to orient itself in the environment and time and that can be controlled with just one button.
iPad is widely used in many spheres of our life: for example, by travel agencies (for presenting possible routes and buying trips by one click) as well as by insurance agents and lawyers as iPad gives many possibilities for making and storing document forms and their own signatures and print-outs. The gadget is also useful for doctors for keeping and having at hand a great number of medical history sheets.
Moreover, iPad is likely to change the media industry and our opinion on educational services. Now many software development companies already create about thirds of all mobile apps for various educational purposes. Of course, experts agree that iPad won't replace a common netbook. But it has a great potential. iPad doesn't support Adobe Flash and thus users can't watch videos but if they try iPad once, they'll never leave it.
A user is online all the time and it gives unlimited possibilities for mobile application developers, marketers and other businessmen if they manage to make a profit on this.
But there are skeptics who think that iPad is only suitable for entertaining content and is not suitable for solving business tasks. They consider other mobile devices such as based on Windows Mobile, Windows Phone 7 and Android are more perspective.