January 4, 2011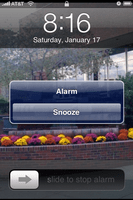 Many iPhone users complained that their alarms hadn't gone off on the first days of New Year. People all over the world faced New Year with a malfunction of their iPhone devices, which entailed disruptions in working schedules and holiday plans.
This bug was reported to have affected iPhone4 and earlier versions of Apple's handsets with software updates and caused a glitch only for single set alarms.
Apple administration admits the existence of software errors and advises to set recurring alarms to avoid iPhone malfunctioning until this software bug is absolutely tackled by Apple's developers.
The iPhone owners express their outrage in various social networks and blogs complaining that they had to bear excessive expenses for travel fares or were late for work because they had failed to wake up on time. The users are even more irritated as it was not the first time that a similar glitch took place. In November when clocks changed in order to switch to a daylight saving mode, many iPhone users were affected by the same malfunction in the gadget's alarm and overslept their planned raising hour, which caused lots of inconvenience.
Apple spokeswoman Natalie Harrison said that the company was working on tackling the problem and promised that it would be fixed by 3rd January, though some users still claim that their iPhone alarm doesn't go off. Despite the recent events iPhones still remain one of the dominating powers on the mobile phone and mobile app development market.