February 1, 2011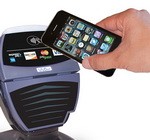 The idea to transform mobile devices into electronic personal wallets is being actively put into practice. Mobile app development companies take advantage of NFC capabilities to give mobile users the chance to use their gadgets as a payment means. The NFC technology has already been used in Japan, South Korea and Malaysia to carry out money transactions, while it is only on its way to be widely adopted by the USA, the UK and other European countries.
The coming upgrades of Apple's products iPhone5 and iPad2 will support the NFC technology, while Android-powered Nexus S devices already come bundled with NFC capabilities. The ever growing popularity of iPhones, iPads and Androids provides a foundation to promote and introduce mobile wallet technology into everyday use. Though, at the moment for this technology to become ubiquitous retailers should be willing to install hardware that will scan mobile wallets and carry out money transactions.
The UK mobile carrier Orange is about to introduce a new service, allowing its customers to use their mobiles as wallets. Mobile wallets will save many people from extra headache connected with carrying cash and credit cards – people will get everything in their handhelds.
If mobile money payment system will catch on it will outline for software development companies a new trend in mobile app development services.