April 12, 2010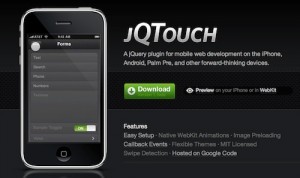 We have already written about web development for iPhone using html and js only.
And today we want to tell you about jQTouch, a plug-in for well known Javascript-framework jQuery.
It allows to create web applications for touch phones very easy – for all the phones with a touch screen and with finger-oriented interface. Such as iPhone, for example, and as based on Android HTC Hero, Dream, Magic, and a lot of different WM-communicators with different shells.
Let's enumerate some features of jQTouch:
It is very easy to control behavior of all the components.
It is possible to create themes.
There is some interaction with a phone (for example, you can determine its orientation).
It supports animation and various interface features of iPhone.
This is jQuery, and this says it all! 🙂
The plug-in is very nice, but still we do not have a full application at the output. Why? As we do not have access to such things as the accelerometer, vibration, sound and so on.
And, by the way, using such frameworks as PhoneGap you can transfer your mobile apps written with html and js to any other platform. For example, PhoneGap, supports iPhone, Android, Blackberry (OS 4.5), Symbian, Windows Mobile, Palm and Maemo. But remember that developing iPhone applications you need MacBook, license and all that other stuff.