June 29, 2009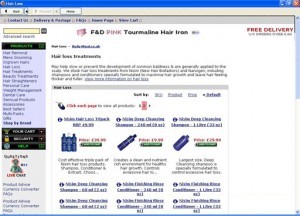 In the previous post we briefly reviewed the simplest software applications that help people to solve the problem of hair loss. This software will be effective when alopecia was caused by nutrition, invalid food, stresses and other subjective factors.
So facing with hair loss people can act under the direction of these programs: change their eating behavior, take care of hair and skin, get rid of stress and add some more relaxing factors in their life. For example, freeware Hair Loss 1.0 for Windows gives fast and easy access to the information hair loss products (special shampoos and conditioners).
The application based e-commerce platform and works only with the Internet connection.
But as regards the objective factors of alopecia here is the other situation. Such software won't work. Medical intervention is necessary. But software can control the results of medical treatment.
Programmers from CSIRO have developed impressive technology that can show how well hair loss treatment methods are working. New software can measure hair on different parts of the (also it can be used to assess the results of depilation).
"Our software uses images captured by a small flatbed scanner pressed onto the skin. It the numbers to analyse the image of skin and hairs…Then, almost instantly, it reports information about the length and number of hairs in the picture…", explain Leader of Biotech Imaging at CSIRO, Dr Pascal Valloton.