February 25, 2013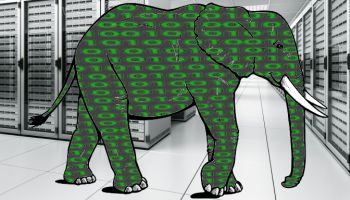 It's easy to extract new tendencies, watching what kind of professions are in great demand at the market. From such a perspective, Big Data is a powerful trend altering not only the business skyline but the top managers' mind as well. Its impact on the job prospects is hard to overestimate as well.
In 2013 hiring executives positioned IT skills related to big data and web developers, who have a way with data management, high on their wish lists.
Just behind Java web developers, mobile application developers and .NET application development professionals.
The Big Data has been around for several years already in the form of petabytes of data stored by Facebook and Twitter, loads of operation info collected by e-trading resources, web logs, research results in Big Science, genomics, biogeochemical, biological and atmospheric fields, astronomy, etc. The list can be easily extended. According to some estimates, the business data volumes all over the world double every 1.2 years, which also produces tons of info with a value of unknown nature.
We must admit, however, that quite little time had passed since the concept was first introduced to the public till the moment the top IT players got the idea. IT market leaders like IBM, Oracle, SAP, Microsoft, HP have already made their first move enlarging their assets – acquiring software development firms specializing in data management and analytics. Some analysts are sure that the booming growth of the big data technologies can be paramount to the one, induced by the emergence of portable devices, especially smartphones and tablets.
New challenges bring new technologies. Big Data poses exceptional 4V challenges. Big Data is huge (Volume) and variable (Variety) which makes it impossible to process it using conventional relational databases. It is increasing at a rapid pace (Velocity) and the processing results are of great Value.
However, some analysts refer the last V to the amount of money spent to receive some comprehensible output. To meet the issues new tools emerge bringing innovation around. Hadoop has recently appeared but it is perfect for data-intensive distributed applications.
NoSQL is going to change familiar relational bases while software like InfoSphere Streams from IBM or S4 from Yahoo enables continuous analysis of massive volumes of data-in-motion, providing the results in the real-time mode. New technologies need new custom software development skills and new people.
The mobile era seems to have passed the peak of its popularity and IT specialists with experience in data analysis and analytics may turn to be the next to take their share of the cream from the IT market.