January 25, 2011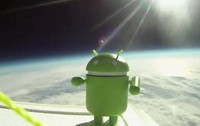 Engineers from SSTL and the Surrey Space Centre in Guildford have embarked on rather an uncommon, thus even more compelling project – to launch a mobile device to the orbit.
Modern mobile gadgets have become very powerful and multitasking devices, therefore, British scientists have set a goal to challenge the capabilities of smartphones and check the efficiency of their work and their performance in a hostile environment.
The mobile phone, which is supposed to set off for space trip, will be powered by Android OS and will be mounted on a satellite, which is 30 cm in length. The overall aim of STRaND-1 mobile space project is to find more economical and resource-efficient ways to control complex spacecrafts and satellites.
Android-powered mobile device will partially control the satellite as well as take photos of our planet. In order to protect the "mobile astronaut" from disruptive impact of the environment it will be embraced by the satellite case.
It is not the first similar venture, undertaken by Google. Before the company showcased the capabilities of Nexus S devices powered by Android OS, which were flying high on balloons.
Who knows… Maybe this bold space project will usher software development companies into the new era of professional mobile app development for space industry.