March 1, 2010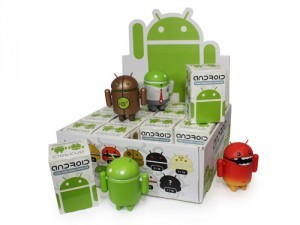 Now we can touch and feel Android in Oxagile office not only on screens of our mobile phones.
We have got quite a full-fledged idol and can address it in terms of worship. 🙂
Artist Andrew Bell talked with guys from Google and together with Dyzplastic he created something what can be called as "designer toy".
This creature in the flesh represents a popular logo that has become favorite one for those who work at application development for Android OS.
Android is available in variety of skins from the 10th of February (with international delivery services!). Its head rotates, as well as hands, its price is about seven dollars, and the height is three inches.
Mobile software developers working for Oxagile think that Android toy can become the same legendary hero as Be@rbrick and Memobot.