November 18, 2016
Digitization has enabled TV companies to innovate their offerings, providing audiences with higher-quality, more personal content. Viewers can now watch what they want and when they want on nearly every device and screen. It's no surprise that advertisers are willing to take advantage of these tremendous new opportunities, vying to reach the right consumer more effectively, down to household and individual levels. Addressable TV advertising has emerged to deliver just that.
Defining Addressable TV
The idea behind addressable advertising is simple. As a form of programmatic TV, it allows delivering targeted TV ads to households through addressable devices such as set-top boxes. This way, segmentation occurs based on a wealth of first-, second- and third-party data – beyond mere geography and demographics. Now, how is that different from traditional TV buying?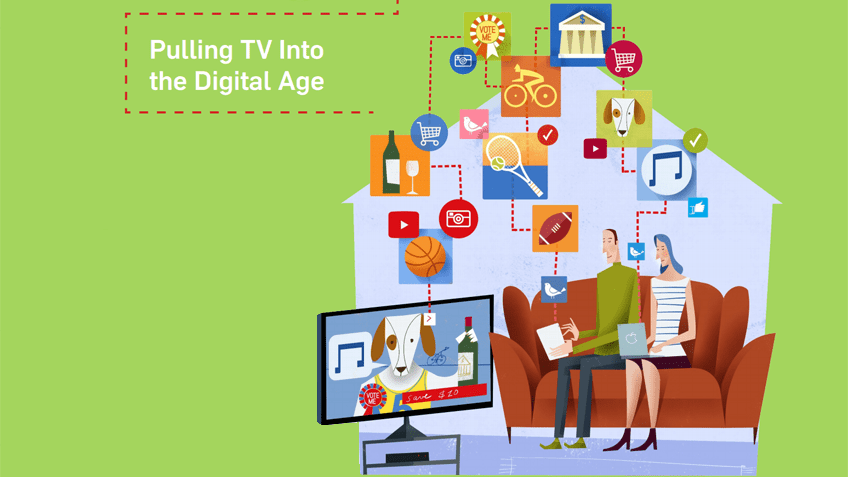 Illustration: Gregory Baldwin
Addressable advertising brings along an entirely new business model. Instead of predicting what programs audiences are watching, it reaches them regardless of what they are watching and when. Here's how it works.
Imagine you and your neighbor are watching the latest episode of The Walking Dead. As a dog owner, you are shown an ad for Nestlé's pet food, whereas your neighbor, a car enthusiast, is shown a commercial for a new Chrysler vehicle. Unlike the old model, it's the ad that finds the audience, not vice versa. Therefore, the critical advantage of addressable TV is reduced waste: advertisers are only charged on impressions served to their target audiences, whether heavy or light TV viewers.
While it's advertisers who benefit from addressable most, the approach creates value for everyone in the advertising ecosystem. Let's look at all these benefits in more detail.
The Promise of Addressable Advertising
Zero Waste through Laser-Sharp Targeting
According to a survey conducted by Adweek and AT&T AdWorks, 80% of marketers and media buyers are unable to target and measure their traditional TV buys as precisely and effectively as they would like. Moreover, nearly two-thirds of respondents say that there is too much waste associated with TV advertising.
Addressable is there to turn this upside down. Rick Welday, President at AT&T AdWorks, says eCPM is the proof of that and suggests having a look at the math behind it:
With traditional linear TV, you may have a $10 CPM. When your ad airs, let's say that 25 percent of the viewing audience is within your target. That's an eCPM of $40. With addressable TV, you may pay a $30 CPM, but it's much more efficient, since all of the impressions that are paid for are within your advertiser target.
Indeed, in their white paper, AT&T AdWorks boast of 75%-100% reach against the target audience for addressable campaigns on their platform. Now, where does this relevance come from?
Unlike traditional TV advertising with its Nielsen-driven age and gender targeting, addressable allows for using such attributes as family composition, household income, dog or car ownership, and much more. In addition to that, ads can be tailored to an individual viewer or device owner when TV is streamed to personal devices like mobile phones, tablets, or laptops.
There are no limits, said Michael Kubin, Executive VP at Invidi, at Transformation 2013. "[We can target audiences] as specific as we have data for. If the data exists, it can be targeted", he added, implying advertiser's ability to tap into any data source, whether it's first-party (a proprietary database), second-party (from partners) or third-party data (from Experian and the likes). With such granular targeting, pet food marketers can make sure that a dogless household is not exposed to ads for their products.
Enhanced Viewer Engagement and Measurement
With increased relevance come higher engagement and measurability. As long-form TV content is progressively expanding towards smaller devices, second screen is gaining momentum to make this content even more relevant and attractive. And as we now know thanks to a study conducted by comScore for YouTube, this is just what viewers want.
The study says 62% of millennials take action after viewing an ad with 47% paying more attention when viewing personalized ads. Even when the Super Bowl is streaming, young viewers are more drawn to the commercials rather than the event itself, new research shows.
Since second-screen activities during traditional TV viewing are on the rise, advertisers can drive engagement with their commercials while gaining strategic visibility into which programs and ads are liked, skipped, or shared across social networks. That said, addressable TV introduces unmatched opportunities regarding laser-targeted ad delivery, interactivity, and rich data return, thus closing the loop of ongoing media optimization.
Protection against Ad Burnout
Google, as well as Michael Kubin, argue that addressable TV reduces the risk of viewer burnout, by providing the required reach. Particularly, it allows managing the number of ad impressions delivered to a viewer or a household and using "creative sequencing", which, with the old model, is plain guesswork.
Frequency management can make a case for ads that focus on product news, which are especially susceptible to burnout, according to Kantar Millward Brown, a multinational market research firm specializing in advertising effectiveness. However, the true wearout of TV ads is rare, they argue.
Increased Revenue for Ad Inventory
With the advent of addressable advertising, new ways to generate revenue are emerging for publishers, as one-to-one targeting capabilities will increase the value of ad inventory. For example, Cisco's Videoscape TV Addressable Advertising solution promises the following benefits:
Attract new advertisers by offering granular addressability
Sell a single slot to multiple advertisers
Resell time-shifted DVR advertisement inventory
Increase business from media buyers, who can reach more relevant audiences
Reduce channel change by delivering relevant advertising
In the next post, our AdTech experts will look at the challenges that stand in the way of addressable TV and see how the industry tackles them. Until then, we will be glad to hear your opinion on the capabilities of addressable to deliver its promise.