January 12, 2009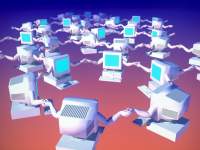 A webinar (online seminar) is a special type of Web conferencing. In most cases a webinar implies broadcast presentations to a large number of subscribers.
Communications are usually one-sided – by the speaker and the interaction with the audience is limited.
In some cases, a speaker can answer questions via phone or chat, which ensures full interaction between the audience and the moderator.
The advantage of webinars is saving time: the speaker and the participants do not need to spend time on getting to the venue. They can participate in webinars without leaving their working places. All materials are distributed to the participants in the electronic form. In addition, the organizers will provide participants with archival recording after the webinar is finished.
On the Internet you can find a lot of training webinars on various topics: marketing, SEO, programming.
It is evident the online interaction is useful not only for learning. Initially, this technology was used for meetings and negotiations, when parties have great distance between each other. Many of the world's largest companies are already using webinars to work with students.
They show prospective employees the latest technology in dealing with potential staff members and the staff of this company. In this case webinars are used more for recruiting than for training and development. In addition it's a way for company's advancement and communicating with clients. Webinars are more a marketing tool for companies rather than a tool for learning.