December 28, 2009
The number of Apple iPhone users has exceeded the number of sold mobile devices based on Windows Mobile operating system.
According to a study conducted by the ComScore company, Apple iPhone smartphones are very popular among Americans older than 13 years. Moreover, sales of Apple phones in the U.S. have overtaken the popularity of mobile devices with Windows Mobile OS for the first time in the U.S. market. ComScore experts get the following results in October of this year:
8.9 million of iPhone users vs 7.1 million of WM-smartphones.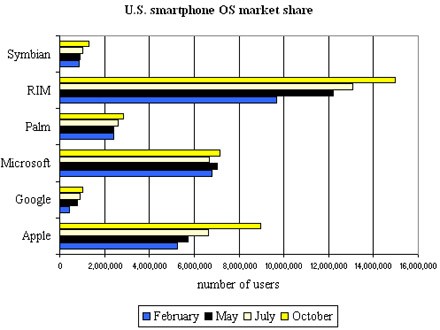 This "alignment of forces" should be taken into account by mobile software development companies. Especially because such a result can't be considered as fortuitousness. The number of Apple smartphone lovers is growing at high rates this year:
5.2 million of people in February;
5.7 million of people in May;
6.6 million of people in July.
So the popularity of mobile apps development for iPhones is growing at corresponding rates.
But a top position hasn't changed. The Research In Motion company with its BlackBerry remains as undisputed leader in the U.S. smartphone market. The number of RIM customers has reached 14.9 million in October. So application development for BlackBerry can be considered as strategic direction for many software companies.