November 3, 2017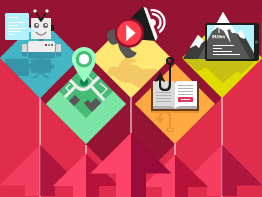 With everyone vying for consumer attention, it's vital to keep a close eye on advances in business and technology.
And, as savvy marketers know, whatever your strategies are, there is always room for improvement.
Let's discuss some of the latest marketing technology trends that might help you get ahead of the game.
Geomarketing
Geomarketing as a concept is nothing new. However, with technological advances, changes in consumer behavior, and competition getting increasingly tougher, marketers keep finding new applications of the strategy.
Geofencing
An interesting subset of the tried-and-true geotargeting method is called geo-fencing, which involves setting virtual boundaries around a real-world location.
Whether it's a geo-fence around a store, a restaurant, or even an event, businesses have the opportunity to deliver tailored offers to users who enter a pre-defined area — right to their mobile screens. Offering a personalized bonus, coupon, or free dessert makes for a great experience and has the potential of winning the customer's loyalty.
Geo-conquesting
Geo-conquesting is a more aggressive technique used to lure the customers away from rival businesses. Its efficiency hinges on the premise that the targeted users are already in the market for the particular products or services.
For example, local coffee shops have been adopting this strategy and pushing special ads and notifications to the customers of chains like Starbucks. With juicy time-limited offerings, unusual flavors, or superior customer service they manage to grab the attention of their prospects and bring them to their doors.
Geofilters
Geofilters (location-specific overlays applied to photos and videos) were first introduced by Snapchat in 2014.
Since then, the presentation of low-cost on-demand geofilters opened a whole new channel for marketing. Savvy local businesses can tap into the benefits of branded geofilters to spread the word and spark curiosity.
Here's a creative way of getting more customers: offer a chance to win a prize in exchange for posting a picture using your geofilter. Being only available at a particular location, the geofilter will then drive foot traffic to your place.
Hyper-Personalization
Personalization takes user experience to another level, and the ability to provide personalized content can ramp up your sales.
Amazon is a heavyweight of the personalization game, and its recommendation engine is one of the biggest drivers behind it. In addition, the e-Сommerce giant is also experimenting with personalized video ads. It uses its own machine learning algorithms that automatically optimize creatives to improve ad performance and increase conversions.
Cross-channel, holistic profiles
Another case in point is the fruitful collaboration of Nielsen, a global performance management company, and RichRelevance, an expert in omnichannel personalization. The partnership resulted in new retail personalization capabilities added to the Nielsen Marketing Cloud.
Armed with rich cross-device audience data (demographics, interest and intent) provided by Nielsen, and RichRelevance's omnichannel personalization platform, retailers can effectively engage customers on a deeper level. What's more, tailored content and recommendations can be communicated to prospects across multiple digital channels.
Big Data
The secret sauce behind profiles and personalization is big data.
Custom big data solutions harness the power of information collected across multi-channels profiles. Business intelligence tools use this data to produce valuable insights that can be leveraged by business owners. The findings help to understand your customers better, which allows better differentiating pricing strategies, improving the shopping experience, building customer loyalty, and more.
Video
Video marketing is the biggest craze right now, and for a good reason. In a recent study Cisco predicts that video traffic will amount to 82% of all consumer Internet traffic by 2021, which makes for fertile ground for marketers and brands.
Interactivity
According to Google, over 50% of internet users looked for product- or service-related videos before visiting a store.
Offering interactive elements within a video is poised to change the way a brand engages with its audience. The idea was put into action by Warner Bros., when the company created a gamified interactive experience to promote its box office release, "Focus". Mini-game Focus on the Con was inviting the audience to step into the shoes of a con artist.
Storytelling
Good storytelling can be a powerful sales tool. It catches attention while building trust and a stronger connection with the brand.
Airbnb understands the importance of telling a compelling story like no other. Using immersive narratives, the company appeals directly to our emotions to improve brand loyalty. It has dedicated a Youtube channel for users and hosts to share their unique stories.
Augmented Reality
Augmented reality is at the forefront and making waves in the industry. Enjoying fast-growing popularity, augmented reality market is predicted to reach USD 151.30 Billion by 2022.
The marketers can tap into inherent human curiosity and use a unique AR-powered 3D experience to deliver a more immersive interaction with the brand.
Consider IKEA with its augmented reality catalog app. While flipping through a furniture catalogue, you can recreate selected items in 3D in IKEA Place app to see if they fit the room.
The newest case in point is Apple's ARKit that made its public debut at the 2017 Worldwide Developer Conference. Paired with iOS 11, it brings unmatched AR experiences to iPads and iPhones. The new framework blends digital objects and information with the real world. By integrating camera and motion features, ARKit allows a more realistic behavior of virtual objects.
Chatbots
Another versatile tool that can be leveraged for your marketing initiatives is chatbots. Today's AI-powered chatbots can communicate with users in a more engaging and fun way, which can improve customer retention and increase revenues.
On the one hand, chatbots integrate with social media platforms to gather information on the persons they interact with and to provide an increasingly personalized experience. On the other hand, using a chatbot helps to humanize a brand and build strong online presence.
Global hospitality leader Marriott International has elevated its service level by incorporating their new chatbot called ChatBotlr. It encourages guests to make service-related requests anytime and anyplace. The Marriott Rewards chatbot is already available on Facebook Messenger and Slack. 53% of Marriott Rewards members using Marriott Rewards' Facebook Messenger received assistance related to their Rewards account.
Conclusion
With competition so fierce, staying ahead of the curve is critical. And there is more than one way to do that. Whether you decide to go creative with geomarketing, tap into the benefits of personalization or opt for interactive videos —- the choice is yours.
What are your go-to marketing strategies that we have not mentioned here? Tell us in the comments!