June 14, 2013
Starting a series of publications on Outsourcing this year, we aimed to analyze global Startup clusters and map their development preferences onto current outsourcing tendencies. No surprise, New York's blossoming startup ecosystem with distinguished characteristic on real-time consumer solutions was chosen first.
We spend considerable time contacting our responders from the Made with love in NY List and now ready to show our modest results. The questionnaire consisted only of 5 multiple-choice questions plus one open-ended question asking to explain what went well or wrong while outsourcing.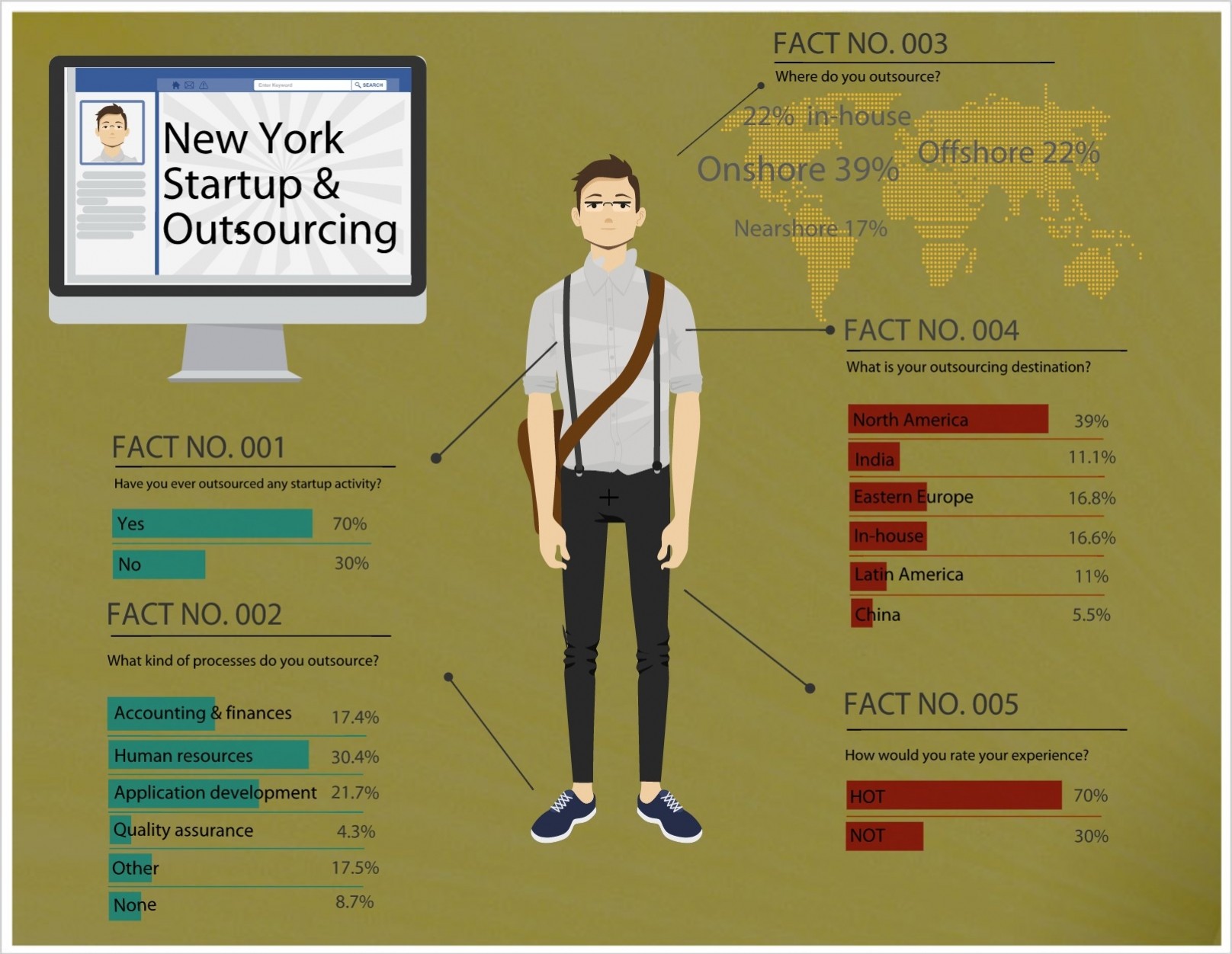 The following conclusions are driven from 400 responders in New York City. From the survey we found out that 2/3 of the companies have positive outsourcing experience. Accounting & Finance (17.4%) and Human Resources (30.4%) were reported to be the most popular outsource processes. Application Development and Maintenance secured the solid third place among the processes (21.7%).
New York startup entrepreneurs tend to keep their remote activities in the United States and outsource onshore (39%) either in rural areas (11%) or elsewhere within the country (28%). What is more interesting is that the percent of the companies outsourcing offshore and those preferring "to do everything in-house" is equal (both around 22%).
Basically, there are two confronting ideas to prove these numbers. One stated that outsourcing is a bad idea for a startup, in general, because it hinders the organizational culture and agility methods. These startups could max trust small UI-centric projects to offshore team or outsource HR, for instance.
At the same time, others insisted that outsourcing helped them to save their time and, most of all, money. Previous experience is a crucial yardstick and the decision to go outsourcing or not is greatly dependent on that.
With the growing number of onshore and nearshore outsourcing activities, North America and Eastern Europe are the most popular outsourcing destinations for New York. The number of companies "doing everything in-house" (16,6%) equals to the number of companies outsourcing to India and China. As a part of nearshoring trend, Latin America is gaining popularity (11%).