June 8, 2010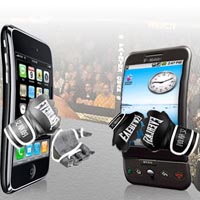 According to the AdMob Company, working in the sphere of mobile advertisement, there are 10.7 mln iPhones and 8.7 mln devices based on Android in the USA. If other gadgets using iPhone OS are taken into account, the number of devices will increase up to 18.3 mln.
In some countries especially in Western Europe the Apple platform is still far ahead (and iPhone apps development is still in its prime), sometimes at the ration 10:1. China is the only country with the opposite situation.
Most devices working on iPhone OS are in North America (49%) and Western Europe (28%). Among countries the leaders are the USA (44%), Great Britain (9%), France (6%), Canada (5%) and Japan (4%).
What concerns 'googlephones', in April 75% of them were concentrated in North America, followed by Asia (12%) and Western Europe (11%).
It should be noted that AdMob counts only the devices connected to its advertising network. Apple states that it has sold 85 mln iPhone communicators and iPod touch players for the last three years and Google claims it activates one hundred thousand Android-based gadgets daily (and it provokes increase in the number of Android apps developers), but that's quite difficult to find out how many phones are actually in use.
A month ago AdMob reported that for the first time the Android traffic of its network exceeded the traffic of iPhone devices in the USA.