February 27, 2010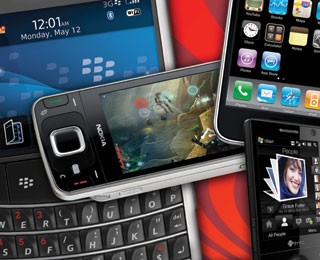 In the fourth quarter of 2009 world smartphone supply grew by 39% and reached a record peak of 54.4 million devices.
Apple was the most active player in the smartphones market. Nokia was still on the first place by the quantity of produced devices (this figure grew to 20.8 million units, while market share was 38.2%).
The second place gone to Research in Motion with 10.7 million smartphones.
So the market share of the popular BlackBerry smartphone producer was increased to 19.6%.
Such a result shows great future prospects for companies that provide the following services:
According to the forecasts from business analytics more and more people in the world will gradually switch to smartphones. It means that mobile applications for such platforms as iPhone, BlackBerry, WM and Android will come to be in great demand.
Results for 2009: the companies produced 174.2 million smartphones and it was a 15% increase in deliveries comparing with the past year.