December 20, 2010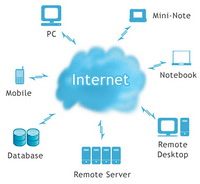 In the near future cloud computing will drastically contribute to the development of 5 major EU economies (Germany, Spain, Italy, France and the UK).
According to the CEBR forecasts this technology is likely to bring €763bn revenue and create 2.4mln jobs in these national markets.
Cloud computing services are becoming commodities – nowadays more and more companies instead of maintaining the whole IT infrastructure choose more lightweight IT solutions. This technology provides IT services on demand via the Internet. Hence, various businesses may opt for serving their IT needs at reduced costs.
Companies don't have to invest wads of cash at once to get an IT solution and, instead, get a monthly subscription for software services and pay for them in installments.
In this case a company shifts from a more flexible in-house IT solution to more scalable and powerful cloud computing services.
Currently the U.S. administration is also considering adoption of more cost-effective cloud technology – the Obama's administration has set a goal to implement fewer proprietary IT projects and take advantage of cloud-based technologies. The federal agencies are to switch to a new system from 2012. For this purpose, US government has given software companies a chance to showcase cloud computing services on its online portal Apps.gov.