June 28, 2010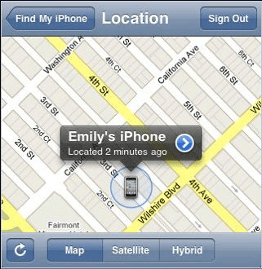 Apple has updated the data synchronization service for mobile devices MobileMe. The main innovation is the availability of thе application Find My iPhone for iPhones, Apple iPads and iPod touch players. It represents a port in the form of an individual client's application of the service for finding stolen portable devices from Apple.
In other words, Find My iPhone is a branded 'anti-stolen' system – the user and the former owner of the device can see the interactive map where the position of the lost device is located with the help of GPS or antenna signals.
He can not only apply to the police having provided them with the exact place where the device is but he can also send remotely the command for deleting all the data from the memory of the phone or he can display the message on the screen with the request to return the phone to its legal owner.
The application itself is free, however, you'll have to subscribe for MobileMe which costs $99 a month if you want to use it.
Earlier the information that Apple would annul the subscription fee for using MobileMe at the next update of the service appeared. However, it hasn't happened. Probably this step will encourage iPhone apps developers to create cheaper applications for protecting personal data of the owners of Apple gadgets.
Apart from Find My iPhone, the update of the MobileMe service has touched its other components as well. In particular, the user's web interface has been changed – the mail client has been adapted to wide screens (for iPhone 4), the possibility for creating and using the rules for sorting letters as well as the instrument panel for text formatting has been added.