September 3, 2010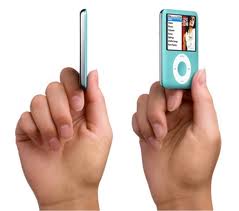 Apple has updated practically all iPod players. The new iPod shuffle got a more compact case and a touch control system. The built-in battery provides up to 15 hours of autonomous work. iPod shuffle of the fourth generation will cost $49.
iPod nano has also reduced in size considerably. This player has become 46% smaller and 42% lighter.
Moreover, iPod nano got a sensor display with multitouch technology support and the time of autonomous work of 24 hours. iPod nano of the fourth generation will cost from $149 to $179, depending on the memory size.
iPod touch has become more compact and thinner. This model got the sensor screen Retina Display and the processor А4, similar to the one in the new iPhone. The main innovation in the new iPod touch is built-in cameras. The forward-mounted one is intended for video while the rear one allows recording HD-video. The cost of iPod touch in the USA will be from $229 to $399, depending on the memory size.
The main innovation in iTunes 10 is a built-in musical social network Ping which Apple calls a sort of hybrid of Facebook/Twitter and iTunes. Ping shows the activities of the users as well as his friends. Ping has started working with the new version of iTunes which is already available at the official site of Apple.
No matter that all these devices have become smaller in size, mobile application developers will definitely increase the number of mobile applications for them.