January 8, 2014
Our next post in the "software development team roles" series is about project manager.
Project managers can have the responsibility of the planning, execution and closing of any project, typically relating to construction industry, architecture, aerospace and defense, computer networking, telecommunications or software development (source).
Aliaksandr Astapenka, Project Manager and Business Analyst at Oxagile
I earned my first salary during my Work&Travel USA experience at the company which was producing ice for parties on the East Coast. My duty was to pack ice at the production line, probably, the most difficult and annoying part of the whole process.
Managing projects and products is one of the most important parts of business in software development. I have a passion towards IT business and currently involved into one disruptive business. Entrepreneurs are sort of a new rock stars nowadays and who doesn't want to be a rock star?
I love music and it plays an important role in my life for sure. Several years ago I have launched wide known in Belarus portal about fast and alternative music. The portal today is fully operational, but I am not involved in it anymore. To my mind music is essential to people working in an open space office (like we do), it might be difficult to concentrate at your work otherwise.
Thinking of Project management, there are at least three most important facts I would like to stress on: everything in life is a new project; individuals and interactions should be over processes and tools; following a plan promptly respond to occurring changes in order to succeed in managing projects.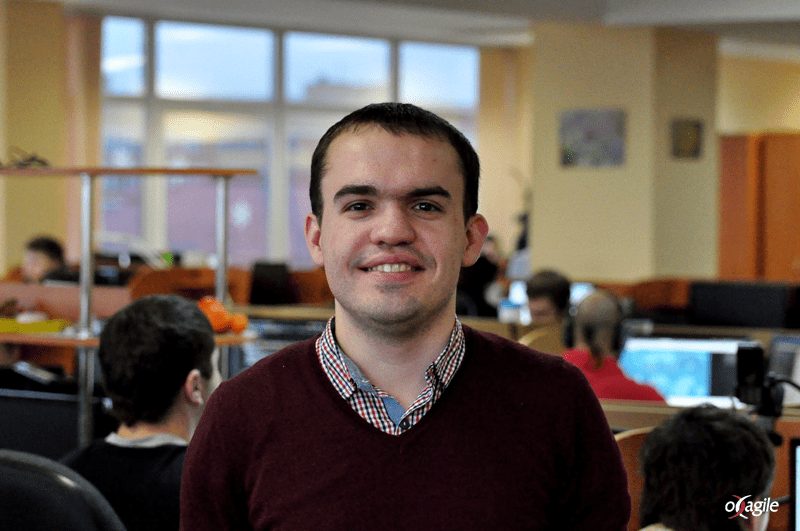 I put maximum efforts to avoid handling urgent situations at work. However, should I face force majeure I take it easy and stop to think for a second before making an important decision.
Obviously, communication skills are the most important for a Project manager and that is a common believe. What I personally value in Project management is a fast thinking.
I am a big fan of time management and GTD. I am tracking my time daily since 2008 and provide retrospective for myself periodically. Having prioritized my goals I am able to determine the most time consuming activities and avoid activities with the lowest priority for me. These time-sanitation practices help me keep enough time space to be right on track for the most important things throughout a day.
If I could travel in time, I would like to go 20-30 years to the future. Current world is a bit too slow to me, but information technologies, telecommunication and transport are constantly gaining up in speed and the world should be fast enough in a given timeframe. At the same time 20-30 years is close enough, so I don't feel like a square peg in a round hole in a future society.
Probably I am too much some kind of an individualist so I don't usually participate in any official clubs or organizations. But at the same time I enjoy sharing my thoughts with the professional community and listening other opinions at specific events and meetings. For instance, in December I went to Paris to take part in LeWeb 2013 Conference with two goals in mind: inspiration and networking. With little professional knowledge at such kind of conferences, it's a great opportunity to feel the main trends and to look at your own company/product from out of a box and to draw appropriate conclusions. Also there are many people with great experience, sharp mind and a passion to make new disruptive thing that I couldn't stop networking all the day long. The most memorable and disgusting to me at the conference was the speech of French Minister Arnaud Montebourg saying "when innovation destroys systems, we have to go slowly" when he was asked about Uber.
In people I appreciate a good sense of humor. As a reliable source of professional information that I daily consume I tend to use Twitter or Instapaper (when need to postpone news for later reading).
Read our previous posts from this series: What makes a great mobile app developer and Head of Oxagile Marketing Department about People, Motivation and himself