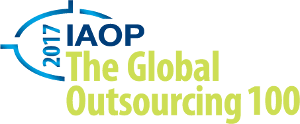 The IAOP® has announced their pick of the most trusted and forward-looking vendors in the industry for the year 2017.
The roster is compiled by an independent panel of experts after a rigorous examination of applicants. This year's key excellence criteria included size and growth, customer references, awards and certifications, programs for innovation, and programs for corporate responsibility.
Oxagile is celebrating its 5th anniversary of entering the highly regarded Global Outsourcing 100® program with a top position in the Customer References.
"For us at Oxagile, customer loyalty and satisfaction trumps revenues in evaluating the success of a project. This is why our recognition as a Top Company for Customer References is the most meaningful signifier of our achievements," said Oxagile's Head of Marketing Mihail Romanovsky.
About Oxagile
Founded in 2005, Oxagile LLC has evolved from a small but ambitious company into a fast-growing vendor of domain-specific services and custom software solutions.
To date, the company has delivered over 400 successful projects in VoD and Live Streaming, AdTech, Finance, eCommerce, Entertainment and Media, eLearning, and Healthcare.
Headquartered in New York, Oxagile has a development center in Minsk, Belarus, and a regional office in London.