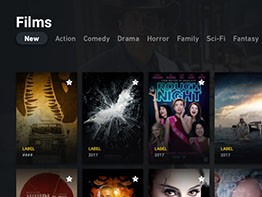 Kaltura, the provider of a leading cloud TV platform, and Oxagile, a video-based software solutions developer, are collaborating to extend Kaltura's Targeted TV solution with Oxagile's user-facing applications.
The new applications include innovative UX customization designed to present the most relevant UI to each user, based on Kaltura's Targeted TV user segmentation that takes into account behavior recognition, AI-powered predictive analytics, and more.
Subscribers will get access to personalized content recommendations and promotional offers on platforms ranging from web and mobile to smart TVs and STBs. In turn, TV operators will be able to augment their capabilities across all screens with improved conversion, higher usage, and increased ARPU.
Oxagile is taking on the role of frontend development and leveraging its cross-domain engineering know-how to integrate the client apps with Kaltura's Targeted TV solution. Guided by Kaltura's audience segmentation, tailored offers and content, Oxagile's highly customizable UI will adapt its entire look to match the preferences and habits of each consumer segment in real time taking into account the operator business goals.
"We are happy to offer profound video domain expertise with a primary focus on frontend and UI, while ensuring an awesome user experience on any screen. Working together with our partner Kaltura will result in a groundbreaking TV solution, enabling TV operators, telecoms, broadcasters, and content owners usher in the Cloud TV era and properly satisfy the growing demand for customized video content," said Oxagile's CTO Sergey Marchuk.
"The Kaltura TV Platform is a modular infrastructure that easily enables us to join forces with a wide range of 3rd party technologies, providing our customers with a best-of-breed solution of their choice," said Gideon Gilboa, Kaltura Senior Vice President of Marketing and Product, Media and Telecom. "We are excited to team with Oxagile to bring our Targeted TV solution all the way to the end-user's screen, leveraging their impressive apps and flexible technology to present each user with the most relevant UI on any device they choose."
The Kaltura and Oxagile integration is planned to be demonstrated at the IBC Show in Amsterdam, September 14-18.
About Oxagile
Oxagile is an international provider of custom software development services focusing on state-of-the-art cross-platform frontend applications, multi-screen video streaming, big data and BI, as well as innovative AI-powered computer vision solutions.
Oxagile's expertise underpins high-performance applications that deliver live streaming, VoD, real-time communication, VR, and 360 video across web, mobile, smart TVs, STBs, and other platforms.
Oxagile's robust R&D and a predictable delivery process were instrumental in helping clients such as Orange, Discovery, and Vodafone achieve their business objectives and outperform the competition.
About Kaltura
Kaltura's mission is to power any video experience. A recognized leader in the Cloud TV, OVP (Online Video Platform), EdVP (Education Video Platform) and EVP (Enterprise Video Platform) markets, Kaltura has emerged as the fastest growing video platform with the broadest use cases and appeal.
Kaltura's Media and Telecom business unit helps companies make the transition to offering a fully-fledged Cloud TV service that caters to the exacting demands of modern TV viewers.
The Kaltura TV Platform features personalized multi-screen access to linear, VOD and time-shifted TV as well as third-party content. It combines advanced monetization options with the ability to scale to millions of viewers anywhere in the world. The adaptability and agility of the Kaltura TV Platform lets companies experiment with new products and features, analyze performance, and react quickly to changes in viewing behavior to optimize engagement and better meet business goals.