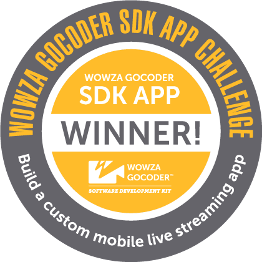 We are honored to announce that the company's solution, the Oxagile Unity Plugin, won the Special Award under the Best Developer Enablement category in the Wowza GoCoder SDK App Challenge.
Competition was tough: over 200 IT companies from all over the world submitted their mobile apps that had to demonstrate an innovative, original use for Wowza's new product — GoCoder SDK.
The Oxagile Unity plugin integrates the GoCoder SDK with apps based on the popular Unity game engine. By using this plugin, developers can leverage Unity's first-person view camera to stream videos from any Unity-based app, which could include VR and AR experiences, panoramic 360° experiences, and more.
Our team also built a demo app to showcase the plugin. The app is designed to play a 360° tour of Oxagile's development center, which could be viewed with e.g. Google Cardboard. The app streams a first-person view video to a Wowza Streaming Engine server located on our premises.
"This award means a lot to us. We believe the jury's decision is an acknowledgment of Oxagile's technical expertise and practical excellence," said Mihail Romanovsky, Oxagile's Head of Marketing. "We are sure our solution has a lot of potential and can greatly empower Unity app developers around the world."