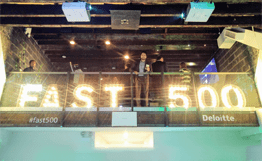 We are delighted to announce that Oxagile has been ranked 337 on Deloitte's 2016 Technology Fast 500™.
With the revenue growth of 217% over the last three years, Oxagile was listed among America's most successful companies in the field of technology, media, telecommunications, life sciences, and energy tech.
​Published by Deloitte, one of the world's most respected financial brands, Technology Fast 500™ is a list of both public and private companies that demonstrate sustainable growth during a defined period. Award winners are selected based on percentage fiscal year revenue increase over a three-year period.
"We sincerely believe that nomination to Deloitte's 2016 Technology Fast 500™ is a great success," says Mihail Romanovsky, Oxagile's CMO. "It is our company's strategy to innovate in high-tech domains — including video streaming, real-time communication, AdTech, and more — that keeps us laser-focused on our goals of delivering cutting-edge solutions to customers around the world. This strategy, multiplied by our teams' diligent work and our clients' loyalty, results in steady revenue growth and makes such remarkable achievements possible."
About Oxagile
Oxagile is a leading-edge provider of custom web and mobile application development services with a focus on multi-platform video streaming and RTC solutions.
Oxagile has been on the IT scene for over a decade now, and has successfully delivered more than 400 projects to companies in various industries, such as Media and Entertainment, eCommerce, EdTech, Advertising, Finance, Healthcare, and others.
Throughout its history, Oxagile has worked with such high-profile clients as Google, Disney, Discovery Communications, MIT, Telecom Argentina, Vodafone, and many more.