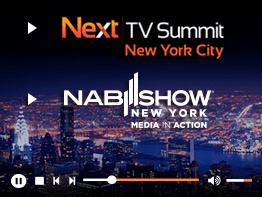 This October, New York is the place to be for TV professionals of every persuasion, from pre-production to distribution.
Numerous panels, roundtables, and conferences with the industry's top executives and prominent thought leaders will offer a candid, behind-the-scenes look into the business and shed some light on the ways TV will transform in the next decade.
Our team will be attending two events that present a special interest to Oxagile.
Next TV Summit held on October 18 at Sheraton Times Square is a conference within NYC Television Week. Members of the media and technology community will meet to discuss a wide range of TV-related topics, including the OTT and VoD market expansion, viewer consumption patterns, video advertising technologies, content monetization through personalization, and audience engagement.
Just a 15-minute drive away, NYC's Javits Convention Center will once again host the NAB Show on October 18-19. The event attracts hundreds of exhibitors and thousands of attendees representing connected media, content creation, distribution and delivery, media asset management, post-production, and more.
"It's going to be a very intense, very exciting couple of days, attending some of the busiest TV-related events on the East Coast," shares Oxagile's VP of Business Development in the Americas Trent Spratlin.
"Nothing gives you a better idea of where the industry is heading than meeting the people who drive and shape change. It's also a great opportunity to network and make a case for Oxagile's deep and varied online video expertise in a highly influential environment."
To book a meeting with Trent during the events, drop him an email at trent.spratlin@oxagile.com