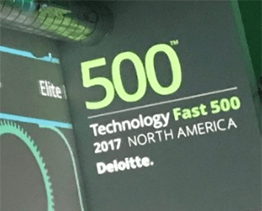 Oxagile today announced it ranked No.393 on Deloitte's 2017 Technology Fast 500™, a ranking of the 500 fastest growing technology, media, telecommunications, life sciences and energy tech companies in North America.
The winners of this award program are selected based on percentage fiscal year revenue growth over a three-year period.
Oxagile's CMO, Mihail Romanovsky, credits employee development and extensive R&D efforts with the company's 203% revenue growth over the 2014-2016 period.
"In the last three years we've been concentrating on three fundamental company strategies: our program for professional excellence, generous investments into R&D, and a more domain-specific approach to projects," Mihail explained.
"You have to step out of the comfort zone to decide which technology trends to follow, what kind of service your clients will need two, five years from now, and what you must do to stay relevant. Oxagile now delivers a wider range of solutions for a greater number of business verticals than ever before, and the revenue growth we've had is the natural consequence of that."
Sandra Shirai, vice chairman, Deloitte Consulting LLP and U.S. technology, media and telecommunications leader, said: "The Deloitte 2017 North America Technology Fast 500 winners underscore the impact of technological innovation and world class customer service in driving growth, in a fiercely competitive environment. These companies are on the cutting edge and are transforming the way we do business."
About Oxagile
Oxagile is an international provider of custom software development services with a focus on multi-platform video streaming, adtech, big data, and BI solutions.
Oxagile has been on the IT scene since 2005, and has successfully delivered more than 450 projects to companies in a wide range of industries, including Media and Entertainment, eCommerce, eLearning, Advertising, Finance, Healthcare, and others.
Throughout its history, Oxagile has worked with such high-profile clients as Google, Disney, Discovery Communications, MIT, Cox Enterprises, Vodafone, and more.