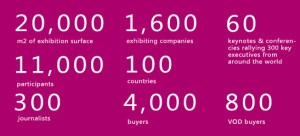 On April 7-10, Oxagile is leaving to Palais des Festivals in Cannes, France to attend the world's most-established TV and digital content market and the biggest gathering of entertainment industry professionals to feed its passion for fresh content.
MIPTV (Marché International des Programmes de Télévision) is the world's market content & creative forum for content on every screen.
It provides the people involved in the TV, digital, and audiovisual content, production and distribution industry a market conference and networking forum to discover future trends and trade content rights on a global level. Top television execs and creative talent from 100 countries converge in Cannes to forge early-stage content development partnerships and seal international distribution deals for the year ahead.
Our agenda:
Connect with partners that are on the lookout for deals;
Stay cutting edge: meet the new decision-makers in the online media ecosystem;
Discover new recipes for success: business models, trends, and monetization;
Meet breakthrough start-ups and tech companies to see how content plus technology equals audience engagement;
Oxagile, being on the front line as the world's top software developer in OTT, VoD, and IPTV custom development is the first to see the highest quality online video programming and web video.
Do you think we are a perfect fit to set up a deal or just looking for a seasoned developer in the sphere of connected TV?
Come to MIPTV and schedule a meeting with our Head of Marketing – Mihail Romanovsky at Mihail(dot)Romanovsky(at)oxagile.com and look for Oxagile. We know what the Internet TV is gonna look like in 10 years!