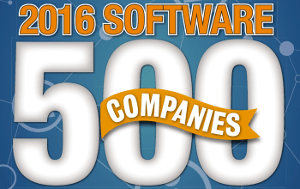 We are honored to announce that Oxagile has been named to the prominent Software 500 ranking for the second year in a row. The 2016 ranking lists such industry giants as Microsoft, IBM, Oracle, Hewlett Packard, Accenture, as well as other high-profile companies.
The Software Magazine's Software 500 list targets medium to large enterprises, IT professionals, and business managers involved in software and services purchasing. Based on the listed companies' fiscal year reports, the Software 500 ranking provides a detailed look at the world's largest software and services suppliers from a revenue, employee, and R&D perspective.
With a 28.30% corporate revenue growth based on the 2015 fiscal year data, Oxagile is committed to providing clients with a full spectrum of high-quality software development services.
"Oxagile is delighted to be listed among the top software companies for the second consecutive year," says Mihail Romanovsky, CMO. "With our dedication, passion, and talent, we anticipate steady growth in the years to come by enhancing our competences and boosting our clients' satisfaction with world-class solutions."
About Oxagile
Oxagile is a leading-edge provider of custom web and mobile application development services with a focus on multi-platform video streaming and RTC solutions.
Oxagile has been on the IT scene for over a decade now, and has successfully delivered more than 400 projects to companies in various industries, such as Media and Entertainment, eCommerce, EdTech, Advertising, Finance, Healthcare, and others.
Throughout its history, Oxagile has worked with such high-profile clients as Google, Disney, Discovery Communications, MIT, Telecom Argentina, Vodafone, and many more.