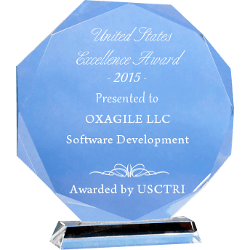 For the second year in a row, Oxagile has been singled out from the competition by the US Commerce & Trade Research Institute (USCTRI) and received the 2015 United States Excellence Award.
The company has been recognized within the Software Development category for meeting and exceeding the industry benchmarks set forth.
Each year USCTRI conducts extensive industry research in order to recognize organizations that have demonstrably advanced within their local business environment and industry space.
These companies are awarded for having delivered a significant contribution to their local community, and for enhancing the consumer-driven reputation that the US is renowned for.
According to USCTRI's evaluation results, Oxagile has consistently demonstrated its willingness to comply with the highest standards for business ethics, company values, and customer service. This repeated recognition by USCTRI marks an important achievement and makes Oxagile stand out as a leader in the level of customer service that the industry should follow.
About USCTRI
USCTRI is a prominent authority on researching, assessing and awarding companies across a wide range of verticals. USCTRI uses highly rigorous excellence standards with particular emphasis placed on customer service, product quality, and ethical practices. More information on USCTRI can be found at www.usctri.org.
About Oxagile
Headquartered in New York, Oxagile is an internationally recognized custom software development company with a primary focus on software outsourcing services for a variety of industries and business domains. The company has accumulated a wealth of experience in such areas as custom IPTV, VoD, and OTT development, distant learning, finance, and others.
Throughout its decade-long history Oxagile has successfully delivered over 300 software projects to such world-renowned clients as Google, Discovery Communications, Telecom Argentina, JumpTV, Vodafone, MIT, and KIT Digital.