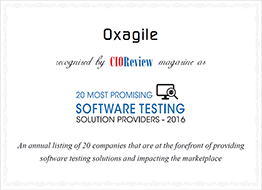 We are honored to announce that Oxagile has been included in the CIOReview's list of 20 Most Promising Software Testing Solution Providers.
A panel of prominent decision makers, analysts, along with the CIOReview editorial board, has singled out Oxagile's excellence in delivering full-cycle testing and quality assurance services. The company's QA expertise enables us to deliver well-tested solutions of superior quality, improve time to market with continuous integration and delivery, and reduce costs by detecting bugs early via optimized development workflows and test automation.
"This nomination is a tribute to our hard work and professionalism," says Mihail Romanovsky, Oxagile's CMO. "By using our quality assurance, quality control and testing experience, we have proved our ability to tackle even the toughest technological challenges. To take our success further, we will strive to stay on the cutting edge of innovation in terms of technology stacks and business domains."
About Oxagile
Oxagile is a front-line provider of custom web and mobile application development services with a focus on multi-platform video streaming and RTC solutions.
Oxagile has been on the IT scene for over a decade now, and has successfully delivered more than 400 projects to companies in various industries, such as Media and Entertainment, eCommerce, EdTech, Advertising, Finance, Healthcare, and others.
Throughout its history, Oxagile has worked with some of the world's biggest and most recognizable brands, including Google, Disney, Discovery Communications, MIT, Telecom Argentina, Vodafone, and many more.