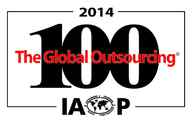 The 2014 Global Outsourcing 100® selects Oxagile LLC to the Global Outsourcing 100® list and recognizes the company's position of Rising Star # 8, accounting for its sustainable corporate growth, professional developments, and reasonable managerial strategies applied.
Oxagile LLC, a highly reputed software engineering company also engaged in web and mobile development for a range of platforms, has been named Rising Star #8 by the International Association of Outsourcing Professionals® (IAOP®) as well as received a range of 2014 Sub List Honors including those evaluating market segment engagement and overall global presence.
According to the IAOP® advanced employee management practices, a solid line of professionals engaged in the company business as well as the continual striving for perfection in relations with its customers and clients are the engine that drives Oxagile toward even more immaculate performance and clear success.
2014 Global Outsourcing 100® list is an efficient and reliable tool in the decision-making process in outsourcing, which provides an unbiased opinion on the company's overall performance taking into consideration a range of significant indices such as the company's size, global presence, and recognitions obtained and references provided, professional level of employees and top management. Carefully valuing all of the above, a panel of judges who are known for their unbiased decisions and rigorous and independent attitudes provides the rankings of the IAOP®.
A nomination to the list is in itself a true reference that is valid for all the players across the outsourcing market, proving that the mentioned company is worth working with and comprises a team of reputed professionals who are able to provide the necessary solutions. With every coming year, the competition for getting on the list grows stronger and stronger, which means only the best ones manage to fight for that opportunity and win as a result of a comprehensive study by the recognized panel members. Oxagile achieved the raking for the second consecutive year and is determined to maintain that position at the top by keeping the expansion rate, fostering professional achievements of the development staff, and contributing to the company's industry success.
Being included on the 2014 Global Outsourcing 100® list is an acknowledgement of industry recognition. However, Oxagile's customers and clients choose the company as a partner for their projects not only for that reason but also for the company's impeccable reputation, a creative and sensible approach to managing tasks, and strict adherence to the industry standards and corporate sector requirements. The 2014 Global Outsourcing 100® list nomination is yet another brick in Oxagile's sustainable growth and well-balanced development.
To learn more about Oxagile achievements as well as check out a full list of the services and solutions that are provided by the company, please go to Request a Quote, briefly describing your idea for the project.