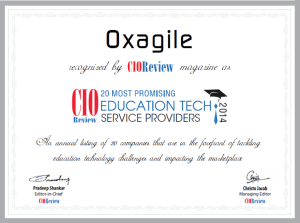 We are proud to announce that Oxagile was prominently featured in the October issue of CIO Review, under 20 Most Promising Education Tech Service Providers for 2014.
A highly influential technology and business magazine for enterprise decision-makers, CIO Review recognized Oxagile's exceptional ability to consistently deliver enterprise-quality distance learning solutions to acclaimed industry leaders such as the Massachusetts Institute of Technology, among others.
Sergey Marchuk, Oxagile's CTO and technology mentor, says, "It's a privilege to be named to CIO Review's list of most promising e-Learning tech service providers.
We've focused on the domain since the very beginning, with dozens of successfully completed projects to show for it today.
The hands-on expertise we've accumulated in the field puts Oxagile into an ideal position to meet and exceed our clients' expectations when building highly usable enterprise-grade e-Learning solutions."
About Oxagile
Headquartered in New York, Oxagile is an internationally established custom software development company that provides software outsourcing services across a wide range of vertical industries and business domains. One of the company's chief areas of focus is the implementation of custom distance learning solutions that power global enterprises as well as small- and medium-sized businesses around the world.
Oxagile has been on the IT outsourcing arena for over nine years now, and has successfully delivered over 120 software projects to world-renowned customers such as Google, Discovery Communications, Telecom Argentina, JumpTV, Vodafone, MIT, KIT Digital, and others.